Welcome to the Central Ohio PAMA Chapter!
A Decade of Service and counting!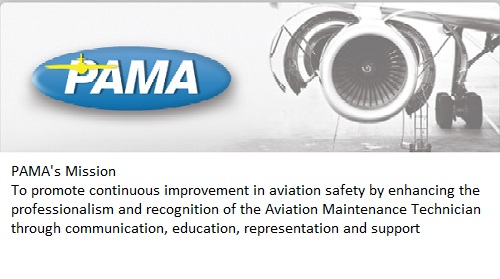 Safety through knowledge!
Our Next Event:
Coming Up on the Calendar
December 10, 2013
Holiday Dinner
Villa Milano
Door open at 5:30
Mike Kent USAF MSgt Retired
"Antarctic Air Operations"

Gathering starts 5:30
Dinner at 6:30
Cash Bar

Thursday March 13, 2014
Maintenance Symposium
Single Day

Change of Location
CSCC Main Campus
Workforce Development
Conference Center


Current News:
This is a collection of aviation related videos and web links for your enjoyment.
2 Job openings posted on November 15th
We invite you to visit our 1945 Journey Home page to learn the story of a soldiers return home from the Pacific after World War II.
Recent Events
November 12, 2013
Cliff Kelling of FAASTeam
"Preventive Maintenance - What Pilots can do"
BOD Election

October 8, 2013
GE Presentation on development of "Passport Engine
Mr. James Kulp
GE Business and Commercial Aviation
September 6, 2013
COAGO 2013
Willow Run Golf Course

May 15, 2013
Attended Garmin Presentation
Spirit Avionics

April 9, 2013
Topic: Paint and Corrosion Control
Alan Monk, Airframe Service Sales
Duncan Aviation

March 13 - 14 2013
Ohio Aviation Maintenance Symposium
C.S.C.C. Aviation Maintenance Facility
Bolton Field
March 16, 2013
District 7 Science Day
C.S.C.C. Main Campus

February Meeting
February 12, 2013
Richard Cady : FAASTeam
Topic: Oxygen System Maintenance
Lane Aviation
2387 International Gateway
Port Columbus International Airport
Social Gathering 5:30
Dinner 6:00
January Meeting
Tuesday January 8th
Lane Aviation
Leading Edge
Topic: "Aircraft Deicing Training"

Meetings and Events!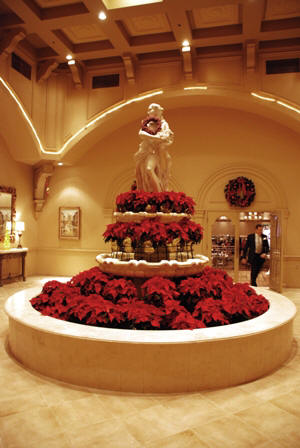 Please mark you calendars and plan to attend the 2013 Holiday Dinner being held on Tuesday, December 10th at Villa Milano! Jeff Gruber has once again handled ticket sales for the event which were sold for $15.00 per person. The dinner is co-hosted by Professional Pilots Association and is a seasonal family outing for aviators, their spouses and significant others!
Our ticket sales are now closed. Tickets sold in the last week may be picked up at the Will-Call table just inside the door. The night will include a buffet style meal with dessert and a cash bar along with fun and raffle prizes for those who attend.
Our entertainment for the evening will be a presentation by Mike Kent, Retired Master Sergeant USAF on his experiences in Antarctic Air Operations. It should be filled with information and photos that will make even the coldest winter day in Central Ohio, seem warm.
Please visit our Holiday Dinner page for information about the event. Hope to see you there!
Aero Battery Completes 40th Year of Operation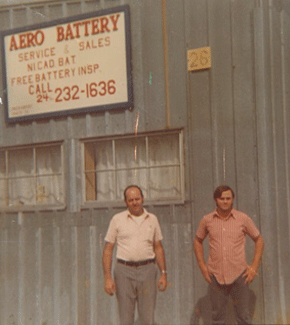 Aero Battery, Inc. was founded in a T Hanger Shop in 1973 by Glenn L. McCauley and his son Steve. Glenn is one of the original founders of the Professional Aviation Maintenance Association (PAMA). He and his oldest son Steve provided professional services and sales of batteries for aircraft of all types.
In 1981, Glenn's youngest son, Gary joined the company. Glenn and Gary were in charge of sales, servicing airports and seminar circuits, while Steve handled every day in-house operations. Glen has since retired and the two sons carry on the long tradition of battery service and sales to aviation and medical equipment users from their facility at 3442 Church Street in Cincinnati, Ohio.
We at COPAMA wish to congratulate Aero Battery for reaching this milestone in their company's history. We also want to thank them for their continuing support of the aviation community, COPAMA and sponsorship of our Scholarship Fund.
November 12th topic: Preventive Maintenance
Our November meeting featured a presentation titled "Preventive Maintenance - What Pilots can do." by FAASTeam member, Cliff Kelling. It was posted on the FAASafety.gov website and those attending which included 15 local area pilots earned credit for their Wings and AMT programs.
Cliff began his presentation with a review of his over 50 year career in aviation. With the help of the FAA prepared PowerPoint, he covered the preventive maintenance items and their regulations, which allow pilots to perform certain tasks under specific conditions. The pilot rating and aircraft ownership/operation also define what is allowable by a certified pilot. We want to thank Cliff for his personal stories and experiences related to the subject.
A short business meeting also took place to elect our board members for 2014 - 2015. Joe Lippert and Chuck Jenkins were reelected and Richard Cady of Limited Brands joined the board to fill the position vacated by Paul Tursic. Paul served 4 years on the board, serving his last two as COPAMA Secretary. We wish to thank Paul for his service and will formally thank him at the Holiday Dinner.
Pizza was the main focus of the meal and tickets to our next event, the Holiday Dinner, December 10th, were available for purchase. Raffle prizes from Aero Battery, Constant Aviation, Beechcraft and others were awarded at the end of the meeting. Thank you to all those vendors who supplied those items.
Veteran's Day 2013

The Lima Company Memorial murals on display across the United States
November 11th, Veteran's Day falls on a Monday this year. Our focus in on Lima Company of the Third Battalion, 25th Marines, Fourth Marine Division - 3/25 in military lingo. In 2005, this unit lost 23 members in combat, 10 of which in a single IED attack on their transport vehicle.
In 2010, Mike Strahle, a retired Marine from Lima Company attended our Holiday Dinner and told the story of these marines, the artist, Anita Miller who created the life sized murals that make up the mobile memorial and R + L Carriers that became the memorial's main sponsor.
Please remember these and all the members of our military forces standing guard and their fallen who are stationed around the world to keep us safe.
October meeting featured Passport Engine, Chili Cook-off!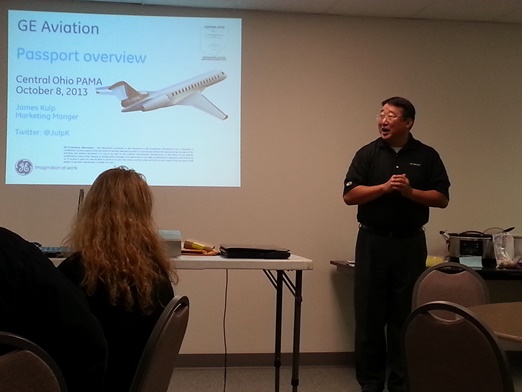 James Kulp, Marketing Manager, GE Business and Commercial Aviation
Our October 8th meeting was filled with food and an excellent presentation on the development of the GE Passport engine. We started with the Annual Chili Cook-off with 6 entry recipes from mild to flaming with one entry made from turkey and white beans for variety! Sandwiches and all the condiments and many varieties of cornbread finished out the meal.
Gene opened a short business meeting to nominate candidates to fill the three positions that are up for reelection during odd numbered years. Joe Lippert and Chuck Jenkins decided to run again for their board positions and Paul Tursic, our Secretary, has decided to leave the board at the end of his term. We'll have a formal thank you for Paul at the Holiday Dinner for his time and effort in the Secretary role.
Nominations were requested for the opening position and Gene recommended Richard Cady. Rich accepted the nomination and all three will be on the Ballot at the November meeting. The newly elected board members will meet before the Holiday Dinner to elect officers for 2014 which will be announced at that event.
Our guest speaker was James Kulp of Business and General Aviation division of GE Aviation. His presentation on the development of the new Passport Engine to be introduced on Bombardier's newest version 7000 and 8000 Global aircraft, was informative and entertaining.
His presentation was given earlier that day to several Aviation News Outlets like AIN Magazine. It included key engineering features that will make the Passport a fuel efficient, Integrated Power Plant System that will meet the new world regulatory requirement for emissions and Stage 4 noise limitations. GE and it's subcontractors are responsible to the complete powerplant including engine, FADEC, inlet, cowling and thrust reverser.
He explained some of the technology in this powerplant like the Fan and first 5 stages of the compressor are Blisks and the higher stage compressor blades are polished smooth to make them more efficient and keep dirt from adhering to them. The engine uses ceramic composite structures to make it durable and lighter per pound of thrust compared to earlier engine technologies.
Jim's presentation showed the development benchmarks of the engine to date with certification expected in 2015. We want to thank him for driving from GE's Cincinnati facility to be an important part of our first meeting of the fall and the prizes he provided for the raffle.
The Central Ohio Aviation Golf Outing on September 6th at Willow Run was one of the best outings yet. We want to thank everyone from sponsors, players, organizers and Willow Run Staff for helping make is so memorable. It will take a little time to assemble the photos and report, so please check back to see some of the highlights of the 2013 event.
This year's Sponsors and links to their websites are posted on the COAGO 2013 webpage. Please support them with your business to thank them for their participation in COAGO 2013 and their help in raising contributions to the COPAMA Scholarship Fund.
Chuck Paul received Charles Taylor Award, Sept 6th, 2013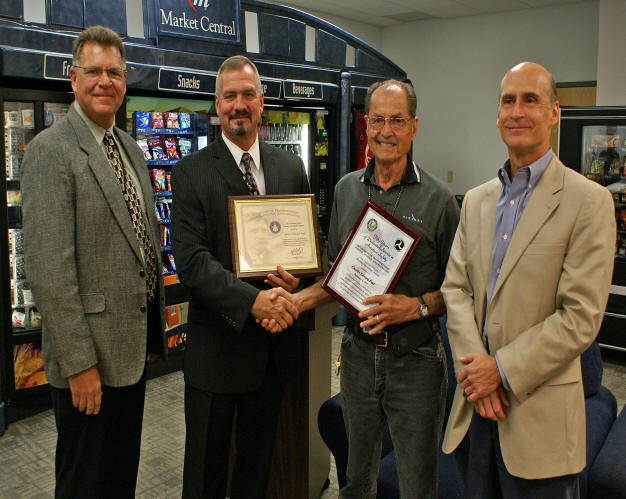 L to R: FAA Inspectors Mark Harden and Jay Wilkins, Chuck Paul and AirNet CEO John Dupuy.
Mr. Chuck Paul of AirNet received the Charles Taylor Award on September 6th for his 50+ year career in aviation maintenance. The award was presented by FAA Inspectors Mark Harden and Jay Wilkins with AirNet Systems CEO Mr. John Dupuy in attendance.
We at COPAMA congratulate Chuck and thank him for his contribution to aviation safety. He joins a long line of Charles Taylor Award recipients that call Central Ohio their home.
Jerry Peer received Charles Taylor Award, July 25th, 2013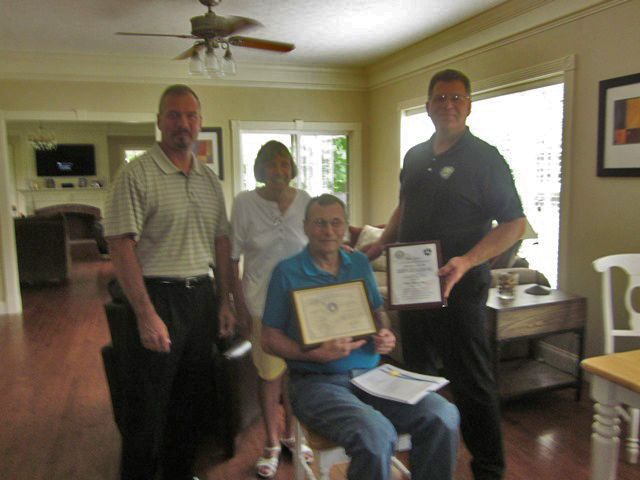 On Sunday, July 25th, Jerry Peer, a long time member of the Central Ohio aviation community received the FAA Charles Taylor Award. The ceremony took place at his home with Inspectors Mark Harden and Jay Wilkins representing the FAA. There were 25 attendees, which included family and friends. Mr. Peer was pleasantly surprised and grateful. Many thanks to Matt Drenten, who play a major role in bringing everything together.
COPAMA congratulates Jerry on receiving the award and thanks him for his long time commitment to aviation safety!
Watch the look on this old pilot, when he see's himself on film 70 years ago crash landing. If you like WWII history, this is a must see. If you like this, please visit our "On the Web" page for more links to aviation sites! Our thanks to Nelson Brown for sharing this link!
National AMT Day!
Friday, May 24th was this years National Aviation Maintenance Technicians Day! We hope you took a bow in observance of the anniversary of Charles Taylor's birthday to acknowledge AMT's and their contributions to safety in the aviation industry!
Receive AMT Award credit for attending May Meeting.
For those members who attended the May Meeting at Spirit Avionics, you may request a credit for your 2013 AMT Award by visiting the FAASTeam website. Log in to www.faasafety.gov , go to Maintenance Hangar, My AMT, Enter Eligible Training and fill in the following.
Completed Date: May 15, 2013
Course Title: Garmin's Certified ADS-B Solutions
Course Provider: Michael Kerrigan, Garmin Avionics
Training Hours: 1.0 Then click Submit
A list of our members who attended was forwarded to Mark Harden and he will verify that the training credit is awarded. Thanks, Mark for your help in this process!
May Meeting Moved to Wed Sept 15th at Spirit Avionics!
Without a committed presentation for our normal meeting night, the COPAMA Board decided to move the meeting to Wednesday the 15th and join the Garmin Avionics "ADS-B" presentation at Spirit Avionics on the south perimeter of Port Columbus airport off 5th Ave. This was an already established FAASTeam event and of interest to our membership. The event started at 7:00 p.m. and ran until about 9:00.
The night included a presentation by Jim Schroeder on Youth Aviation Adventures and their organization that introduces youth to the aviation industry. Proceeds from a raffle held at the end of the meeting went to support YAA.
Darlene Ford, President of EAA Chapter 9 announced a presentation titled "The History of Aviation from Kites to the Space Age." to be held May 22nd at the McConnell Arts Center near downtown Worthington. Tom Crouch, a Senior Curator at the Aeronautics National Air and Space Museum will be the speaker. She also announced the return of the Ford Tri-Motor to OSU Airport for tours and rides July 11th to the 14th. The visiting aircraft is from the Air Zoo in Kalamazoo, Michigan.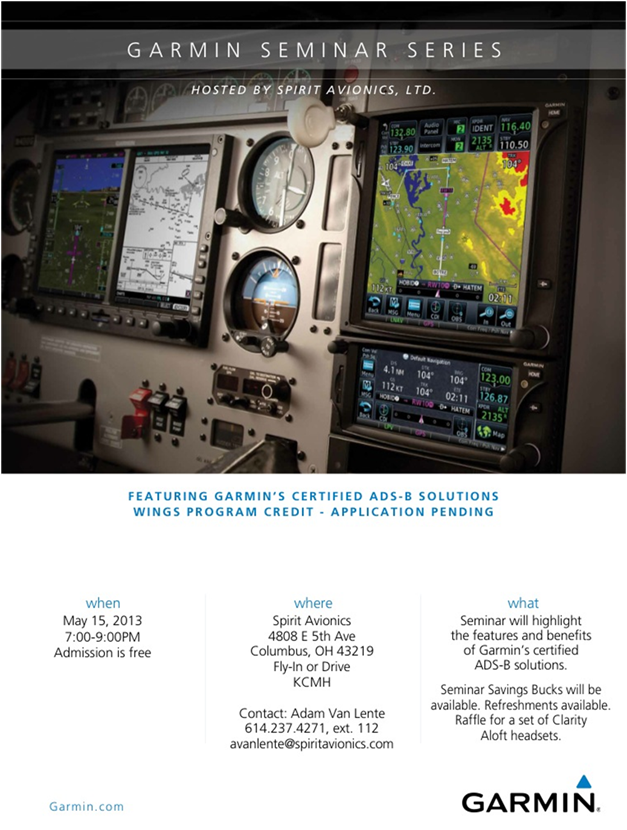 Michael Kerrigan of Garmin gave an overview of the ADS-B mandate and the benefits to the general aviation community. He presented the many equipment offerings from Garmin to meet those 2020 mandates and possible upgrade solutions for those who already have their equipment installed. Garmin also has many resources on their website for those looking for information about ADS-B.
We want to thank Spirit Avionics and Garmin for allowing us to attend their event and Adam Van Lente of Spirit who was in charge of registration.
This will conclude our spring meeting agenda with our next scheduled event being the Central Ohio Aviation Golf Outing on September 6th at Willow Run. Sponsor and Player forms are already posted on the COAGO 2013 webpage and there's a flyer you may download to help promote the event. Please visit the website as we post events and things of interest over the summer! See you again this fall!
2013 Summer Tuition Fund, needs your support!
When all the State of Ohio Colleges and Universities changed from quarters to semesters, some AMT Students at Columbus State Community College were left without means of funding for their 2013 summer classes. We've received several requests for tuition grants to help them through this financial dilemma.
With all the financial and tax unknowns that loom at this time over Washington D.C., we decided to create a special fund to help them as much as we can. You may make donations by check, payable to "COPAMA" with Summer Tuition Fund entered in the memo line. Send checks to COPAMA, PO Box 340494, Columbus, Ohio, 43234.
We have also set up the PayPal donation button below, so you may contribute whatever amount you wish to give. This may be used by Individuals and Corporate Sponsors. Corporations who give a donation of $100.00 or more will be added to our Corporate Sponsor page with a link to their website.
We'd like to thank Colin Campbell and Jet Charters.com for leading off as our first sponsor of the 2013 Tuition Fund.
Come join us with your contributions to this worthy cause! The full amount of your donations may be tax deductable. Please consult your tax advisor when filling out your 2013 tax return.
2013 Summer Tuition Fund
COPAMA is a 501(C)(3) Non-Profit Organization. TIN# 43-2013111.
April 9th - Duncan Aviation - Paint and Corrosion Control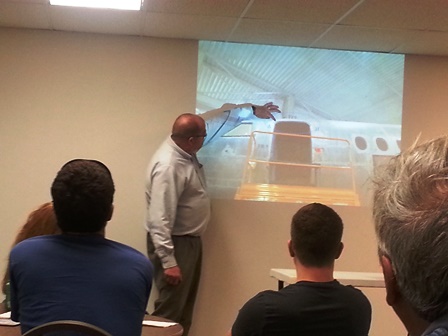 Although warm weather prevailed on the day of our meeting, we had a good turnout of technicians for the evening's program. Gene Sprang introduced Jim Schroeder, Development Coordinator for Youth Aviation Adventures who gave an overview of their successful program to introduce youth interested in aviation to the industry. The group started in 1997 with just a few boy scouts working on merit badges and now has groups spread over the United States. Gene presented Jim with a check for $1,000.00 as COPAMA continues their support of YAA and the youth it serves. Their next local event is May 4th at OSU airport.
Next, Alan Monk, Senior Airframe Service Sales Rep from Duncan Aviation gave an informative presentation on "Paint and Corrosion Control". He began with showing the steps prior to the aircraft entering the paint booth, including paint scheme design, color selection and detail list of items to be included in the workscope. He outlined the differences between the process to paint with the old 2 part epoxy paint and the newer high solids products now being used on aircraft.
His slides showed the many steps of the labor intensive process to prepare and paint an aircraft. Those steps include paint removal and corrosion repair before the final steps of priming, painting, striping and returning the aircraft to service including control surface balancing and optional weighing of the aircraft. This final step is critical to some long range aircraft such as the Falcon 7X, where Duncan determined that the paint adds about 152 lbs to the aircraft weight.
Corrosion detection and repair finished out Alan's presentation with examples of various corrosion found on aircraft. The extent of the damage needs to be documented for engineering repair requests from the various manufacturers. We want to thank Alan, Bill Otte and all at Duncan Aviation for their part in our meeting and invite you to click here to visit their website that features a time-laps video of the paint process on a G-5 aircraft.
Next month's meeting topic is yet to be determined but we'll see you again in Lane Aviation's Media room on Tuesday, May 14th. Our many thanks to Lane and their staff for the use of their facility for our monthly meetings. See you next month!
This years Central Ohio Aviation Golf Outing Sponsor and Player forms are available to sign up for COAGO 2013. Over the last two years, we've filled the course so please consider signing up soon and be a part of this year's fun event!
March 13-14 * Ohio Aviation Maintenance Symposium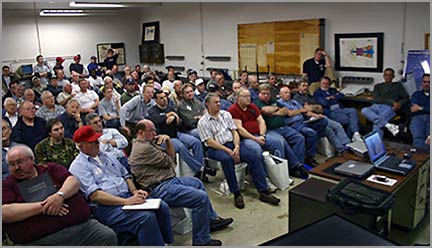 The 22nd Annual Ohio Aviation Maintenance Symposium took the place of our normal monthly meeting and was held at Columbus State's Aviation Maintenance Facility at Bolton Field. Attendance was slightly down from last year but approximately 415 Aviation Technicians and students received training. The students at CSCC were on spring break that may explain the change in attendance.
This year's vendor count was up with 39 vendor displays and 25 speakers. We want to thank all the vendors that provided items for the door and raffle prizes. This year's Raffle total from both days was $700.00 for the COPAMA Scholarship fund.
Many thanks to everyone who stopped by the COPAMA booth and the volunteers who greeted the attendees. You may have noticed that Shirley Graves was unable to attend this years event due to ankle surgery and a Birthday/Get Well card was signed by visitors to the booth to forward to her. We hope she's feeling well and back on her feet soon. Her husband and our long time friend and member, Ralph was in attendance on the first day and was in charge of delivering the card to her.
We want to acknowledge Inspector Mark Harden, our FAASTeam Program manager for setting up the speaker agenda for the symposium and the FAA inspectors from the Cincinnati and Columbus FSDOs for being an important part of the event.
Inspector Harden also presented Columbus State's Aviation Maintenance Technology with the Gold Award for a 2012 Aviation Maintenance Technicians (AMT) Program. The Gold AMT Awards are given by the FAA for colleges that have 50 percent of employees who earn the AMT Award. See you next year!

District Science Day, Saturday March 16th featured warm spring-like weather as we arrived Columbus State's main campus. This years judges included Gene Sprang, Earl Redmond and Lowell Dowler to review the aviation related projects of the hundreds of student projects there for the district competition.
The three projects chosen for the COPAMA Sponsored Award are....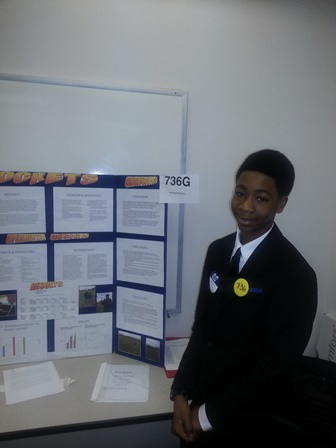 First Place: Rockets!
Andrew Pierce
Dominion MS
6th Grade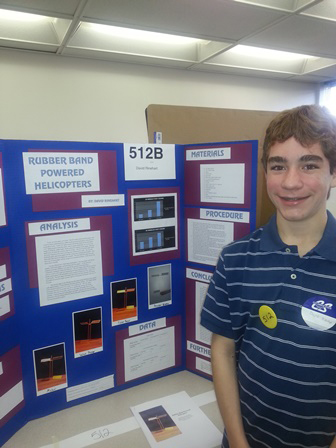 Second Place: Rubber Band Powered Helicopters
David Rinehart
Canal Winchester MS
8th Grade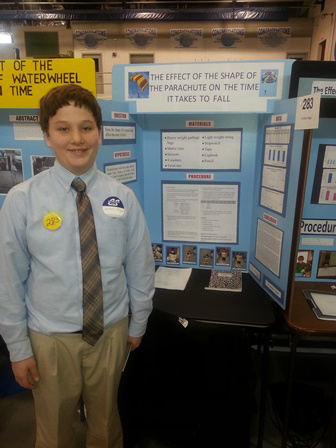 Third Place: The Effect of the Shape of the Parachute on the Time It Takes to Fall
Jonathan Mager
St. Paul ES
7th Grade

Honorable Mention: Which Fabric Works Best for a Parachute?
Nebraska White
St. Cecilia ES
7th Grade
COPAMA gives 3 monetary awards for $100, $75 and $50 to first, second and third place winners. We're happy to be a part of this competition of Central Ohio students that may be at the start of careers in aviation.
We want to thank all the students we interviewed for competing in this year's District Science Day and encourage them to continue their interest in science and aviation. Click Here for more information about the event.
NASA Education website provides additional resources for all age groups who are interested in Science, Aviation and Space. Just click on the pull down menus at the upper left corner of the page.
During judging at the Science Day we see some confusion on aerodynamic principles such as Bernoulli's Principle and how it applies to lift created by a wing. Click here to go to NASA's page dedicated to the subject and a downloadable wind tunnel application for your own experimentation.
February meeting topic: Oxygen System Maintenance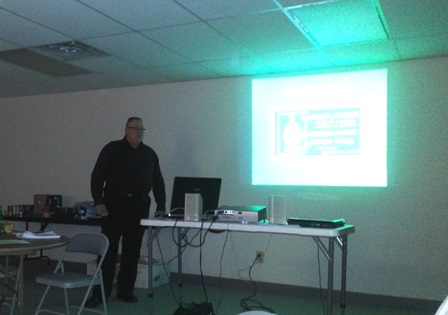 Our February 12th meeting was held in Lane Aviation's Media Room, and feature a presentation on Oxygen System Maintenance by Richard Cady of Limited Brands and local FAASTeam member. The weather was unusually warm for February but we still had a medium turnout for dinner and the presentation immediately after.
Rich started his presentation with a base review of oxygen and it's natural occurrence as 21% of our atmosphere at sea level. He showed several photos of airliners that had been subjected to oxygen fires that ranges from severe damage and bottle explosions to complete destruction of the airframes with loss of life.
He reminded us that fire needs three things to occur symbolized by a triangle of oxygen, fuel and heat. Take away any one of the three and a fire may be prevented. He then focused on proper maintenance procedures with cleanliness of tools and work area being very important. One of his slides showed a construction worker who had tried to fix an oxygen line leak in a torch regulator and the fire from contaminated hands had caused 3rd degree burns.
With Rich's background with a Boeing Business Jet, he offered two videos, one from Boeing on aircraft oxygen servicing and the other from Southwest Airlines on the proper packing of O2 masks in a Passenger Service Panel.
We want to thank Rich for his topic and for bringing to light the importance of proper Oxygen System operation for the safety of passengers and crewmembers of high flying aircraft and maintenance technicians here on the ground.
What's on FAA TV?
Did you know that there is a host of aviation videos about safety, trending news items, training, NextGen and administration policy, right at your fingertips at http://www.faa.gov/tv/ ? Links on the main page allow you to share the content via your favorite media platform, or you can download the videos as an MP4 for future use.
January 8th meeting featured Deicing Training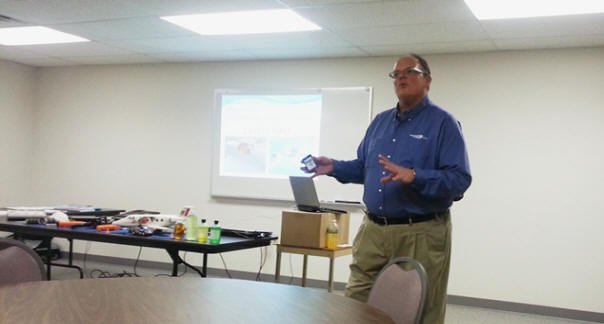 Our January meeting was held in Lane Aviation's Media Room, and featured a presentation on Aircraft Deicing by Mr. Walter Randa, President of Leading Edge Deicing Specialists, a provider of onsite training.
The presentation included slides and video segments that discussed ice related accidents, types of deicing and anti-icing fluids, safety issues and application procedures. Walter was in town to conduct two days of training at the Lane Aviation facility for Corporate Operators and line service personnel.
These training sessions are normally 4 and 8 hour courses that may include actual application of fluids to inflatable aircraft, preventing possible damage to a real aircraft during a training scenario. We'd like to thank Walter for his willingness to give us an overview of his training program and Limited Brands for bringing him in to conduct their training.
Information about Leading Edge may be found at their website which includes updates on their future training opportunities and the addition of on-line training coming later this year.
The evening ended with the drawing of a 50/50 raffle won by Dennis Curtin. We want to thank him for donating his portion of the proceeds back to the COPAMA Scholarship Fund.
COPAMA is a 501(C)(3) Non-Profit Organization. TIN# 43-2013111.
---
Please click on the link above to see what was on the COPAMA calendar for 2012.
Monthly Meetings are held on the second Tuesday of the following months.
January, February, April, May, October and November.
Pre-meeting gathering at 5:30, Dinner at 6:00, Presentation after dinner.
The Ohio Aviation Maintenance Symposium is our March meeting.
The Central Ohio Aviation Golf Outing (COAGO) is our September meeting.
The Holiday Dinner is our December meeting.
Regular Meetings held in Lane Aviation's Media Room.
Lane Aviation's Port Columbus facility at 4387 International Gateway, Columbus, Ohio 43219 is the location of our 6 monthly meetings. We meet in their Media Room on the second floor.
Thank you Lane Aviation and Staff!
We wish to thank Lane Aviation and their staff for the use of their facility and their continued support.
Features of the COPAMA website!!!
This site was generated from a latest generation template providing compatibility with the main web browsers of today and mobile devices. It features "Flash" type animation and the ability to detect those devices that cannot render "Flash" and provide an alternate means to display those same graphics.
Menus help you navigate through the site and the left border of the page provides a direct link to our Next Event, Current News and Last Event information. Back ground music is available with the new site and features 12 different tunes that loop. If you don't care to listen, just mute your sound system for an easy solution. Give us some feedback and let us know what you like or dislike! Page width and font size are controllable by you regardless of which browser or mobile device you use.
If you're a fan of Facebook or Twitter, we've set up groups on both social networks. We're hoping it will provide a local forum for members and give us another tool to communicate with the group. The links to both are at the top right of this page. Jeff Gruber has volunteered to be our first administrator of the two forums and if they become popular, we may need the help of our younger members to help monitor them for us.
Let us know what features you like and if you have any problems viewing the site. Welcome to the new COPAMA Website!
COPAMA's Mission:
COPAMA, is a Non-profit Membership Organization designed to provide a forum for the exchange of ideas, concepts and techniques through communication, education, representation and support related to the Aviation industry.
Ohio Aviation Maintenance Symposium, March 13 & 14, 2013 at CSCC AMT Facility.

The Aviation Maintenance Technology facility of Columbus State Community College will again be the site for next year's Ohio Aviation Maintenance Symposium. Vendors and attendees may find sign up forms and information about the CSCC facility by clicking on the link or logo above.
The Symposium features Vendor display booths and FAA Approved presentations that qualified for renewal of Inspection Authorization certificates. The Columbus and Cincinnati Flight Standards District Offices have staff on site to provide renewal information and presentations throughout the two days of the symposium.
We at COPAMA were happy to co-host the event with CSCC and hope you'll drop by our booth while attending the event. The symposium website also has photos to view from previous year's events and review lasts years results.
AirSatOne announces 2013 Air Time Price Guide on their website
Jo Kremsreiter, President of AirSatOne, has notified us that their 2013 Air-Time Price Guide is now available on their website. We've posted this information for our members and visitors who may need such data for their 2013 budgeting process. Thanks, Jo, for this link submission!
Local A&P sets up Columbus Model Rocketry School.
Pete Bricker, a local Airframe and Powerplant technician, has changed his hobby of model rocketry into a training opportunity for students in Central Ohio. His classes range from beginner rubber-band launched rockets to large Level 1 and Level 2 Certification.
If you or your child have an interest in Model Rocketry as an individual or group event, check out the schools website by clicking on the link above.
Pete works for one of the regional airlines at Port Columbus and is the husband of Donna Bricker who was a long term board member and past treasurer of COPAMA.
This page was last updated on 12/10/13.