Welcome to the Central Ohio PAMA Chapter!
14 Years of Service and counting!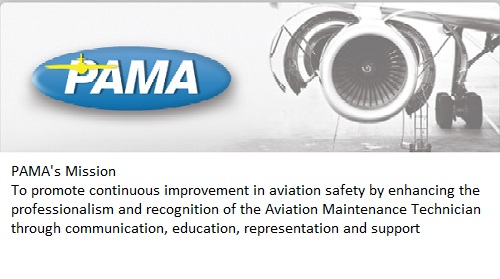 Safety through knowledge!
Our Next Event:
February 9th Meeting
FAA Inspector John Welsh
Topic: "UAS : Unmanned Aircraft Systems"

Lane Aviation Media Room
Gathering at 5:30
Dinner at 6:00
Coming up on the Calendar
2016 Ohio Aviation Maintenance Symposium
CSCC Conference Center
Thursday, March 17th

Email Address Book Update


You may have noticed our email Newsletters going out in HTML format. This allows us to replicate what's on the website for your review. If you would prefer to receive that information in TEXT format, please reply with "Text Only" in the Subject line and we'll send your messages in that way.
Our last group email was sent on January 4th. Did you get it? If not, the email address we have for you is probably outdated. Send an email to mail@copama.org and we'll get you back on the list!
Current News:
This is a collection of aviation related videos and web links for your enjoyment.
Recent Events
January 12th Meeting
Port Columbus ATC
Mr. David Neef, ATCT Operations Manager
Topic - CMH Airspace Review
Tuesday, December 1st
2015 Holiday Dinner
Villa Milano Conference Center
Columbus Historical Society
"Original Terminal and Hangar One Restoration Project"
November 10th Meeting
Inspector Mark Harden - FAASTeam
"FY 2014-15 Accidents/Incidents of CMH District"
October 13th Meeting
TData
Mr. Bob Maroldy
"Maintenance Tracking Made Easy"
Meetings and Events! Fall 2015
COPAMA Mourns the loss of past Treasurer, Donna Bricker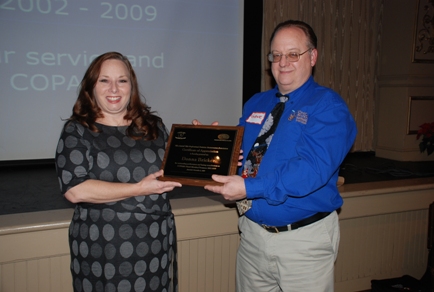 Donna receives COPAMA Award from President Gene Sprang at 2009 Holiday Dinner.
It is with much regret we need to advise you that Donna Bricker passed away. She had just went to The James hospital for dialysis on Monday when she unexpectedly suffered a stroke. Sometime over night she slipped into eternity and leaves her husband, family and friends to mourn her loss.
Donna was one of the founding officers of COPAMA and served as Treasurer for many years. Please keep her family in your thoughts and prayers as they deal with these days of sorrow.
Visitation will be held Saturday, February 6, 2016 from 1 p.m. until the time of Funeral Service at 3 p.m. at the Southwest Freewill Baptist Church, 1542 Greenleaf Rd., Columbus, - See more information at her obituary on The Columbus Dispatch.
February Meeting Topic "UAS : Unmanned Aircraft Systems"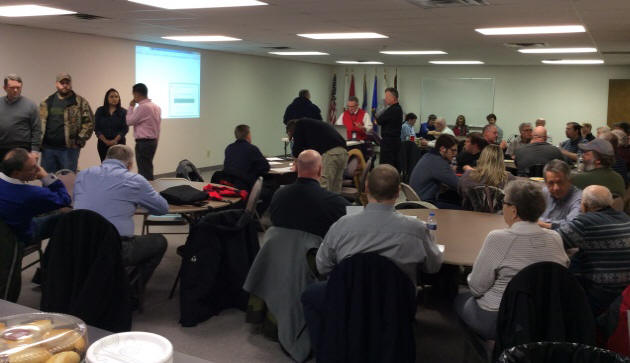 The February meeting was well attended on Tuesday the 9th with members of the pilot, maintenance and remote control modeling groups filling the room. Around 60 people came to hear FAA Inspector John Welsh give a presentation on UAVs and the recent FAA regulations concerning them.
COPAMA President Joe Lippert started with a PowerPoint that showed upcoming meeting topics, a note about our loss of past treasurer Donna Bricker and information about next Month's Ohio Aviation Maintenance Symposium at Columbus State's main campus. Joe then introduced this years COPAMA Scholarship recipients with photos taken of those in attendance.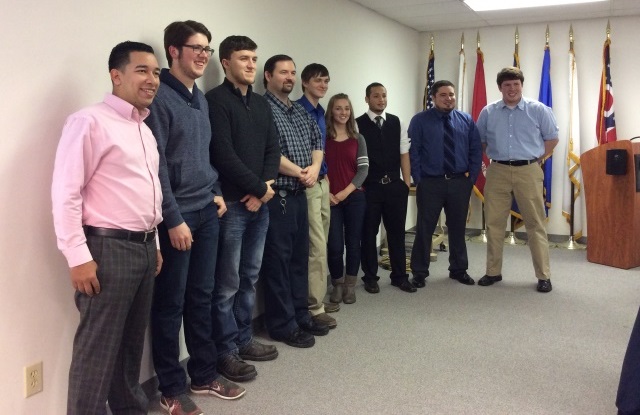 After dinner, Inspector Welch started his interactive presentation on what has become a hot and dynamic topic. The following is a condensed outline of items discussed and a group of hyperlinks for those who are looking for more information about Unmanned Aircraft Systems (UAS).
UAS aircraft are categorized by a few different ways that the new FAA regulations address them. Government and Civil (flights for profit) are tighter controlled than the Hobby or Recreational (Model Aircraft) flyers. The latter group will continue on with little FAA interaction unless they are involved in some reported rule infraction.
The new CFR 14 Part 48 specifies the registration and identification requirements for all unmanned aircraft based on weight and operation of the UAS, the nationality (US citizen) and age (13 or older) of the operator and the location and airspace they are allowed to operate in.
Aircraft less than .55 lb (8.8 oz) are not required to be registered. Aircraft above .55 lb to 55.0 lb that are Model Aircraft flown outside must be registered by Feb 19th depending on if it was operated by the current owner prior to December 21, 2015. For all other small unmanned aircraft, compliance with this part is required prior to operation of the small unmanned aircraft. Beginning March 31, 2016, small unmanned aircraft operated as other than Model Aircraft may complete aircraft registration in accordance with FAR Part 48. UAS aircraft over 55.0 lb will need to be registered under FAR Part 47 like manned aircraft.
Since this is new technology with expanding interest in the way these vehicles may be used, the FAA has created a website resource www.faa.gov/uas where the full rules and guidance material may be viewed. There you may find the links for UAS registration ($5.00 for 3 years regardless of category). You may also download the B4UFLY app that provides a checklist of of your proximity to Restricted Areas, Airports, Upcoming Restrictions, National Parks and other Guidance Materials.
The operator must be within line of sight of the UAS with current guidelines of below 400 feet and less than 100 miles per hour. Those parameters are expected to change to match the start of National Air Space (NAS) of 500 ft AGL and clear of groups of people such as stadium. Operation within 5 miles of an airport requires a notification of the Airport Director or Control Tower of time and location of your proposed flight.
UAS aircraft have the lowest priority in the air and must avoid all other aircraft in flight. There is a reporting requirement of any incident or accident that causes damage and offending aircraft can be reported to local police, the FAA or through one of the ways listed on the website above. Since they are registered aircraft, anyone destroying them may be in violation of the FAA regulations and subject to legal action.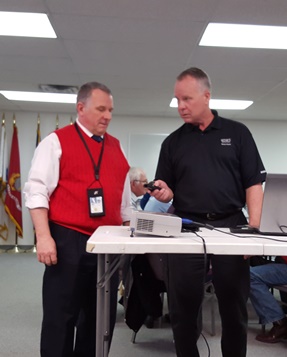 We wish to thank Inspector Welsh for his informative presentation and discussion of this current topic. We'd also like to thank Lane Aviation for the use of their facility and Media room.

Next month will be the Maintenance Symposium at Columbus States downtown campus and we hope you'll visit the link below for directions and registration information.

We're also looking for judges to help with the District 7 Science Day on Saturday March 19th. Just send us an email and show up around 9:00 to select this years winners of the G.E. COPAMA Awards. No previous judging experience necessary! Hope to see you at the Symposium and the Science Day events!
January 12th Meeting topic: CMH Airspace Review

49 in attendance despite the mornings weather!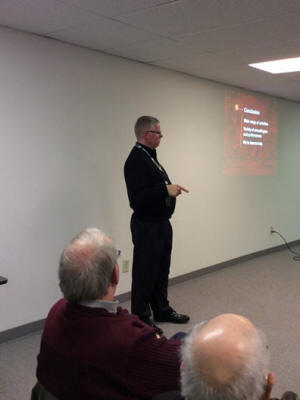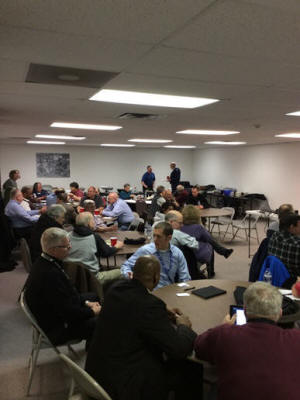 The FAA Safety Team provided Mr. David R Neef, Operations Manager of the Columbus Air Traffic Control Tower to give a presentation on CMH Airspace to CFI's, Pilots and Student Pilots at our January meeting. The Lane media room was full, even though the mornings weather brought most local traffic to a crawl.
The Mr. Neef gave an overview of CMH ATC, their airspace operations and procedures. Beside Ground, Tower, Arrival and Departure operations at CMH, Port Columbus ATC is responsible for traffic below 11,000/10,000 to the ground in their eastern and western areas that span from beyond Zanesville in the east to just across the Indiana border in the west.
David discussed the local airports, special operations with air traffic at Dayton and Wilmington airports and the process of becoming an air traffic controller. His question and answer period at the end of the program gave lots of information on how to smooth in-flight operations in National Air Space for all those in attendance. We wish to thank him for his presentation and taking the time to be with us at the meeting.
Vendor booth sales are now open for the 2016 Maintenance Symposium. You're welcome to download the Vendor Information Form and OAMS 2016 Booth Registration Form here.
You may pay the Vendor Booth Fee by using the PayPal button below. Transactions are completed through the Secure PayPal Webportal and you don't have to be a PayPal member to perform the payment.
More on the Symposium will appear here as the details become available.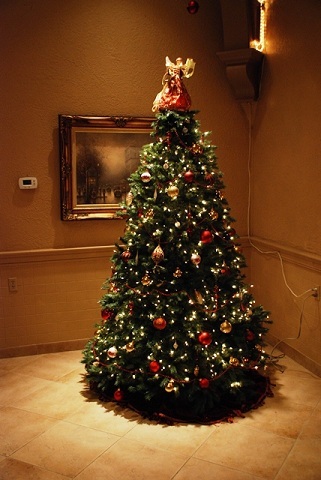 This year's aviation Holiday Dinner was held at Villa Milano Conference Center , 1630 Schrock Road. Our entertainment speakers for the evening were Mr. George O'Donnell, Mr. Thomas Kromer and Mr. Dick Barrett of the Columbus Historical Society with a presentation about "The Original Port Columbus Terminal and Hangar 1 Stabilization project".
Columbus Historical Society currently has a program at "The Center of Science and Industry" (COSI) entitled "Reaching for the Sky: The History of Columbus Aviation" through spring of 2016.
We hope the attendees enjoyed the opportunity to hear about our rich aviation history here in Columbus and that corner of CMH Airport where it started! Please Visit the 2015 Holiday Dinner page soon to view this year's Sponsors and updated details about the event!
November 10th - "Accidents and Incidents of CMH District"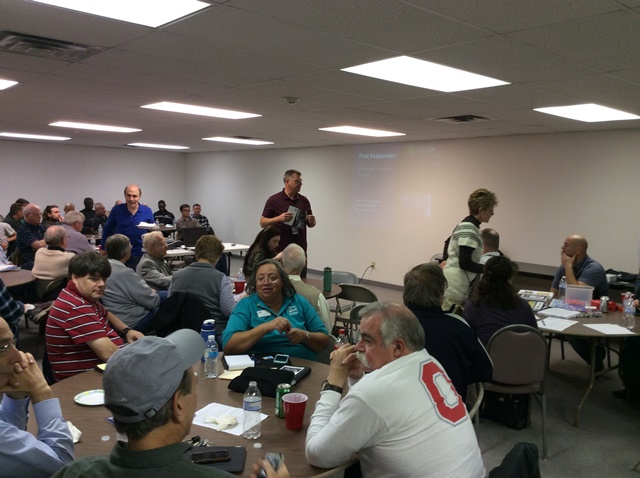 Our November meeting featured Inspector Mark Harden, FAA Safety Team with a presentation on "Fiscal Year 2014-15 Accidents and Incidents in the CMH District". It was held in the Lane Aviation Media Room and had a good turnout of around 58 people in attendance. Before Mark's presentation, we conducted a short business meeting to elect next year's board members.
The board members up for reelection were Joe Lippert and Charles "Chuck" Jenkins. Dave Fragale was nominated and elected to fill the board position vacated by Richard Cady's passing last January. Board members met on November 23rd for an organizational meeting and to choose officers for 2016.
They are: President Joe Lippert, Vice President Charles "Chuck" Jenkins, Treasurer Earl Redmond and Secretary Lowell Dowler.
Mark's presentation featured PowerPoint slides of facts and statistics of the accidents and incidents from Columbus District, many still under investigation by the NTSB. Loss of Control was a major factor in many of the accidents after power failure or various other component failure. His message to CFIs and Maintenance instructors in attendance was to re-emphasize to students those flight control skills during training or bi-annual flight reviews.
The meeting was a SPANS event listed at the FAASTeam website to receive WINGS and AMT Award credit. The meeting concluded with a prize raffle and we wish to thank Jim Kulp of General Electric and Jeff Hannie of Flying Colours Corp for contributing the prizes.
Veteran's Day - 2015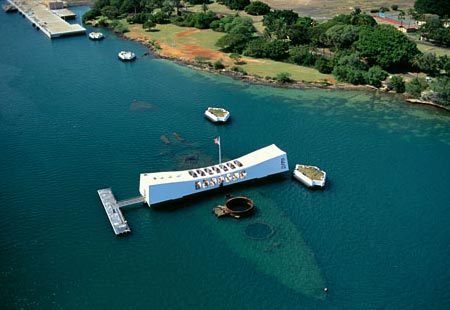 Seventy years ago, the United States and other countries observed Veteran's Day during a long-awaited time of peace. Our entry into World War II began here with the attack on Pearl Harbor and ended with the signing of the "Instrument of Surrender" aboard the USS Missouri on September 2nd, 1945. The other WW II Memorials we may visit today weren't built yet but the Pearl Harbor attack laid the foundation for this, The USS Arizona Memorial, pictured above.
This November 11th, we wish to thank our Veterans, past and present for their service to and sacrifice for our country.
October 13th Meeting featured Bob Maroldy of T-Data!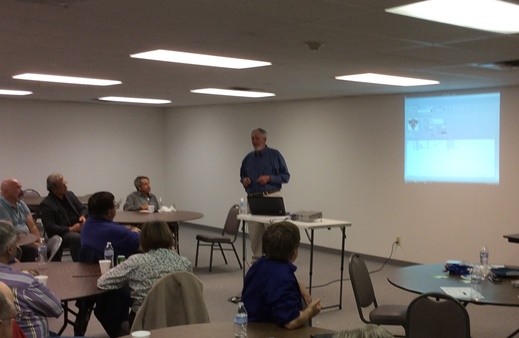 Our first meeting of the fall was held on Tuesday, October 13th in Lane Aviation's Media Room on the second floor, 4387 International Gateway. With shifting of topics over the last month, we want to thank Mr. Bob Maroldy of T-Data for presenting the topic "Maintenance Tracking Made Easy".
This month had a short business meeting to open nominations for the upcoming Board of Directors election in November. Joe Lippert and Chuck Jenkins have decided to run for re-election to another two year term. Dave Fragale was nominated to fill the vacant position from Richard Cady's passing. Elections will be held at the November meeting.
Bob's T-Data presentation provided a review of their wide variety of software and web services to support IA research and aviation technical data. He focused on their M-Track program and demonstrated the many functions and points to enter aircraft, engine and accessory data. The software can track multiple aircraft and is stand-alone software. Once purchased, you receive technical assistance for one year with future upgrades being available at your option.
COAGO 2015 - Beautiful Day, Not So Beautiful Ending!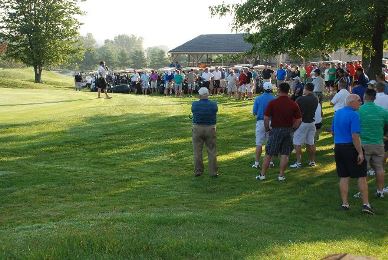 The 2015 Central Ohio Aviation Golf Outing (COAGO) was held on Friday, September 11th At Kyber Run Golf Course, just outside Johnstown, Ohio. This was the 13th year that the Outing has been co-hosted by COPAMA and the Professional Pilots Association (PPA) to raise funds for the COPAMA Scholarship Fund.
Roughly 128 players attended this year's Event. After a moment of silence to observe the 14th anniversary of the 9/11 attacks, the golfers started off with flags adorning their carts on a spectacular morning.
An oncoming storm front forced an abbreviated lunch, award ceremonies and prize raffle. Due to the haste, an unintentional clerical error occurred during the determination of 1st, 2nd and 3rd place teams. The issue was resolved before the end of the outing but the storm made retakes of the award photos impossible. The raffle was concluded under the course's shelter with golfers, volunteers and raffle prizes all trying to keep dry.
COAGO 2015 webpage is now available for viewing Sponsors, Team Starting Hole positions and other event data. The final revision is coming soon which will include winning teams and player awards, so please check back.
Please click on the link above to see what was on the COPAMA calendar in 2015.
This year's Central Ohio Aviation Golf Outing was a great day of golf held Friday, September 5th at Kyber Run Golf Course. The report on the outing is now available for view by clicking on the hyperlink above.
The report shares data about the event, acknowledges all our Sponsors, Vendors Players and Volunteers with plenty of photos in our Photo Gallery of the Course and Team Members. Just select COAGO 2014 in the pull down menu and please check back for updates.
COPAMA Board decides to move to PayPal
After many years of handling credit card transactions, the COPAMA Board has decided to run all credit card transactions through the PayPal secure web portal. The decision was based on costs associated with providing security for those transactions.
Around 2005, COPAMA set up transaction accounts with First Data Merchant Services and American Express for the convenience of our sponsors who wanted to use credit cards for supporting our events. We were charged a 3% to 3.5% fee and considered that to be the cost of doing business with our supporters that needed to use that form of payment.
Shortly after that time, the Payment Card Industry Security Standards Council mandated a Data Security Standard (PCI DSS) and our credit card processing computer and internet connections were audited to assure compliance with the new standard for transactions. At that time until the end of 2013, Merchant Services paid the cost of our security charges to meet PCI compliance.
Last year, those charges were passed on to us and we incurred monthly charges regardless of whether we made credit card transactions or not. Those charges along with the 3% to 3.5% transaction fees made the cost of performing our own credit card transaction a major cost to our organization that is based on donations and support from our friends and sponsors. The major fraction of a full scholarship was going to the bank instead of the students we are trying to help.
A few years ago, we set up a PayPal account and encouraged our friends and sponsors to use that instead of our previous credit card process. PayPal provided us a Non-Profit account, reducing our transaction fees to 2.5% and providing our "customers" with a secure web portal, eliminating our need for monitoring and the associated security charges.
With the recent news of Major Organizations both Retail and Commercial being hacked by security breaches, it only made sense for us to get out of performing credit card transactions. This allows us to concentrate on raising and distributing funds to the various students and groups we support and minimize our costs to maximize those proceeds to the COPAMA Scholarship Fund.
We ask for your understanding and will always accept a check or other form of payment from our friends and sponsors who are unable to use the PayPal option. Thank you for your continued support of COPAMA and the COPAMA Scholarship Fund.
Support the COPAMA Scholarship Fund through PayPal!
Last year, when all the State of Ohio Colleges and Universities changed from quarters to semesters, some AMT Students at Columbus State Community College were left without means of funding for their 2013 summer classes.
With all the financial and tax unknowns that loomed over Washington D.C., we decided to create a special Summer Tuition Fund to help them as much as we could. We'd like to thank Colin Campbell and Jet Charters.com for leading off as our first sponsor of the 2013 Tuition Fund.
Although that situation has past, we still have a way to contribute to the Scholarship Fund directly using the PayPal donation button below. Individuals and Corporate Sponsors may contribute whatever amount they wish to give. Corporations who give a donation of $100.00 or more will be added to our Corporate Sponsor page with a link to their website.
Come join us with your contributions to this worthy cause! The full amount of your donations may be tax deductable. Please consult your tax advisor when filling out your annual tax return.
COPAMA Scholarship Fund
COPAMA is a 501(C)(3) Non-Profit Organization. TIN# 43-2013111.
---
Monthly Meetings are held on the second Tuesday of the following months.
January, February, April, May, October and November.
Pre-meeting gathering at 5:30, Dinner at 6:00, Presentation after dinner.
The Ohio Aviation Maintenance Symposium is our March meeting.
The Central Ohio Aviation Golf Outing (COAGO) is our September meeting.
The Holiday Dinner is our December meeting.
Regular Meetings held in Lane Aviation's Media Room.
Lane Aviation's Port Columbus facility at 4387 International Gateway, Columbus, Ohio 43219 is the location of our 6 monthly meetings. We meet in their Media Room on the second floor.
Thank you Lane Aviation and Staff!
We wish to thank Lane Aviation and their staff for the use of their facility and their continued support.
Features of the COPAMA website!!!
This site was generated from a latest generation template providing compatibility with the main web browsers of today and mobile devices. It features "Flash" type animation and the ability to detect those devices that cannot render "Flash" and provide an alternate means to display those same graphics.
Menus help you navigate through the site and the left border of the page provides a direct link to our Next Event, Current News and Last Event information. Back ground music is available with the new site and features 12 different tunes that loop. If you don't care to listen, just mute your sound system for an easy solution. Give us some feedback and let us know what you like or dislike! Page width and font size are controllable by you regardless of which browser or mobile device you use.
If you're a fan of Facebook or Twitter, we've set up groups on both social networks. We're hoping it will provide a local forum for members and give us another tool to communicate with the group. The links to both are at the top right of this page. Jeff Gruber has volunteered to be our first administrator of the two forums and if they become popular, we may need the help of our younger members to help monitor them for us.
Let us know what features you like and if you have any problems viewing the site. Welcome to the new COPAMA Website!
COPAMA's Mission:
COPAMA, is a Non-profit Membership Organization designed to provide a forum for the exchange of ideas, concepts and techniques through communication, education, representation and support related to the Aviation industry.
This page was last updated on 02/10/16.