Investing in our youth and Aviation Maintenance Technicians of tomorrow.
2012events

Safety through knowledge!
COPAMA Scholarship Fund - $167,534 awarded since 2002
Nearing the end of 2020, the COPAMA Scholarship Fund has distributed $167,000 to support AMT students and various youth groups engaged in aviation related studies. With the help our you, the Professional Pilots Association, our Sponsors and Members, we've helped increase aviation safety and understanding of the students of Columbus State Community College's AMT, Missionary Maintenance Services, District Science Day participants, Youth Aviation Adventures and the Central Ohio Explorers group.
Thank you for your enduring support!
Other Scholarship Resources for AMT Students
The FAA has published a list of Scholarships that are available for AMTs and AMT Students. Please follow the link to search out these other resources for Technical Training funding.
These are just some of the recipients of the Testing And Merit Scholarships, over the years.
2006 Awards
COPAMA awards Testing Scholarships for 2006 at January meeting.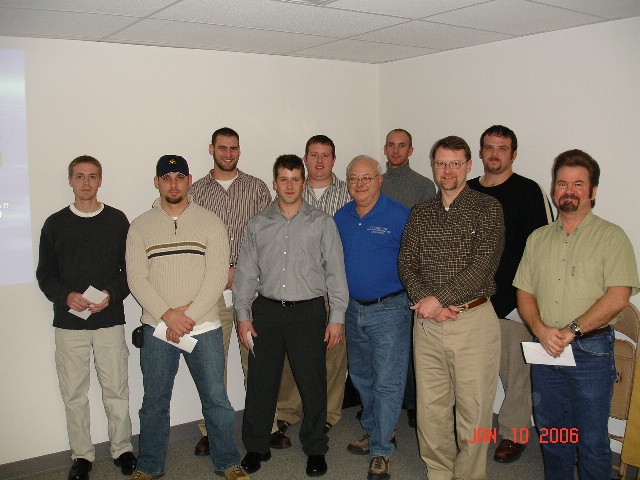 Sixteen students of CSCC's Aviation Maintenance Technology were awarded Testing Scholarships by The Central Ohio Professional Aviation Maintenance Association. The scholarship pays for the students nine FAA Certification Tests (3 written exams, 3 oral examinations, and 3 practical exams) which costs $700. Awardees' were Perry Chappano, Josh Kotalic, Jeremy McMullen, Chris Sherard, James Van Dyke, Mark Zimmerman, Dan Gillespie, Charles Lawrence, Jason Newton, Tim Sholl, Mark Volz, Robert Kesterson, Zach Ludi, Joe Rayburn, Troy Tector, and Sean Wise
2007 Awards
2007 Testing Scholarships awarded at January Meeting.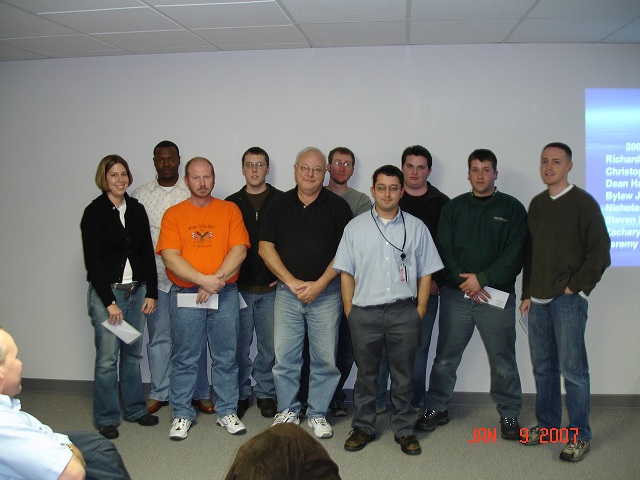 The January 2007 meeting included the presentation of COPAMA Testing Scholarship awards. This year 16 applicants were awarded a total of $7400.00. We wish them well in the pursuit of their A&P certification and entry into the aviation industry.
The recipients were....
Richard Brown, Christopher Holm, Dean Hamel, Bylaw Javan, Nicholas Johnson, Steven Lahr, Zachary Ludi, Jeremy McMullen, Jeromy Menner, James Sherard, Kevin O'Sullivan, Jeff Stiles, Kristina Triner, Jim VanDyke, Rhoan Wallace and Joshua Westoven.
Tuition Scholarships awarded at 2007 Maintenance Symposium dinner.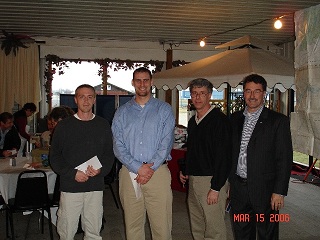 Awards presentation (L-R) Jeremy McMullen, Charles Lawrence, COPAMA President Lowell Dowler, PAMA President Brian Finnegan.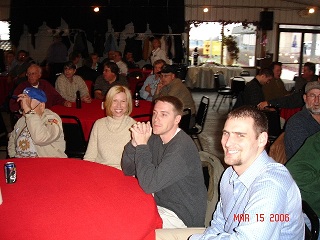 Jeremy and Charles with other Maintenance Symposium attendees.
2008 Awards
COPAMA Awards Testing and Tuition Scholarships for Spring 2008 at March 19th Meeting.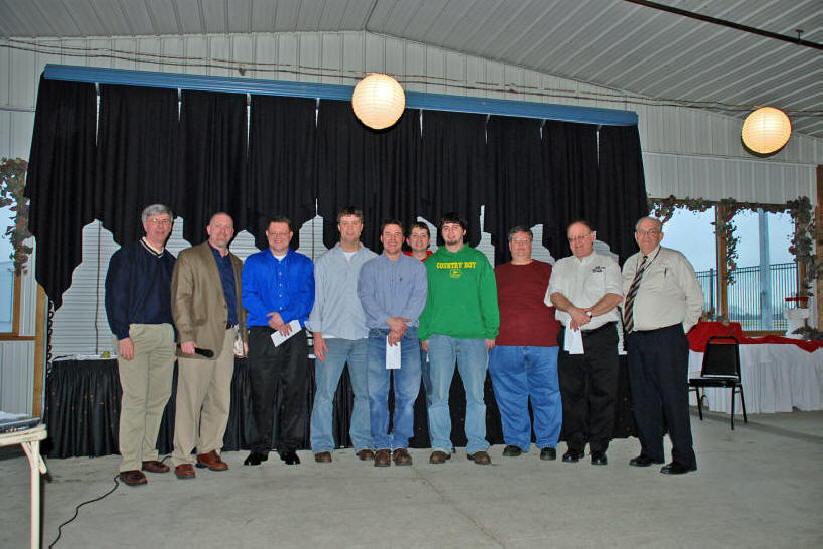 During the March meeting at JPs Barbeque, the COPAMA Scholarship Fund awarded $7000 in funds to many students from Columbus State Maintenance Technology. Testing Scholarships totaling $3000.00 were awarded to Kyle Beachy, Michael Davies, Dan Gubermath, Ray Hanson and Jonathan Taggart. Tuition Scholarships totaling $4000.00 were awarded to Michael Davies, Jonah McGarvey, Ben Ndiaye, Scott Smith and Jonathan Taggart.
This years awards bring the total to almost $37,000 that have been disbursed through the fund since COPAMA's establishment back in 2002. We want to wish all our scholarship students well in their pursuit of careers in the aviation industry and thank our Scholarship Committee members for their time spent and dedication. They are Paul Gillenwater, Jeff Gruber, Cliff Kelling, Joe Lippert, Lowell Dowler and Chairman Gene Sprang.
2009
Students receive Scholarship Awards at Maintenance Symposium in March
COPAMA gave it's Tuition Scholarship awards to 5 applicants. Monetary awards totaling $3700.00 were presented to Andrew Sisinger, Joe Boyer, Ian Frias, Rajah Ishwar and Curtis Cox. They all participated in an interview process with our Scholarship Committee members, geared to give them experience for their job search interviews.
We wish them well as they graduate from Columbus State and pursue jobs in the aviation industry or higher education. Thanks also to the committee members that went through the applications and interview results to decide the ranking of the applicants based on merit, need and future goals in our industry.
2010 Awards
13 Students received Testing Scholarships at the January 2010 meeting.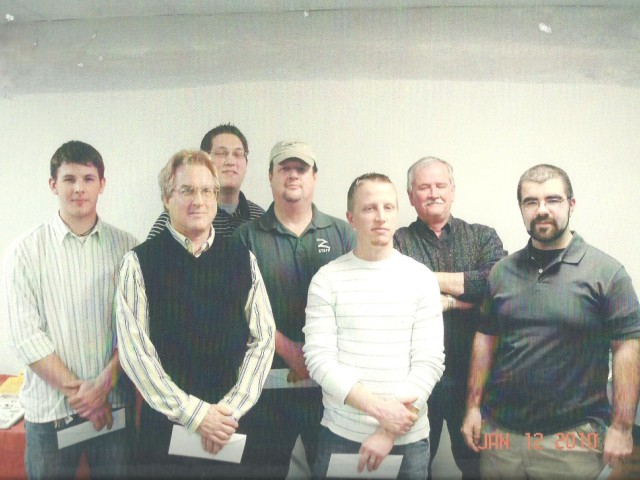 President Gene Sprang announced the 2010 Testing Scholarship recipients at the first meeting of 2010. The 13 applicants were awarded scholarships for the 2010 year. Pictured above are Marco Balke, Mark Bibbee, James Byington, Curtis Cox, Charles Jenkins, Ed Erwin and Sean Scott. Recipients not in the photograph were Ryan Cherwein, Ian Frias, Jake Julian, Dan Murphy, Josh Neumann and Sarah Osborne

Total mount given to the testing scholarship was $7,745. Gene also expressed thanks to the members of the Scholarship Committee for their hard work. The members of the Committee are Lowell Dowler, Joe Lippert Paul Gillenwater, and Cliff Kelling.
2011 Awards
9 Testing Scholarships awarded at February Meeting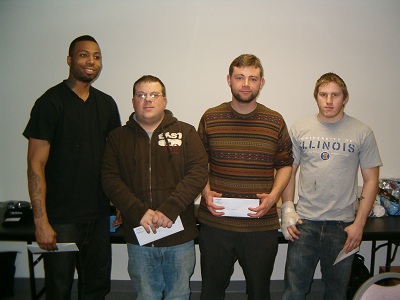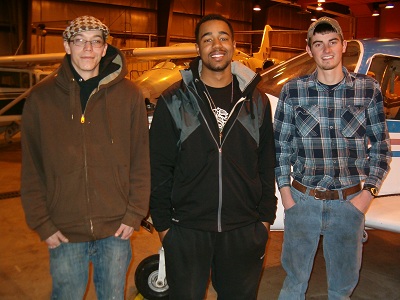 Nine Scholarship Award certificates were presented to this years recipients at the February Meeting. Those students in attendance are pictured in the left photo above. They were (L to R)Richard Whiteside, Jeffrey Topp, Nathan Sauer and Chad Mayeran. The right photo shows award recipients Dustin Watson, Eric Rahaman and Chad Houser. Scholarship recipients not pictured are David Antle and Haitam Sheikh. We wish them well in their pursuit of careers in Aviation Maintenance.
2012 Awards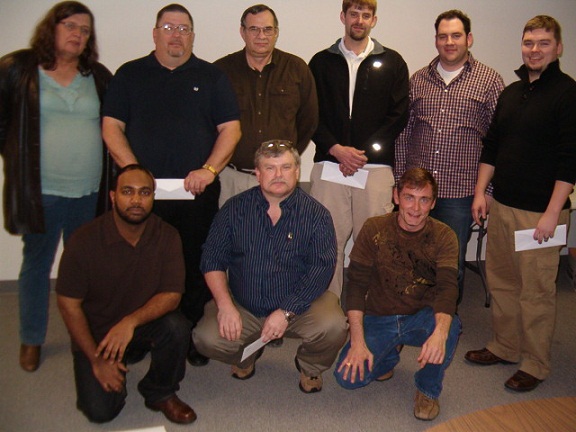 The following applicants were selected to receive testing scholarships from applications received in December 2011. Pictured above are the Testing Award recipients in attendance at the meeting. They are left to right front row: Naamon Person, Brian Kunkle and John Spring. Back row: Shelia Walters, Jim Tipton, Bud D'Amato, Jed Rempel, Preston Cook and Nathan Damaske. We wish them well during testing and entering careers in the aviation industry.
2013 Awards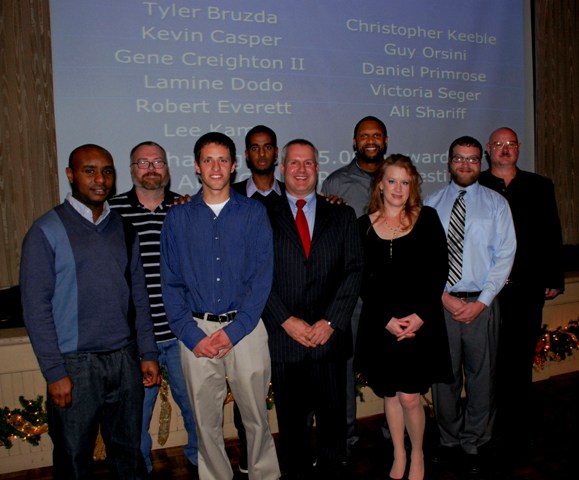 The 2014 Scholarship Awardees were L-R, Lee Kamua, Gene Creighton II, Tyler Bruzda, Ali Sharif,
Robbie Everett, Chris Keeble, Victoria Seeger, Kevin Casper and Guy Orsini.
2014 Awards
The scholarship awardees for 2014 who were in attendance at the Holiday Dinner, were brought forward to receive their scholarship awards and posed for a group photograph. They are L - R, Sean Shorr, Jeff Mayse, Greg Badgley, Jason Harris, Stev Erlenbach, Travis Johnson, Isaiah St. John, John Johnson and Ryan Sawmiller. We wish them well as they finish their training and testing and enter the Aviation Industry!
2015 Awards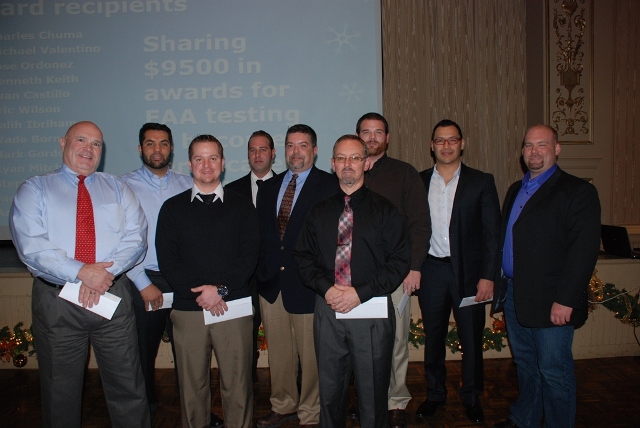 The 2015 Scholarship Awardees were L-R, Stephen Brown, Michael Valentino, Andrew Breier, Jacob Davidson,
Eric Wilson, Kenneth Keith, Mark Gordon, Juan Castillo, Wade Born.
Not pictured: Charles Chuma, Salih Ibriham, Ryan Mitchell, Jose Ordonez
2016 Awards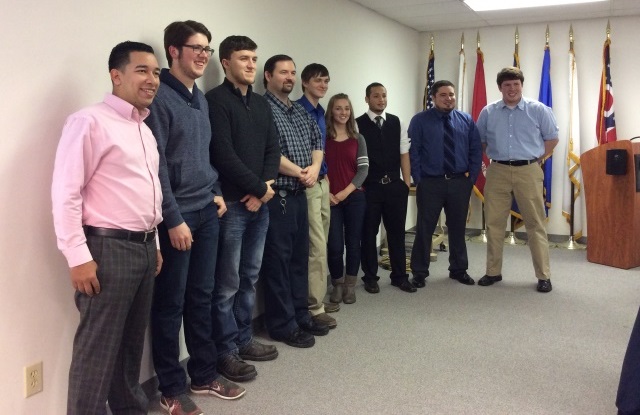 The 2016 Scholarship Awardees were L-R, Pablo Cortes, Matthew Thomas, Jacob Galliher, James Andersen, Gregory Churchill, Megan Kimbler, Wilfredo Ortiz, Stephen McGirr and Byron Bruno. Unable to attend were Nathan Fellrath and Sean Peters.
We congratulate them and wish them well as they finish their studies and start their careers in aviation.
2017 Awards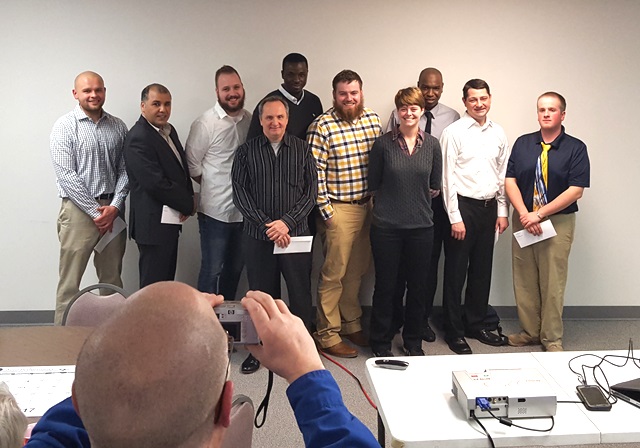 The 2017 Scholarship Awardees were L-R, (L-R) Alexander Krigbaum, Mhamed Igoul, Cohen Fetters, Marvin Neubig Jr,
Alioune Diaw, Cole Bryant, Saryn Mayfield, Ali Abaker, Ryan Goddard and Aaron Lehuta.
Recipients not in attendance are: Michael Andrews, David Hallmon, Thomas Lahman and Nicholas Liberati.
2018 Awards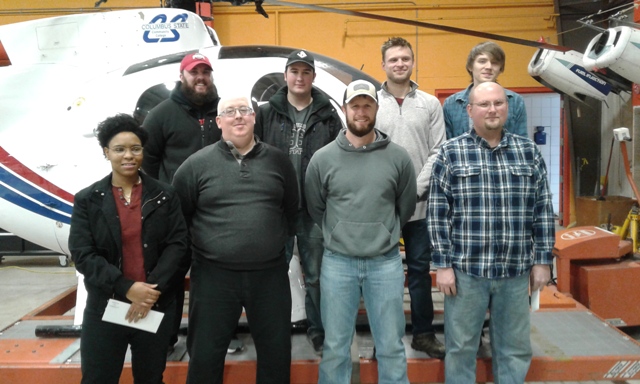 The 2018 Scholarship Awardees were L-R, Front row: Ashley Jones, Eric Coots, Justin Topping, Benjamin Butler
Back Row: Ian Bennett, Alexander Houston, Anthony Digiannantoni, Grant Smith
Not Pictured: Gustavo Alarcon
2019 COPAMA Scholarship Award Recipients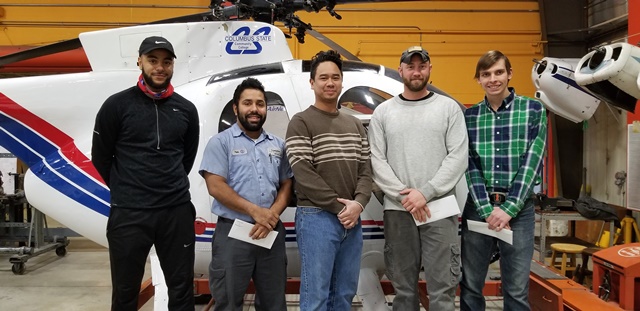 L - R Andrew Callendar, Pablo Lazu, Antony Sivixay, Justin Nelson and William Rioch

COPAMA participates each year at the District 7 Science Day held on a Saturday in the middle of March. After reviewing the Science Fair Entries from local elementary, middle and high school students that relate to aviation or related technologies, our volunteer judges pick 3 students to receive $100, $75 and $50 for our selected 1st, 2nd and 3rd place awards. Up to two other students received Certificates of Honorable Mention and all recipients are encouraged to continue their study of aviation related sciences. Click on the logo above for more information about the District Science Day. COPAMA is proud to be a part of this program and help encourage the youth of today to be the aviators of tomorrow!
2006 Awards
COPAMA Participates in District Science Day, March 18th, 2006 at C.S.C.C. COPAMA members judged aviation related science projects at the District Science Day and gave out the following awards.
1st Place - Scott Mansfield - 6th Grader from Village Academy "What Airfoil and Angle of Attack Works Best".
2nd Place - Aeron Roach - 7th Grader from Sells Middle School "Winging It".
3rd Place - Nigel Mathias - 6th grader from Clintonville Academy "Finding the Shape with the Least Amount of Drag."
Honorable Mentions:
Ben Murray - 8th grade Hilltonia - "Which Aircraft will fly the farthest"
Team of Rebekah Harrison & Brittany Judhan - 9th Grade Harvest Prep - "How does weight effect a glider".
1st Place Award: Ben Pifher
7th grade, Our Lady of Perpetual Help
"Airfoil Types"
2nd Place Award: Ryan Patton
8th grade, Immaculate Conception
"Electromagnetic Propulsion"
3rd Place Award: Michael Kovalchik
8th grade, Saint Paul's
"3.2.1. Blast Off!"
Honorable Mentions Awards: Patrick Cantwell, 7th Grade, Saint Andrews and Thomas King, 8th grade, Saint Paul's
1st Place Award: Matt Dunn
87th grade, Saint Brigid's
"Wing Design and Flight"
2nd Place Award: Jonas Wahl
7th grade, Our Lady of Perpetual Help
"Do Winglets Help a Plane?"
3rd Place Award: Dillon Stenger
9th grade, Big Walnut
"Which Generates More?"
Honorable Mentions Awards: Brian Vetter, 7th Grade, Saint Andrews and Jeffrey Bell, 9th grade, Columbus East
This page was last updated on 11/17/20.