2006 Events
The following are the meetings and events of 2006.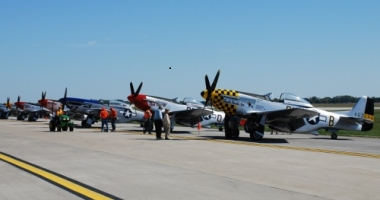 Safety through knowledge!
Our 2006 Calendar
| | |
| --- | --- |
| January 10th | Landmark Aviation - Precision RNAV. |
| February 14th | AircraftLogs.com - Using Computers in Record Keeping. |
| March 15th/16th | Maintenance Symposium at CSCC AMT |
| March 15th | COPAMA Meeting at PJs Barbeque - Jim Miller - Retrieving Falcon 10 from Amazon |
| March 18th | District 7 Science Day at CSCC |
| March 30th | COPAMA Receives PAMA Chapter of the Year Award |
| April 11th | Champion Aerospace - Ignition Leads and Spark Plug Clinic |
| May 9th | CRS Jet Spare - SecuraPlane Technologies Batteries |
| September 12th | Tri-Arc Manufacturing - Aviation Line Support Equipment |
| September 15th | COAGO 2010 at The Landings at Rickenbacker Golf Course |
| October 10th | Honeywell - HTF-7000 (AS907)Engine |
| November 14th | Pratt & Whitney Canada - Engine Boroscope Inspections -Election |
| 2006 Holiday Dinner & Dance | Lane Aviation - David Rousselle - Road Runner Music DJ |
---
January
Landmark Aviation - Scott Brooks
Many thanks go to Landmark Aviation for sponsoring our meeting and providing the presentation by Mr. Scott Brooks on Precision RNAV Operations and WAAS. Proposed changes to the By-Laws of the COPAMA organization were presented and a formal vote will be held at next months meeting. COPAMA awarded 16 testing scholarships to students of CSCC. See the Scholarships link for more information!
February
AircraftLogs.com - Doug Stewart
The meeting started with a report by Jeff Gruber on COPAMA's involvement in the Great Lakes Regional PAMA Olympic held in Lansing, Michigan, January 20th and 21st. The Chapter then conducted a short business meeting to vote on the adoption of proposed changes to the COPAMA By-Laws. The changes which were emailed to the membership and presented at last month's meeting were unanimously approved.
Then, Doug Stewart from AircraftLogs.com, based at Lane Aviation, gave an informative presentation titled "Using Computers In Record Keeping" covering the electronic storage of documents, electronic signatures and FAA requirements for those procedures. COPAMA would like to thank AircraftLogs and Doug for his presentation and AircraftLogs and Gulfstream Aerospace for Co-Sponsoring the meeting.
March
CSCC AMT Maintenance Symposium - March 15th/16th
March 15th Meeting - JPs Barbeque
Our March meeting, held on Wednesday, March 15 at JP's BBQ at Bolton Field was a fun-filled event for all who attended. This was our first attempt to coincide the meeting with the Ohio Aviation Maintenance Symposium with a program that was both informational and entertaining.
There was a short meeting with two students receiving academic Scholarships and PAMA President Brian Finnegan discussing the National AMT Day Resolution and the exciting new affiliation between PAMA and SAE. Brian's discussion was followed by our great, sponsor funded dinner.
Guest Speaker Jim Miller from Aircraft Technical Support gave a spirited and lively talk on his adventures while recovering a Falcon 10 aircraft from the Amazon River area of Brazil. We thank Brian and Jim for helping make this meeting one to remember for a long time and Dale Forton, our Director of PAMA's Great Lake Region, for attending.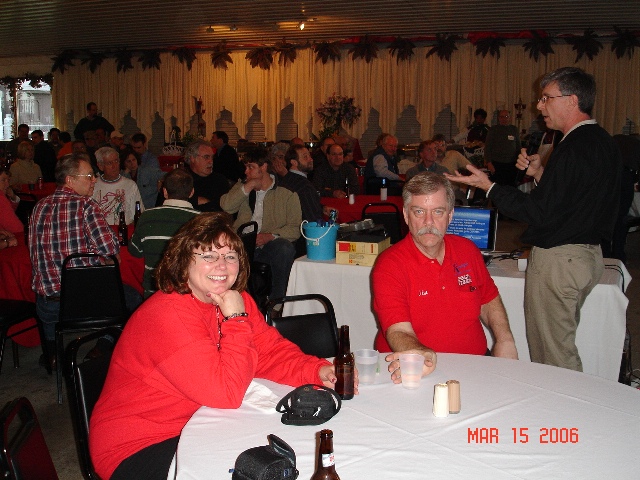 Guest Speaker Jim Miller and his wife Dondi relax for photo while COPAMA President Lowell Dowler addresses attendees.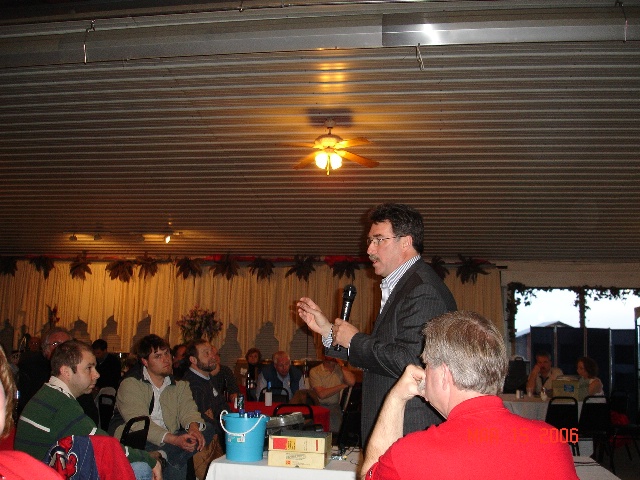 PAMA President Brian Finnegan Discusses National AMT Day and PAMA / SAE Affiliation.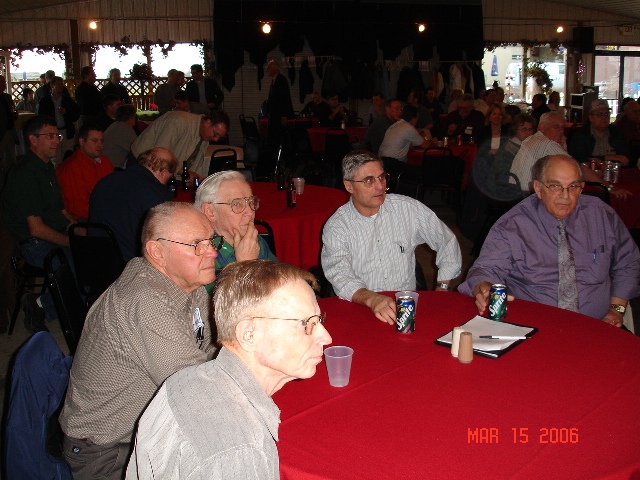 Some Meeting attendees (clockwise from foreground).
Ben Ladd from S.E. Ohio, Cliff Marr (CET Awardee), Claire Kosbab (CET Awardee), Earl Redmond and Cliff Kelling.
Special thanks go to Jeff Gruber and Gene Sprang of Columbus State Community College for coming up with and organizing the first of a probable annual event. Louie Fura also played a big part of its success by gathering support from the vendors below to fund the meeting. Thanks Jeff, Gene, Louie, JP's BBQ and staff and all the others behind the scene that helped!
All of this would have been impossible without our Sponsors for the meeting, NetJets, Bizjet, SISU Services, RAPCO, Stevens Aviation, AirNet, API, Raytheon, Elliott Aviation, CRS Jet Spares, Inc. Midcoast, Champion Aerospace and Goodyear. Please remember to thank all of them for providing dinner, the raffle prizes and helping make this meeting possible!
COPAMA Sponsors Awards at District Science Day on March 18th
COPAMA again sponsored awards at the District Science Day held at the Columbus State Main Campus (off of I-670 at Cleveland Avenue). Details of the event and winners are posted on our Scholarship page. Congratulations to all who competed and thanks to our members who judged the event!
COPAMA Receives PAMA "Chapter of the Year 2005" Award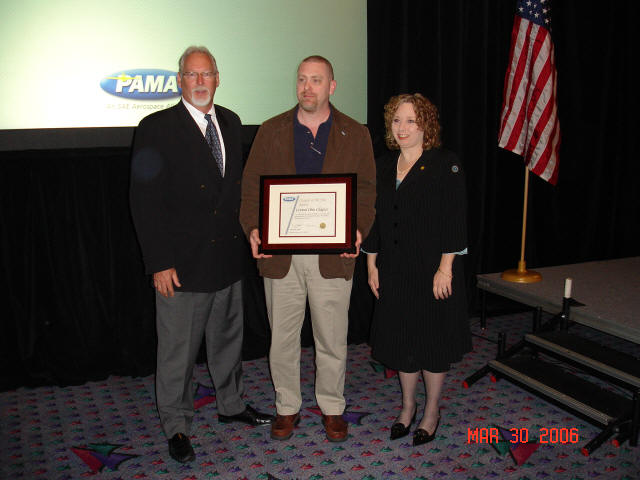 PAMA Director Dave Orcutt presents "2005 Chapter of the Year Award" plaque to Jeff Gruber and Donna Bricker.
Central Ohio PAMA Chapter received the prestigious "Chapter of the Year 2005 Award" at PAMA's 2006 Maintenance Symposium is Las Vegas. The presentation was part of the Annual Awards Breakfast held on Thursday, March 30th. COPAMA Vice President Jeff Gruber and Treasurer Donna Bricker were there to accept the award on behalf of the chapter.
In light of the many fine Chapters in PAMA, it is an honor for us to receive this distinguished award and national recognition. Thanks to all who have spent long hours to help organize, establish and support the COPAMA Chapter, making it the national award winner!
April
COPAMA Thanks Champion Aerospace for Sponsoring April Meeting
The April meeting was sponsored by Champion Aerospace. We want to thank Rick Busch for his presentation on "Ignition Leads & Spark Plug Clinic" and Champion for providing the meal. Champion has long been a manufacturer of aircraft ignition and other support components and we thank them for their continued support
May
CRS Jet Spares Sponsors May Meeting.
The May meeting was sponsored by CRS Jet Spares and featured presentations by John Iverson about CRS Jet Spares and Henry Toby of Securaplane Technologies on Securaplane Main-ship Batteries. Many thanks to John and Henry for the food and presentations and Lane Aviation for the use of their facility.
This starts the summer break with the first meeting in the fall scheduled for September 12th. Be sure to sign up for the golf outing at the link below and have a safe and fun filled summer!
September
Tri-Arc Manufacturing Sponsors our First Meeting of the Fall!
Our September meeting was held at Lane Aviation with the Custom Solutions division of Tri-Arc giving a presentation on their specialized products for aviation maintenance. Our many thanks to Tim Zenchak and Tim Resciniti for the dinner and presentation on Tri-Arc's products! Please visit their Custom Solutions link at http://www.tri-arc.com/customsolutions/
Central Ohio Aviation Golf Outing Big Success!
There was plenty of fun and prizes for all who attended our Annual Golf Outing presented in cooperation with the Professional Pilots Association. We'd like to start by thanking Jeff Gruber and his Golf Committee, Donna Bricker our Treasurer, The Landings at Rickenbacker Golf Course, the many Sponsors, Volunteers and 126 Players that made this fund raiser for the COPAMA Scholarship Fund a Hugh Success. Click on the Logo below to view the 2010 Golf Outing webpage. Photos of the event are available from 2006 on request..

October
Honeywell Sponsors October Meeting with Presentation of their new HTF-7000 Engine.
The October meeting was sponsored by Honeywell and held at Lane Aviation's Port Columbus Facility. Joe Hough gave the presentation on their HTF-7000 engine with its innovative and ease of maintenance technology. This was one of the first presentations on this powerplant and we want to thank Joe for making a special trip to be with us. The Bombardier Challenger 300 aircraft was the first aircraft to be certified with this new generation of propulsion.
Click here to learn more about the HTF 7000 and it's development.
November
Pratt & Whitney Canada Sponsors November Meeting.
Many thanks to Bill Chapell and Sean McGee of Pratt & Whitney Canada for their presentation and sponsoring our November 14th meeting. The program was informative and provided techniques and photo examples on Engine Boroscope inspections.
COPAMA Elects 4 Board Members to 2 Year Term!
The November meeting also included the election of 4 or our members to the Board of Directors for a two year term. We thank all the candidates for their willingness to serve. Those chosen to serve on the Board were...
Irv Schumacher - TData, Inc.
Marie Brown - FAA FSDO GL07
Gene Sprang - Columbus State Community College - AMT Bolton Field
Lowell Dowler - Worthington Industries
The Board will meet prior to the end of November to elect next years officers which will be announced at the December Holiday Dinner. Thanks to all who serve on the COPAMA Board and Committees for your hard work and commitment to the group!
December
2006 Holiday Dinner and Dance Held Tuesday, December 12th.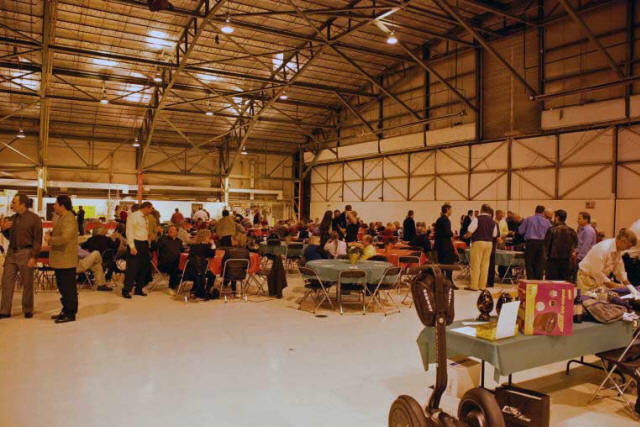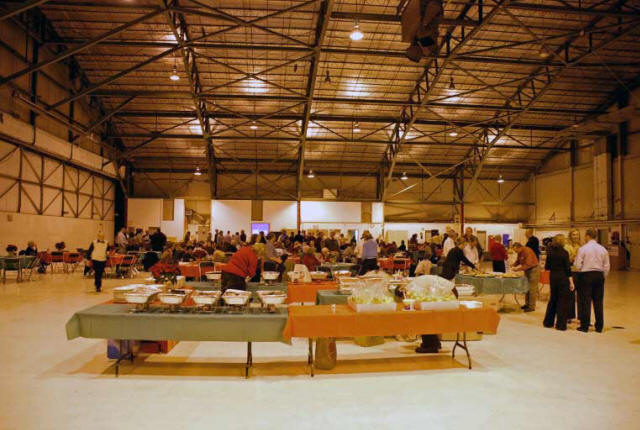 This years event on Tuesday December 12th featured Dinner to the music of David Rousselle of Roadrunner Music and a Dance to raise funds for the COPAMA Scholarship Fund. Lane Aviation at Port Columbus provided space for this annual event and many attended with their spouses and friends!
This Years Sponsors were...
Gulfstream Aerospace, CRS Jet Spares, Dallas Airmotive, Duncan Aviation, Dassault Aircraft Services, Million Air, Elliot Aviation, Landmark Aviation and Raytheon Aircraft Services. Our many thanks to these great vendors for their continued support!
Louie Fura, Donna Bricker and a host of volunteers worked hard to plan, sell tickets and perform the setup/teardown of the facility. A special thanks to Ralph and Shirley Graves and their daughter Janet for their help with the cake and table preparation. Our thanks to the Professional Pilots Association for their help in promoting and co-hosting the dinner and the kind words of their President, Greg Casagrande, on the continued relationship of our two organizations.
The COPAMA presentation included the introduction of our newly elected Board Members and the announcement of Officers. Donna Bricker will continue as treasurer, Marie Brown will assume the duties of Secretary, Irv Schumacher will serve as our new Vice-President and Lowell Dowler will continue as President for 2007. We said thank you to our "Stepping Down" Board Members, Cliff Kelling, Jeff Gruber and Louie Fura. We also said good luck to Jim Huntoon of Gulfstream as he moves to Florida to take on a different territory for GA.
Raffle prizes provided by our many supporting vendors were distributed throughout the evening and the 50/50 raffle was won by Roy Cottrill who graciously donated his half back to the Scholarship Fund. For those who attended, we'd like to hear your feedback on the format of the event, your likes and dislikes so we may make the dinner more enjoyable next year. We thank all who bought tickets and otherwise contributed to this fund raising event.
For questions related to this web site, contact Lowell Dowler at mail@copama.org
This page was last updated on 12/22/21.