COAGO 2013
11th Annual Central Ohio Aviation Golf Outing!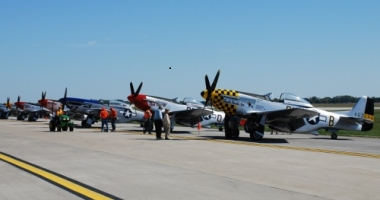 Safety through knowledge!
Willow Run Golf Course, September 6th, 2013

Held in September and Co-Hosted with Professional Pilots Association

We want to thank our Central Ohio Aviators and Sponsors for their great support of this year's event.

Please check back for this year's amount raised for the COPAMA Scholarship Fund.
Welcome to COAGO 2013!
Every year in September, Central Ohio aviators look forward to this day of golf with their friends and coworkers. This year, we had beautiful weather and filled the course for a third straight year. 151 players teed off on September 6th to enjoy a day of relaxation, food and raffle prizes for our local aviators, sponsors and guests.
This event, which is co-hosted by the Professional Pilots Association (PPA), has been the main fundraiser for the COPAMA Scholarship Fund which provides monetary awards for tuition and testing fees of local student Aviation Maintenance Technicians. Your participation helps the event proceeds keep the fund ready to help those who request testing scholarship help for next year.
Click on the logo above for more information about the course. This year's Outing Photos are located in the pull down menu on the Photo Gallery page.
We'd like to Thank the following Sponsors for their outstanding support of this year's Central Ohio Aviation Golf Outing and the management and staff of Willow Run Golf Course for their help in making it happen!
Hole Sponsors
Raffle Prize Sponsors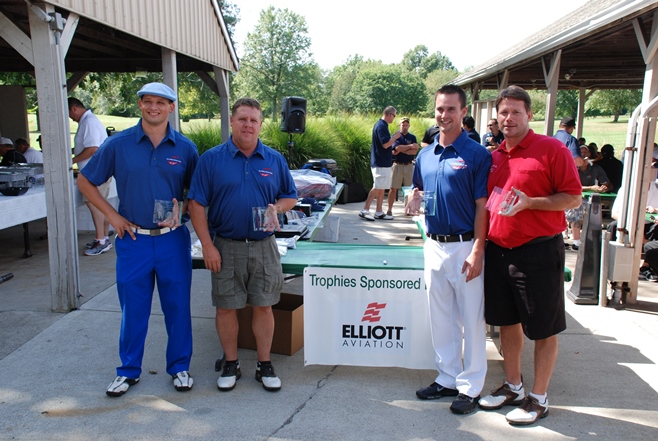 First Place Team
Aero Battery #1 (56)
Joe McCauley, James Kratochvil, Tim Merman and Sean Cosan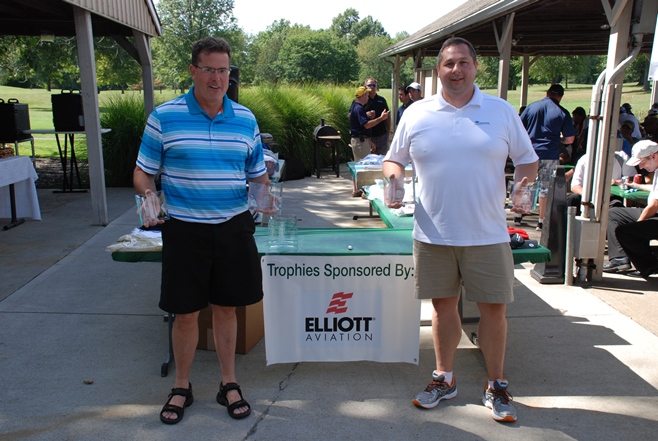 Second Place Team
Lane Aviation (58)
Mark Myer, Bob Wing , Jeff Ford* and Joe Ford*
* Missing from Photograph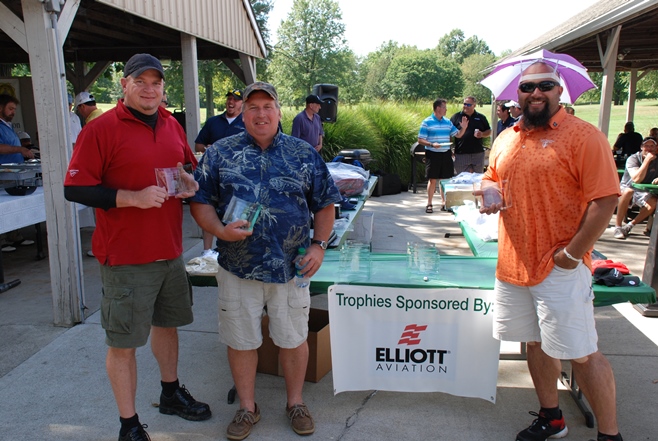 Third Place Team
Team Kassor ( 59)
Brad Graley, Chuck Kassor and Ian Frias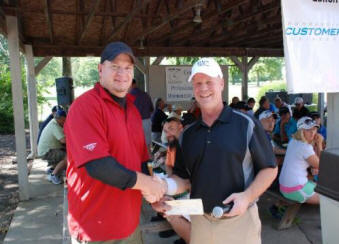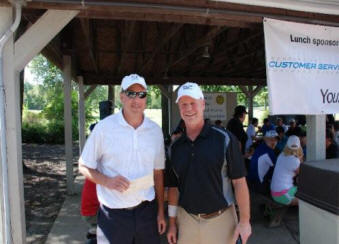 Brad Graley Longest Drive Hole 1 Grant Hundley Closest to the Pin Hole 9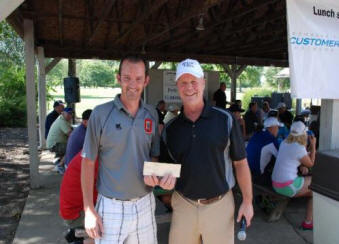 Gary Taylor
Longest Drive Hole 13 - Closest to the Pin Hole 16

The 11th edition of the Central Ohio Aviation Golf Outing is in the books. We had another great year of great weather, great golf, great food, great friendship, and some great laughs. I am sure that playing in the outing had something to do with my exceptional outlook on today's events. I was able to compete because of the absolutely tireless efforts of all of the people that work behind the scenes to make it a great day for all of the participants. From setting up the breakfast to tabulating scores, all of the volunteers deserve our thanks for making the day a great experience for all.
The Aero Battery Boys were able to come away with a win by posting a 15 under par score for the day. I know of no other group who enjoys the competition and spirit of play like these guys. They, like all of our vendors step up again and again to provide us with uncompromising support of our fundraising efforts.
I would like to thank all of our sponsors and vendors who give so generously of their time to play in the outing, donate raffle prizes, and sponsor the event. It has truly been a pleasure to serve at the chairman of this event for the last 3 years.
Joe Lippert
Golf Chairman 2011 - 2013
Teams are listed by listed in alphabetical order by Corporation Name or Main Contact Player Name.
Team Name
Hole #
Team Name
Hole #
Team Name
Hole #
Team Name
Hole #
Aero Battery 1
1A
CSCC 2
4B
Landmark Aviation
2B
Stevens Aviation
12A
Aero Battery 2
1B
CSCC 3
4C
Lane Aviation
8A
Schumacher
5A
Air BP
16B
Dallas Airmotive
15B
Lippert
10B
Tocash
18A
Aircraft Inspection Svs
17A
Duncan Aviation 1
6A
Maroscher
7B
Tool Testing Labs
18B
APEX
16A
Duncan Aviation 2
6B
Mazzocco
5B
TriTex Corporation
3A
Beechcraft
14B
Elliott Aviation
15A
Memering
11B
West Star Aviation
2A
Bombardier
17B
Freeman
9B
Nationwide
10A
World Fuel
14A
Comlux Aviation
13A
Honeywell
3B
Ring
9A
Constant Aviation
11A
Immaculate Touch
13B
Robson
10A
CSCC 1
4A
Kasor
7A
Standard Aero
12B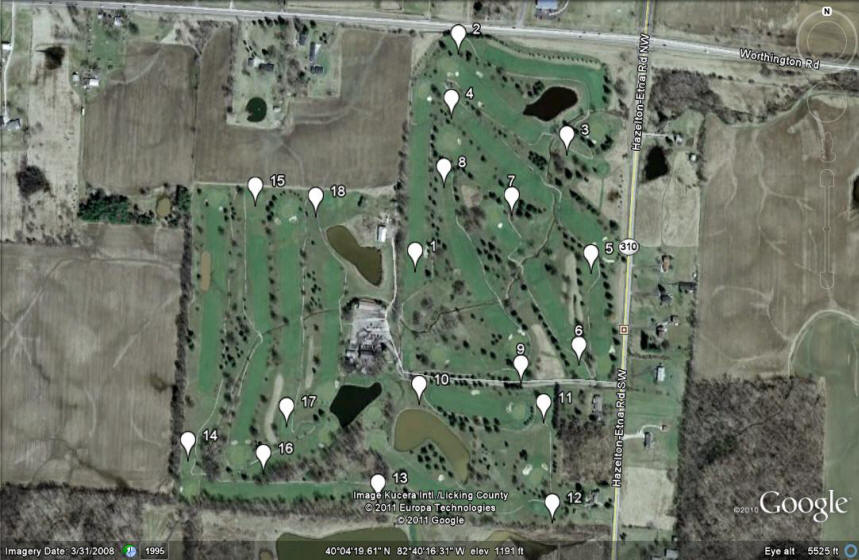 The above photo shows starting tee locations for the holes at Willow Run Golf Course. For those who are interested in reviewing the course, you may download the Starting Tee locations file and load it into the Google Earth application. Once loaded, zoom-in to view bunker and hazard locations and use the distance tool to measure distances from landmarks of your own choice.
Photos from the Event. Team photos are in the Photo Gallery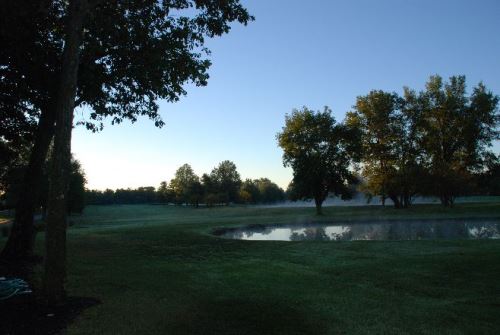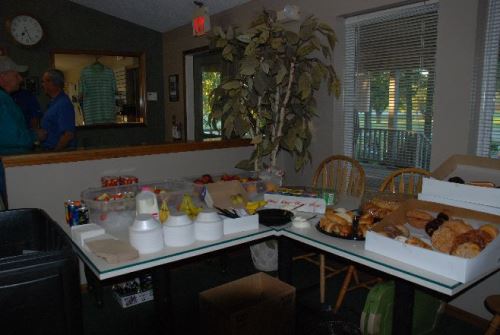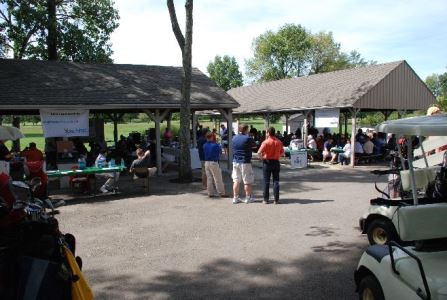 We had a great day at Willow Run on September 6th.
Thanks for all your support!
This page was last updated on 12/22/21.