Who we are and where we're going!
COPAMA just completed its second decade of existence, making a significant impact on the aviation community of Central Ohio.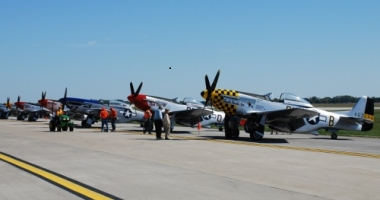 Safety through knowledge!
Our Next Events:
2022
Annual Board Meeting
November 30, 2022
Ohio Aviation Maintenance Sysposium 2023
Eastland Career Center
Monday, March 20, 2023
Current News: 2022
YAA at Fairfield County Airport, September 17, 2022
Event has been cancelled!
This is a collection of aviation related videos and web links for your enjoyment.
Recent Events 2021
2022 Ohio Aviation Maintenance Symposium
Tuesday, March 15, 2022
Eastland Career Center
4465 S. Hamilton Road,
Groveport, Ohio 43125
COPAMA Board Meeting
November 17, 2021
Nationwide Hangar

About Us
COPAMA was an affiliated chapter of the Professional Aviation Maintenance Association (PAMA) a national association of aviation maintenance technicians. Listed below are some of the opportunities of membership in our organization
Membership in COPAMA requirements are simple. You must have an interest in aviation maintenance. Our membership includes Aviation Maintenance Technicians (AMTs) from the airline, corporate and general aviation communities as well as pilots, vendors, students and companies, all with the goal of aviation safety.
COPAMA Offers:

A forum on Facebook Groups for discussing current aviation events.
An opportunity for AMTs to network, gather and talk with other professionals.
We offer an opportunity for students to shadow technicians on the job, take tours and discuss the aviation maintenance profession.
Offer scholarships for students of the Aviation Maintenance Technology Programs.
Social gathering opportunities such as the Central Ohio Aviation Golf Outing (COAGO)and the Ohio Aviation Maintenance Symposium, an IA Renewal Training event.

COPAMA is a 501(C)(3) Non-Profit Organization. TIN# 43-2013111.
The COPAMA By-Laws may be viewed by clicking on this hyperlink.
In the Beginning:
The roots of COPAMA go back to an earlier Maintenance Technicians group called The Ohio Aviation Technicians Society (OATS) which formed in the early 1970s. Along with a sister group, the current O.A.T.S of Cincinnati, Ohio, their meetings featured a technical presentation with little fanfare and raised money by charging a modest yearly dues for membership.
The group met in Lane Aviation's training room on the second floor between hangars #2 and #3. At that time, the Columbus Flight Standards District Office was also located at Lane on the first floor between hangars #1 and #2.
In the early 1980s, Cessna established a Single Engine Zone Office in the Lane facility and the training room was remodeled to be part of their office area. At this time OATS lost their permanent meeting place and started to meet where we could at the various airports around Columbus.
The group struggled with attendance after becoming nomadic and affiliated with PAMA to help deal with those issues. An Aviation Historical Museum was established at Port Columbus and the group met there, making contributions to the Museum to help pay for the utilities. With few forms of raising revenue and dwindling attendance the group disbanded in the summer of 1985. The Hilton Garden Inn and Hampton Inn off International Gateway and Sawyer now occupy the place where the museum once stood.
Rising from the Ashes:
Just like the Phoenix rising from the ashes, the seeds that became COPAMA sprung from the fertile ground of those previous maintenance technicians groups. In 2000 Louie Fura moved from Texas to take a job as Director of Maintenance for American Electric Power at CMH. Within the year, he started talking to a few other AMTs about starting a PAMA Chapter. After learning of the problems that caused the disbanding of the previous maintenance technician groups the decision was made to try again.

Prior to living in Texas, Louie had lived in the Los Angeles area and helped form the Southern California PAMA chapter, serving as their first President. "Although it's a lot of work", he said "it only works if you have a dedicated and active group of people. (Oh, it never hurts to offer a free supper. Especially when you're talking about aircraft technicians)."
"And we do have a dedicated and active group in Columbus. Even though I have, after 40 years, retired from aviation," he said, "you, as a part of the COPAMA organization, have many if not all of these same dedicated leaders still active. I'm very happy that both Southern California and COPAMA are two of the strongest chapters of PAMA. I am thankful that I was there to help create both of them, they are both doing great due to their strong current leadership and membership."
Louie stated, "If you are a young technician in aviation, I hope you get more involved in COPAMA, if you aren't already. Does it take work? Sure! As you know, COPAMA has been able to help many local AMT students financially make it through school and/or meet the cost of taking their FAA exams. If you are proud to be in aviation as an aviation technician then think about giving back and paying forward. That choice will be rewarding to you!"
The first Decade:
COPAMA officially incorporated as a 501(c)(3) Non-Profit Organization in 2002, with a mission of providing educational opportunities for it's members, AMT Students and the aviation community of Central Ohio. The first meetings were held in the Lane hangars and later moved to their Media Room where we currently meet.
COPAMA made it's first large public appearance with a booth at the Ohio Aviation Maintenance Symposium in March 2003. June of that same year brought the first golf outing, September the first Pig Roast and Scholarship Awards. December brought the first Christmas Party at "95th Aero Squadron" with a presentation about "Glacier Gal" a P-38 from the Lost Squadron that was retrieved from glacier ice in Greenland. COPAMAs first website appeared that year with Big Planet being our first web provider.
The website later moved to it's current home thanks to the help of Cliff Kelling, our first internal webmaster and John Clem, a local pilot who also hosts our domain on his web service. Thanks to them the COPAMA.ORG website has increased in web traffic over these many years of operation.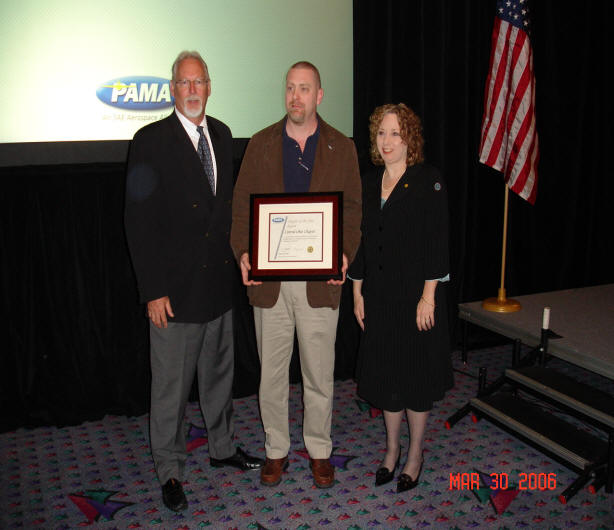 In March of 2006, we hosted our first dinner at JP's Barbeque after the Symposium and later that month, COPAMA received the PAMA Chapter of the Year Award for 2005. Jeff Gruber and Donna Bricker, pictured above, attended the National Symposium and received the award on behalf of the chapter from Dave Orcutt, PAMA National Director.
Since then, COPAMA has found support and grown into a source of information for all who engage in aviation maintenance. Please visit the Yearly Events web pages below to review the great things that COPAMA has been able to accomplish with the help of our many great sponsors, leaders and membership.
Recent years have been difficult in aviation and some of our members, friends and aviation entities have not come through the turmoil with us. We at COPAMA have been lucky to have the support of sponsors, members and friends so we can continue our mission of providing educational opportunities for our members, the student Aviation Maintenance Technicians and the youth of Central Ohio.
We share the Mission of PAMA!
PAMA's Mission:
To promote continuous improvement in aviation safety by enhancing the professionalism and recognition of the Aviation Maintenance Technician through communication, education, representation and support.
2023 Board of Directors:
President: Charles Jenkins


Ohio State University Airport - Aircraft Avionics Manager

Vice President: Christopher Deem


Instructor - Aviation Maintenance Techology
Columbus State Community College

Secretary: Gene Sprang


Retired: Aviation Maintenance Technology
Columbus State Community College

Treasurer: Lowell Dowler


Retired: Worthington Industries

Board Member: Stephen Brown


Adjunct Instructor - Aviation Maintenance Techology
Columbus State Community College

Board Member: Joe Lippert


Nationwide - Director: Chief of Maintenance

Board Member: Bill Otte


Regional Manager, East Central U.S.
Duncan Aviation
Committees
Here is a list of the committees and their members. Please contact the chairperson of these committees if you are interested in helping out in any of these areas.
Scholarship Committee
Chairman - Chris Deem
Member - Gene Sprang
Member - Joe Lippert
Member - Lowell Dowler
Member - Steve Brown
Member - Bill Otte
This page was last updated on 12/05/22.