2012 Events
The following are the meetings and events of 2012.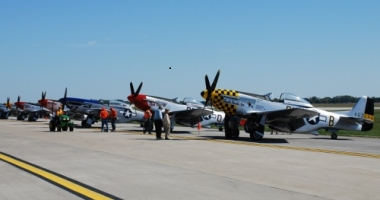 Safety through knowledge!
Our 2012 Calendar
January 10th
Mr. Dwight Jarboe - MMS Aviation - Missionary Maintenance Services
February 14th
Mr. Ed Bannen - Honeywell - "Next Gen Airspace"
March 14th/15th
Maintenance Symposium at CSCC AMT
March 17th
District 7 Science Day at CSCC
April 10th
Inspector Tim Sokol - FAASTeam - "Aviation - Past, Present and Future"
May 8th
Mr. Alan Harding - The Ohio Aviation Association
September 7th
COAGO 2012 at Willow Run Golf Course
October 9th
Mr. Joe Zeis - The Ohio Aerospace and Aviation Council
November 8th
Inspector Mark Harden - FAASTeam - "FAASTeam Challenges for 2013"
December 6th
2012 Holiday Dinner - Villa Milano
Guest Speaker - Mr. Norm Burmaster - Champaign Aviation Museum
Topic: "The Champaign Lady B-17 Restoration Project"
---
2012 COPAMA Calendar
The January meeting was held at Lane Aviation and marked our first meeting of the new year. Gene Sprang started the meeting with a review of last month's Holiday Dinner. He then listed our current calendar of upcoming events which included the Ohio Aviation Maintenance Symposium in March.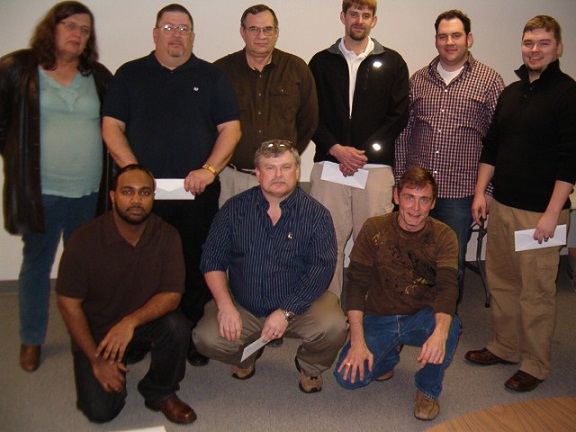 Next on the agenda was the presentation of testing scholarships to this years recipients chosen from applications received in December. Pictured above are the Testing Award recipients in attendance at the meeting. They are left to right front row: Naamon Person, Brian Kunkle and John Spring. Back row: Shelia Walters, Jim Tipton, Bud D'Amato, Jed Rempel, Preston Cook and Nathan Damaske. We wish them well during testing and entering careers in the aviation industry.
The meeting then featured a presentation by Dwight Jarboe about Missionary Maintenance Services doing business as MMS Aviation at Coshocton Richard Downing Airport (I40) here in Ohio. Their mission to the world and the Lord above is to provide a facility to inspect, repair, overhaul and transform aircraft for missionary service while at the same time training maintenance technicians to maintain and sometimes fly those same aircraft in missionary support around the world.
Missionary aircraft provide transportation of critical supplies, medical patients and other resources to third world countries and underdeveloped areas where roads and ground transportation may be minimal or non-existent. Dwight explained that a 90 minute plane ride might equate to up to 12 hours of transportation across the ground. Hospitals may provide treatment and surgery to patients and safely fly them back home where a ride in a ground vehicle over rough terrain may cause the reopening of incisions.
The staff and students of MMS Aviation are supported by donations from churches and individuals and self-initiated fund raising. These funds provide living accommodations, a means of transportation and tools while they learn by on-the-job experience which is documented to allow them to take the A&P tests necessary for certification under CFR 65.77.
Labor is provided free to mission organizations for the inspections, repairs and modifications of their aircraft that come from around the world. Some are shipped in to MMS in containers where they are restored to near new conditions to return to perform their mission support.
We thanked Dwight for his discussion about MMS Aviation and Gene presented him a $500.00 donation to use in support of their facility and purpose in aviation training. Please visit the MMS website to learn more about their organization by clicking on the link above. You may also visit these links to the MMS Blog and their MMS Channel on YouTube. Please note that a Google user name and password are necessary to visit them on YouTube.
Update: On February 6th, the COPAMA Board voted to provide $900.00 from the Scholarship Fund for testing scholarships for two MMS Aviation apprentices who will complete their program this year. This will pay for computer testing fees since the students receive their oral and practical exams from MMS for free. We're happy that we could help them and wish them well as they pursue their careers in missionary aviation maintenance!
February - "Next Gen Airspace" by Ed Bannen of Honeywell
Our last meeting was held February 14th and featured a discussion of "Next Gen" airspace and equipment by our good friend and supporter, Ed Bannen of Honeywell. He highlighted the hardware changes that will be required for communication between ground controllers and other aircraft. He also brought up that with the number of aircraft that need to be modified and the FAA just finalizing the equipment requirements, the 2020 deadline may slip to a later date for full implementation. Ed's discussion was well worth the risk to those who attended this meeting, held on Valentines Day.
The meeting included a presentation of a FAASTeam Award to Rich Cadys by Tim Sokol, our FAASTeam director. We want to congratulate Rich on receiving the award and look forward to having Tim back to give our April presentation "Aviation Maintenance - Past, Present and Future".
April will be our next regular meeting with the Maintenance Symposium being our March event. We'll send out notices when we get closer to that meeting.
March
Ohio Aviation Maintenance Symposium, March 14 & 15 at CSCC AMT Facility.

The Ohio Aviation Maintenance Symposium ran from March 14th to 15th at the CSCC Aviation Maintenance Technology Facility at Bolton Field. The two day event featured Vendor booths and presentations good for submission to the FAA for IA renewal. FAA representatives from the Columbus and Cincinnati FSDOs were in attendance to participate in this annual event.
The first day opening featured the presentation of the Charles Taylor Award to Cliff Kelling for his 50 years of service in aviation maintenance as both a technician and educator. Tim Sokol, our FAASTeam program manager started the presentation by sighting several facts about Cliff's career that prompted 30 letters of recommendation received by his office. Tim jokingly told the group they could stop sending letters, his mailbox was overflowing. Only three letters of recommendation are required for consideration of the award.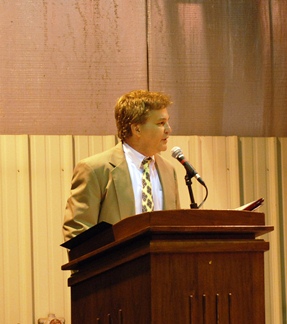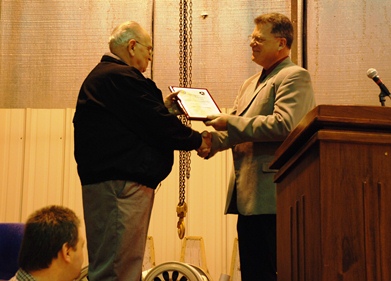 Tim handed the podium over to Mark Harden of the Columbus FSDO who advised that Cliff's wife Marylyn and son Greg were also in attendance for the award presentation. As part of the award, Marylyn received a pin to acknowledge her support over those 50 years of Cliff's aviation career. Mark then shared highlights of Cliff's life that helped win him the award.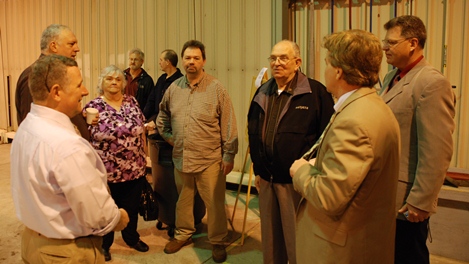 Cliff started at a local machine shop manufacturing parts for several aircraft produced by North American Aviation. He then worked at Lane Aviation as a mechanic, then shop foreman and helped prepare the "Spirit of Columbus" Cessna 180 aircraft that set so many records for Geraldine "Jerri" Mock. I asked Cliff for his memoirs of his participation in her flights and he responded with Background Information on the "Spirit of Columbus" and a Photo of 38 Charlie, which you may view by clicking on the link. You'll note that after years of being an educator, Cliff's reply is both entertaining and educational.
Winter quarter of 1976, Cliff joined the Aviation Maintenance Technology staff of Columbus Technical Institute, now known as Columbus State Community College. I was lucky to be one of the first classes of students he taught at C.T.I. and that was the quarter my transcript has for course 2513 - P/P TH & MNT-JET, our first interaction as instructor/student. While there, he helped train an estimated 1620 students, tested over 300 students as a DME and earned a BS and MA in Education from The Ohio State University. He finished his career at NetJets Inc. and now lives in retirement at his home in Hebron, Ohio.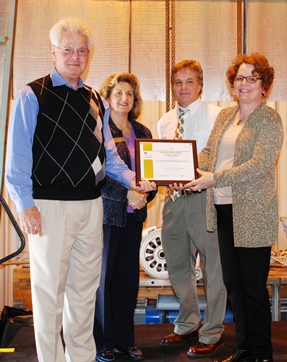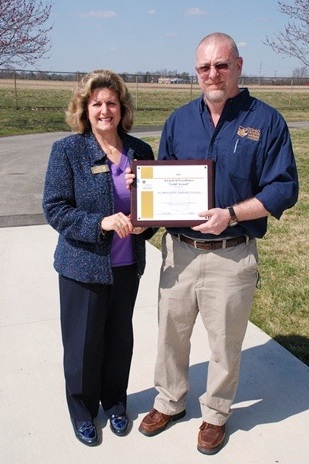 During the afternoon session, members of the FAA presented the Award of Excellence "Gold Award" to Columbus State as part of the AMT Awards Program. (Above Lt) On the podium to present and accept the award were Dick Bickerstaff, CSCC Chairman of Construction Science & Engineering Technologies, Valerie Palazzolo, Manager, Great Lakes Region FAASTeam, Tim Sokol, Program Manager, FAASTeam Manager and Mary Vaughn, CSCC Assistant Dean, Career & Technical Programs. (Above Right) Valerie and Jeff Gruber of CSCC AMT with FAA Gold Award.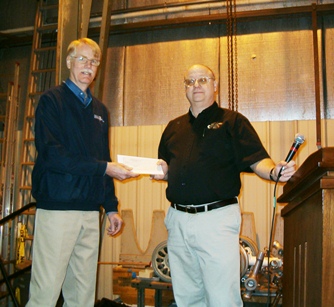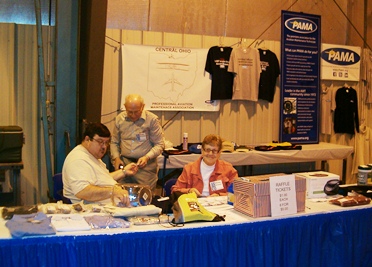 The second day of the Symposium included the presentation by Gene Sprang of a $900.00 check from the COPAMA Scholarship Fund to Dwight Jarboe of MMS Aviation. The check will pay for testing fees of two apprentices finishing the MMS program to become A&P technicians. They are Paul Gettle, who has a background in automotive engineering and worked at Teledyne Continental Motors for 6.5 years, much of that time as a Senior Quality Engineer.
Also graduating is Mark Beckwith from England who comes to MMS Aviation through a partnership MMS has with Mission Aviation Fellowship – United Kingdom (MAF-UK). Mark has been a Design Engineer and worked for British Aerospace, Boeing, and Agusta-Westland. We're happy we could help them as they test for certification and enter careers in Missionary Aviation Maintenance. Please see our January meeting information below for more about MMS Aviation.
Finally, we want to thank all who dropped by the COPAMA booth and participated in the daily raffles, either by providing prizes or buying tickets for the fundraiser! Thanks also to our members that manned our booth and Dale Forton and Tammy Van Prooyen at the PAMA Booth next door.
Other photos are available to view at the Photo Gallery page!

District Science Day, Saturday March 17th featured warm spring-like weather as we arrived Columbus State's main campus. This years judges included Gene Sprang, Earl Redmond and Lowell Dowler to review the aviation related projects of the hundreds of student projects there for the district competition.
The three projects chosen for the COPAMA Sponsored Award are....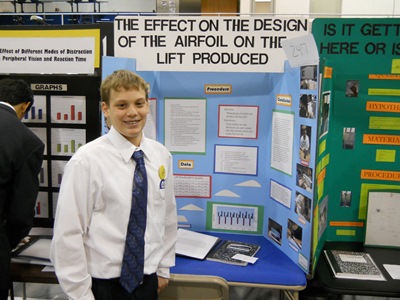 The Effect of the Design of the Airfoil on the Lift Produced.
Gregory Vojacek
Saint Paul ES
8th Grade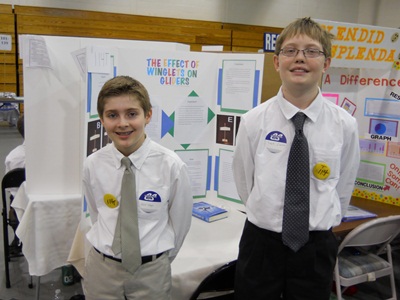 The Effect of Winglets on Gliders
Alex Gray and Jack Carlin
Immaculate Conception ES
7th Grade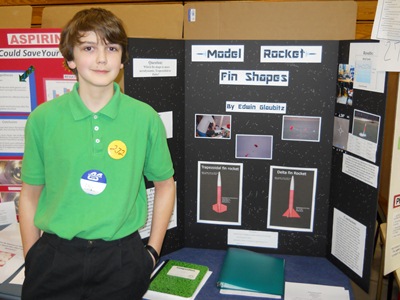 Model Rocket Fin Shapes
Edwin Glaubitz
John Sells MS
7th Grade

We want to thank all the students we interviewed for competing in this year's District Science Day and encourage them to continue their interest in science and aviation. Click Here for more information about the event.
April
April Meeting featured Tim Sokol - FAASTeam
Our April meeting featured Tim Sokol, our FAASTeam Program Manager, first as the chef of some fine barbequed brisket, baked beans, Cole slaw and potato salad. The dinner was topped of with a special cake to commemorate Cliff Kelling receiving the Charles Taylor Award at last months Symposium.
The evening's events started with the social gathering at 5:30 and dinner around 6:00. Gene Sprang started the meeting after dinner and reviewed the Symposium and upcoming events which include the 70th Anniversary Gathering of the Doolittle Raiders and Alan Harding who will be next months speaker on the Ohio Aviation Association.
Tim started his program by giving Cliff the more than 30 letters of recommendation and a "Blue Ribbon" copy of all this FAA historical records. After Cliff received a round of applause from the meeting attendees, Tim continued with his presentation "Aviation Maintenance - Past, Present and Future". He gave examples of the challenges that technology presents in aviation maintenance from the early experiments of the Wright Brothers to the composite structures and electronic controls of today.
We want to thank Tim for his huge personal contribution to the evenings event, both by his presentation and the food. Those who signed up will receive a certificate good for 1 hour for Wings Program or IA renewal credit. Our prize raffle brought the meeting to a close.
May
Ohio Aviation Association Featured at May Meeting
Our May meeting was held at Lane Aviation and featured a presentation by Alan Harding about the Ohio Aviation Association. Founded in 1965 as the Ohio Airport Manager's Association, the O.A.A. is a non-profit corporation committed to airport development and safety in Ohio. They support Ohio's aviation community through education, communication, advocacy and partnerships.
We also had a special guest, Author Richard Barrett who has just published the book Aviation in Columbus. Richard signed copies copies of his book that were available for purchase at the meeting. Click Here For a sneak peek at the book.
The social gathering started at 5:30 with dinner at 6:00 and Alan's presentation immediately after. We want to thank Alan, who is from Central Ohio and has long been an advocate for our aviation community, for his presentation and the organizations efforts promoting aviation in Ohio.
YAA HangarFest Held August 27th
The Youth Aviation Adventure (YAA) hosted their 3rd annual YAA HangarFest on Saturday, August 27th. Spirit Avionics, Ltd. was the site of the event in their Port Columbus hangar at 4808 E 5th Ave. The fundraiser started at 7:00 pm and included a silent auction to help raise funds for their youth events held in spring and early fall.
September
We're happy to announce that this years 2012 Central Ohio Aviation Golf Outing was another great day of golf, fun and prizes for all who attended. It will take some time to complete the report summary and post it on the website but, till then, the unedited team photos are posted in the sixth gallery on our Photo Gallery page for viewing.
We invite you to click on the link above to visit those photos and check back to the 2012 COAGO webpage for information about this years Sponsors, Teams and Award Winners for the event.
We also want to thank Joe Lippert, the Golf Outing Chairman, all the sponsors, players and volunteers for the 10th anniversary of this fundraising event and the Professional Pilots Association for helping us host it. We hope to see you all next year!
October
October 9th Meeting - Ohio Aerospace & Aviation Council.
Joe Zeis of the Ohio Aerospace & Aviation Council gave a briefing on what it is they are doing to promote aviation in the state. His presentation included data about the aviation resources located in the State of Ohio and how important they are to the military and commercial aerospace industry and our ties to the exploration of space.
Just a few of the interesting statistics in Joe's presentation were that Ohio is the #1 state providing vendors and services to Boeing Company and Airbus. Ohio is also on the short list of states in competition for the continued development and regulations defining safe operation and integrating into the National Airspace.
Ohio's greatest aerospace assets lie in a corridor stretching from Cincinnati to Cleveland with GE Aircraft Engines, Wright Patterson AFB, and NASA Glenn Research Facility being global players in development in the aerospace industry.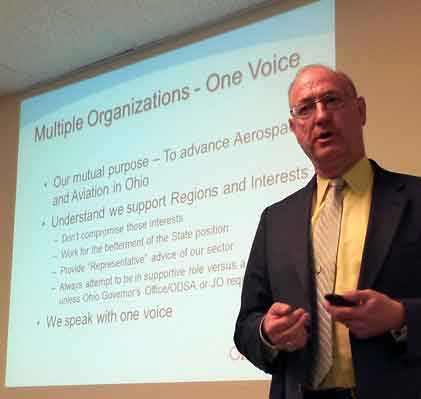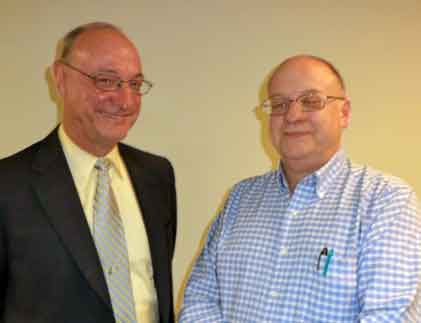 The chili cooks at this Chili Cook-off competition exceeded the number of entries for 2011. There was no clear winner by the time the meeting ended but everyone in attendance ate to their heart's content of some excellent recipes. It was great fun and the place to be if you like chili!
The meeting also included the nominations of current board members, Gene Sprang, Jeff Gruber, Earl Redmond and Lowell Dowler for next month's election for the 2013-2014 term. We also want to thank Alan Harding of the O.A.A. council and Columbus Flight Watch for sharing his photos of the meeting.
Duncan hosts Intelligence Live Event Oct 20th.
Duncan Aviation concluded their 2012 Duncan Intelligence Live Series with a final event at Cincinnati State Technical & Community College in Harrison, Ohio. Together with Ohio Aviation Technicians Society (OATS), Duncan Aviation welcomed more than 60 attendees for a full day of aviation maintenance training.
Three Duncan Aviation experts along with OEM representatives from Aircell, Aero Battery, ACF-50 and the FAA presented face-to-face forum discussions on subjects like flying with a connected cabin and painting a corporate aircraft to corrosion control and basic battery maintenance. All attendees earned eight hours towards their IA renewal.
The training, breakfast and lunch were free of charge for all the attendees.
November
November meeting featured Mark Harden of FAASTeam
Our last meeting was held Tuesday, November 14th at the Lane Aviation facility at CMH and featured Mark Harden, our long time friend and new FAASTeam Program Manager for the Columbus FSDO. He presented "FAASTeam Challenges for 2013" as the topic for the evening and encouraged those in attendance to participate in the program either as members or as a FAASTeam Instructor.
Mark also reminded us that if we saw an unsafe condition or practice, to call and report it on the FAA Hot Line 1-800-255-1111. Your identity may be kept confidential; and
* May be restricted to FAA by your request: and
* Protected from disclosure under the provisions of the Freedom of Information Act.
* FAA personnel are available 24 hours a day to receive reports of an urgent, time-critical nature.
We also had elections of board members for the 2013/2014 term. All four members whose terms were expiring were re-elected for another two year term. They are Gene Sprang, Jeff Gruber, Earl Redmond and Lowell Dowler and we want to thank them for their continued service to the COPAMA group. Elections of Officers will be held at a board meeting scheduled for November 27th.
December
COPAMA Board meets to elect officers, discuss 2013 schedule
The Board met December 4th at Nationwide to perform election of officers and plan the future of COPAMA in 2013. Officers will remain the same with Gene Sprang - President, Joe Lippert - Vice-President, Earl Redmond - Treasurer and Paul Tursic - Secretary. We wish to thank Joe Lippert and Nationwide for the use of their facility for this meeting.
Board members shared concerns over the looming "Fiscal Cliff" and how any resolution would impact our vendors and sponsors ability to support us in 2013. The Ohio Aviation Maintenance Symposium, Central Ohio Aviation Golf Outing and 2013 Holiday Dinner will continue as in the past. The 6 regular meetings are most vulnerable and several thoughts were exchanged on how to keep them viable with a questionable economic future.
The monthly meetings are reliant on the number of attendees we have and sponsors or presenters that we can schedule to fill out next year's calendar. The struggle will be to continue to have programs that may be used for credit toward the IA renewal and/or the FAA AMT Awards program. Mark Harden, our FAASTeam Program manager will be supporting us but we still search for vendors with presentations of aviation content to round out the 2013 schedule.
The board discussed dropping the sponsorship fee for regular meetings, use more FAASTeam programs, have presentations that are informative in some aviation subject but not approved for training credit and reducing the number of regular meetings as a last resort. The options will be presented at one of the first regular meeting dates so those who attend may offer suggestions and have a say on which course we take.
While we consider COPAMA as one of the stronger chapters of PAMA National, we also realize that we have more to loose should the economy continue on it's current path or turn to the worse. We ask for the continued support and feedback from our membership, vendors and aviation friends.
Please contact us at mail@copama.org with your thoughts, suggestions or input. Together we can endure and continue our programs to promote education and knowledge of Aviation Maintenance here in Central Ohio.
This year's Holiday Dinner was held at Villa Milano on December 11th and we invite you to visit the Holiday Dinner 2012 webpage for the complete information about this event.
Norm Burmaster gave a presentation on The Champaign Lady B-17 Restoration Project and there was fellowship, good food and an opportunity to win raffle prizes. Thanks for your support!
The Holiday Dinner Sponsors.
Here are this year's Event Sponsors! Please remember them and thank them for their support!
The 2012 National Symposium was held at the Eastern Michigan University Student Center, Ypsilanti, Michigan on January 19th and 20th. It ran in conjunction with the 12th Annual Great Lakes Aviation Conference.
Information for Exhibitors, Sponsors and Attendees may be found by clicking on this link.
Rick Ochs of Spirit Avionics chosen for Two Awards.
In and email earlier this month from their Airmail Maintenance forum, the NBAA Maintenance Committee announced their selection of Rick Ochs to received the GA Regional Avionics Technician or the Year Award.
On Friday, February 10th, Rick was notified that he has also been selected as the FAA Avionics Technician of the Year. The award includes round trip airfare, four nights in a hotel and a rental car for Oshkosh along with a bunch of prizes donated by the industry. He will be presented the award by the FAA Administrator at the Theater in the Woods during AirVenture on Wednesday night.
We want to congratulate Rick on quite an achievement of receiving both of these award and all the national recognition!
Paul Ryan to receive A.E.A. Lifetime Achievement Award.
Paul Ryan, long time Avionics Entrepreneur and creator of the Ryan Stormscope, has been selected by the Aircraft Electronics Association to receive its "Lifetime Achievement Award" at their 55th Annual International Convention and Trade Show, April 4th.
The Stormscope was one of the first instruments that could be put in small aircraft for lightning detection and the heavy precipitation associated by water columns in the core of a thunderstorm. We want to congratulate Paul on being chosen for the award and thank him for his contributions to aviation safety.
Professional Pilots Association donates $1000.00 gift.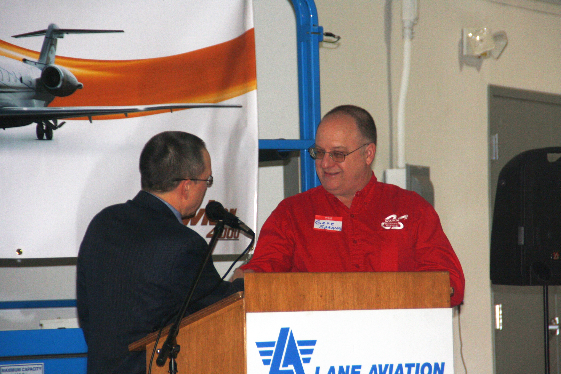 PPA President Tom Lusch presents check to COPAMA President Gene Sprang
At the Professional Pilots Association March Meeting, President Tom Lusch presented a check for $1000.00 to Gene Sprang as a donation to the COPAMA Scholarship Fund. This marks a continuation of support by PPA to the scholarship fund by both monetary donations and co-hosting and attendance of the Central Ohio Aviation Golf Outing and Holiday Dinner.
Gene extended the thanks of all of us at COPAMA and the Scholarship Fund recipients to Tom and all of our friends at PPA for this generous contribution.
Doolittle Raiders return to Urbana for 70th Anniversary.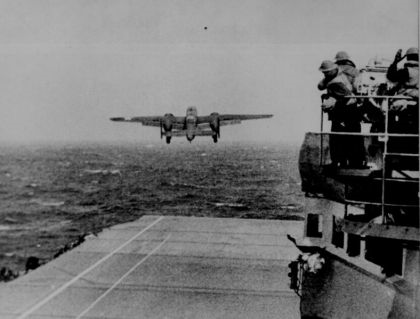 The week of April 14th to 20th, the skies over Grimes Field and Wright Field thunderd with the sound of B-25 Mitchell Bombers as they returned to acknowledge the 70th anniversary of the Doolittle Raid on Tokyo. Many of the surviving raider crewmembers were there to give testament to all who participated in this first retaliatory strike on Japan during World War II.
This gathering of aircraft started with the aircraft arriving in Urbana, Ohio and transferring to the National Museum of the U.S. Air Force at Wright Field on Tuesday the 17th. Events were held throughout the week at the Champaign Aviation Museum in Urbana. Please click on the links above to learn more about this bookmark in history.
PAMA Climbs higher after 40 years.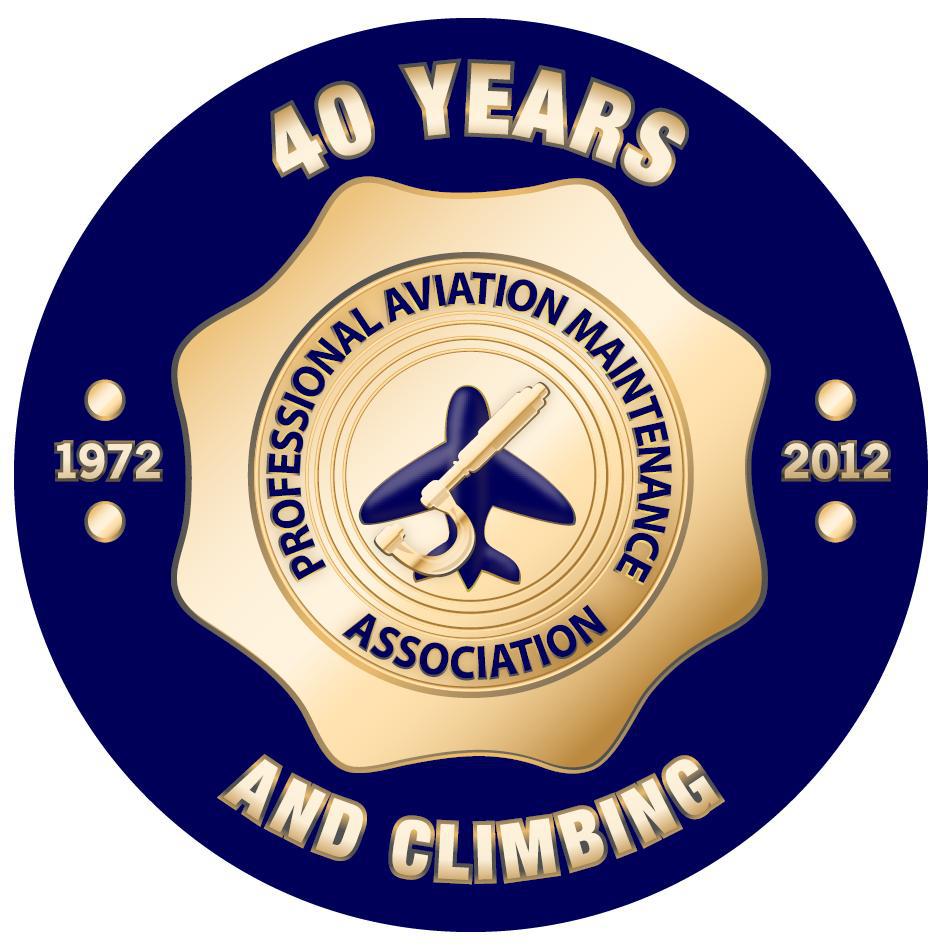 PAMA unveiled their new "40 Years and Climbing" logo which celebrates their 4 decades of representing aviation maintenance technicians. COPAMA joins in the celebration as we complete our first decade of operation this fall. Stay strong, AMTs and keep climbing!
Celebrate National AMT Day, May 24th!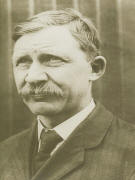 We pause on Thursday, May 24th to remember Charles E. Taylor, the first Aircraft Mechanic and all the Aviation Maintenance Technicians that keep our industry safe! Visit our Charles Taylor page to learn more about him and this national day of acknowledgement!
While working in a bicycle shop Charles used the shops lathe, drill press and grinder to build an aluminum block engine which only weighed 180 pounds and produced 12 horse power. Created in only six weeks, this engine became the historic first aeroplane flown by the Wright Brothers in 1903.

Charles died in 1956 at the age of 88, sharing the date with Orville Wright.

Please remember it this way: "The Wright Brothers made the glider but Charles E. Taylor made the glider an Aeroplane." And remember to thank your mechanic... You really do count on them more than you sometimes realize!
Look for the full article by PAMA President, Dale Forton, in the next issue of GA News.
Observing Memorial Day!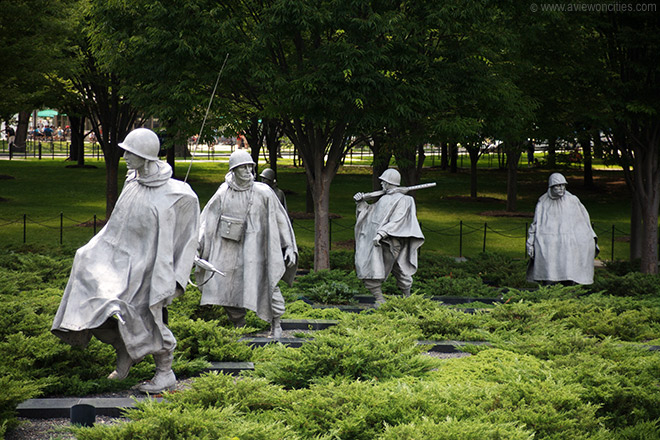 "Our nation honors her sons and daughters who answered the call to defend a country they never knew and a people they never met.", says the inscription on the Pool of Remembrance at the Korean War Memorial which was a long-time coming, especially in the opinion of those who served so unselfishly in the Korean War.
This weekend, we'll attend parades to honor the veterans of our great country from the Korean War and the many other theaters of conflict where U.S. forces fought and died for freedom. Be sure to thank a veteran this holiday weekend and remember those who gave their lives for liberty.
COPAMA receives check from disbanded P.A.M.F.
The Professional Aviation Maintenance Foundation voted to cease its operations and no longer host a Student Scholarship program.
The PAMF Board of Directors decided to take the remaining balance in their checking account and divide the funds across the current PAMA 501(C)(3) Chapters less any associated legal costs necessary to shutdown the organization. As a result, COPAMA has received a check for $1,168.13 for inclusion into the COPAMA Scholarship Fund.
We want to thank them for their previous service and the funds and vow to carry on in their same spirit of providing scholarship funds to Aviation Maintenance Students.
FAASTeam Program Manager change for GL07 FSDO.
As you may already know, Tim Sokol has had his duties changed and is no longer assigned to the Columbus Flight Standard District Office as the Airworthiness FAASTeam Program Manager. In an email to our membership and FAASTEAM members, he commented "Although our time together was very brief, I want to thank each and every one of you for your outstanding support and contribution to the safety program. Many of you have a great passion for promoting aviation safety, evident through your acute awareness and enthusiasm. You are the some of the best in the industry that I had the pleasure to work with."
Tim also advised us that Inspector Mark Harden is our new Columbus FSDO Airworthiness FAASTeam Program Manager. Many of you already know Mark, and know that he is a great person that brings many years of aviation experience to the position.>
We want to thank Tim for the time he spent with us and his personal involvment with COPAMA and wish him the best with his professional and personal endeavors! We also want to welcome Mark to this new position and look forward to his input and guidance in the future.
Hope you had a Happy 4th of July!!
All of us at COPAMA hope you had a splendid 4th of July celebration in spite of the recent storm damage and power outages throughout the Midwest. As many of us dealt with the destruction, we hope you had time and resources to meet your needs and were able to celebrate the birthday our our nation.
We also want to remember and thank those is service to our country from our military to the work crews fighting fires and repairing our infrastructure. God bless America!
YAA HangarFest Fundraiser held August 25th .
Spirit Avionics again hosted the 2012 YAA HangarFest on Saturday August 25th. The event helps raise funds for Youth Aviation Adventures. Learn more about this fun event and help promote it next spring!.
Farewell, Neil Armstrong! Thank you for pushing the envelope!
We're saddened by the passing of this outstanding quiet man from Wapakoneta, Ohio. He spent his early life expanding our aeronautical knowledge and flew missions for NASA, first in the Gemini program and then for his history setting walk on the moon in Apollo 11. His words spoken as he stepped for the first time on the moon "That's one small step for man; one giant leap for mankind!" will always be remembered as he brought us together as members of Earth to share in that historic accomplishment.
He was 82. God Speed!
http://www.foxnews.com/scitech/2012/08/25/astronaut-neil-armstrong-dies-at-82/
http://www.dispatch.com/content/stories/local/2012/08/25/neil-armstrong-dies.html
Duncan hosts Intelligence Live Event Oct 20th.
Duncan Aviation concluded their 2012 Duncan Intelligence Live Series with a final event at Cincinnati State Technical & Community College in Harrison, Ohio. Together with Ohio Aviation Technicians Society (OATS), Duncan Aviation welcomed more than 60 attendees for a full day of aviation maintenance training.
Three Duncan Aviation experts along with OEM representatives from Aircell, Aero Battery, ACF-50 and the FAA presented face-to-face forum discussions on subjects like flying with a connected cabin and painting a corporate aircraft to corrosion control and basic battery maintenance. All attendees earned eight hours towards their IA renewal.
The training, breakfast and lunch were free of charge for all the attendees.
A Veteran's Day Remembrance!

The photo above went viral on the web during Hurricane Sandy as she swept through the Atlantic coastline, leaving billions of dollars of destruction in her wake. In actuality, this photo was taken in September and the weather conditions during the Superstorm as it blasted the Tomb of the Unknown Soldiers and Arlington National Cemetery were far worse than depicted. No doubt, the guards were there with not even a photographer present to stand watch with them at the tomb, honoring those who rest there for eternity.
This Veteran's Day, we remember those who gave their lives for liberty and freedom and thank all who have served our country through wars and times of peace. Please consider giving to one of the Veteran support groups who help our wounded veterans as they return from conflicts around the world. We owe them so much for their service.
Wounded Warrior Project, Navy Seal Foundation, US Wounded Soldiers Foundation.
For those who may not have visited yet, I invite you to view our 1945 Journey Home page that contains a historic Veteran's Day story of troops returning home after World War II.
Plastic AMT Certificates required by March 31, 2013
The FAA is under a mandate to replace all paper certificates with plastic certificates. If you do not replace your paper certificate on or before March 31, 2013, you will no longer be able to exercise your privileges!
All certificated Airmen, including mechanics, repairmen, pilots, etc., are required to replace their paper copy with a plastic copy, or they will no longer be able to exercise the privileges of that certificate.
The best way to get a new replacement certificate is to follow the instructions at http://www.faa.gov/licenses_certificates/airmen_certification/certificate_replacement/
The replacement cost is $2.00, unless you still have your Social Security Number on your certificate and you ask to have it removed. See more information about the new plastic certificates on our Regulations Page!
This page was last updated on 12/22/21.