2016 Events
The following are the meetings and events of 2016.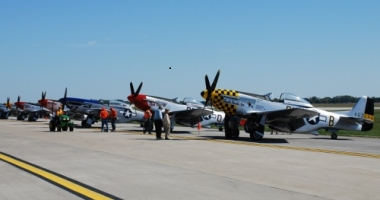 Safety through knowledge!
Our 2016 Calendar
January 12th
Mr. David R. Neff - CMH Air Traffic Control Tower - "CMH Airspace Review"
February 9th
Inspector John Welsh- FAA Columbus FSDO - "Unmanned Aircraft Systems"
March 17th
Maintenance Symposium at CSCC Conference Center
March 19th
District 7 Science Day at CSCC
April 12th
Mr. Steve Shaknaitis, President of GE Honda Aero Engines "Introduction of the HF120 Engine"
May 10th
Ms. Ashley Kelley - FreeFlight Systems - "What is ADS-B?"
September 9th
COAGO 2016 at Kyber Run Golf Course
October 11th
Mr. Dwight Jarboe - MMS Aviation - "Missionary Maintenance Services Update."
November 1st
Inspectors Mark Harden and Kevin Tyree- FAA Columbus FSDO - "FAA's "Compliance Philosophy"
December 13st
20165 Holiday Dinner - Villa Milano
Guest Speakers - Mr. Bill Albers - Champaign Aviation Museum
Topic: "B-17 History and Champaign Lady Restoration Project"
---
January 12th Meeting topic: CMH Airspace Review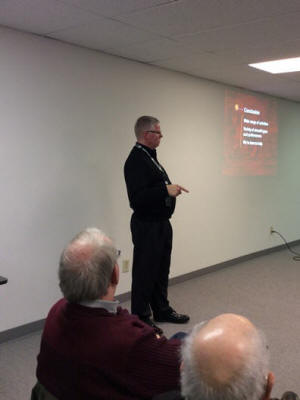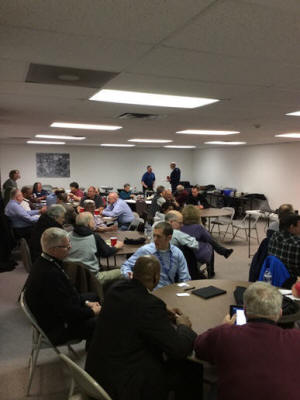 The FAA Safety Team provided Mr. David R Neef, Operations Manager of the Columbus Air Traffic Control Tower to give a presentation on CMH Airspace to CFI's, Pilots and Student Pilots at our January meeting. The Lane media room was full, even though the mornings weather brought most local traffic to a crawl.
The Mr. Neff gave an overview of CMH ATC, their airspace operations and procedures. Beside Ground, Tower, Arrival and Departure operations at CMH, Port Columbus ATC is responsible for traffic below 11,000/10,000 to the ground in their eastern and western areas that span from beyond Zanesville in the east to just across the Indiana border in the west.
David discussed the local airports, special operations with air traffic at Dayton and Wilmington airports and the process of becoming an air traffic controller. His question and answer period at the end of the program gave lots of information on how to smooth in-flight operations in National Air Space for all those in attendance. We wish to thank him for his presentation and taking the time to be with us at the meeting.
February Meeting Topic "UAS : Unmanned Aircraft Systems"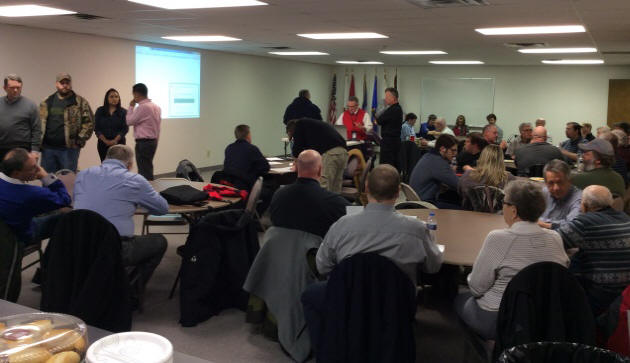 The February meeting was well attended on Tuesday the 9th with members of the pilot, maintenance and remote control modeling groups filling the room. Around 60 people came to hear FAA Inspector John Welsh give a presentation on UAVs and the recent FAA regulations concerning them.
COPAMA President Joe Lippert started with a PowerPoint that showed upcoming meeting topics, a note about our loss of past treasurer Donna Bricker and information about next Month's Ohio Aviation Maintenance Symposium at Columbus State's main campus. Joe then introduced this years COPAMA Scholarship recipients with photos taken of those in attendance.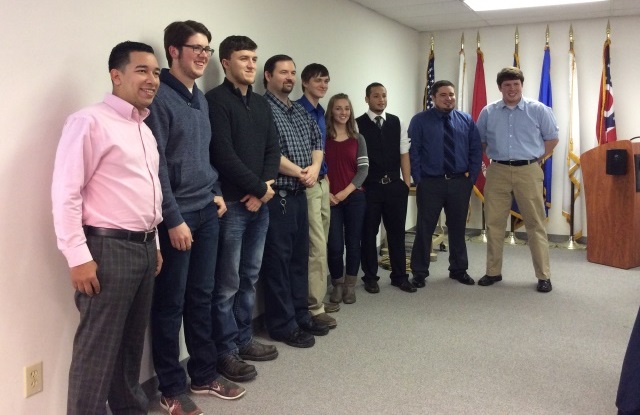 This year's Scholarship Awardee's are L-R, Pablo Cortes, Matthew Thomas, Jacob Galliher, James Andersen, Gregory Churchill, Megan Kimbler, Wilfredo Ortiz, Stephen McGirr and Byron Bruno. Unable to attend were Nathan Fellrath and Sean Peters. We congratulate them and wish them well as they finish their studies and start their careers in aviation.
After dinner, Inspector Welch started his interactive presentation on what has become a hot and dynamic topic. The following is a condensed outline of items discussed and a group of hyperlinks for those who are looking for more information about Unmanned Aircraft Systems (UAS).
UAS aircraft are categorized by a few different ways that the new FAA regulations address them. Government and Civil (flights for profit) are tighter controlled than the Hobby or Recreational (Model Aircraft) flyers. The latter group will continue on with little FAA interaction unless they are involved in some reported rule infraction.
The new CFR 14 Part 48 specifies the registration and identification requirements for all unmanned aircraft based on weight and operation of the UAS, the nationality (US citizen) and age (13 or older) of the operator and the location and airspace they are allowed to operate in.
Aircraft less than .55 lb (8.8 oz) are not required to be registered. Aircraft above .55 lb to 55.0 lb that are Model Aircraft flown outside must be registered by Feb 19th depending on if it was operated by the current owner prior to December 21, 2015. For all other small unmanned aircraft, compliance with this part is required prior to operation of the small unmanned aircraft. Beginning March 31, 2016, small unmanned aircraft operated as other than Model Aircraft may complete aircraft registration in accordance with FAR Part 48. UAS aircraft over 55.0 lb will need to be registered under FAR Part 47 like manned aircraft.
Since this is new technology with expanding interest in the way these vehicles may be used, the FAA has created a website resource www.faa.gov/uas where the full rules and guidance material may be viewed. There you may find the links for UAS registration ($5.00 for 3 years regardless of category). You may also download the B4UFLY app that provides a checklist of of your proximity to Restricted Areas, Airports, Upcoming Restrictions, National Parks and other Guidance Materials.
The operator must be within line of sight of the UAS with current guidelines of below 400 feet and less than 100 miles per hour. Those parameters are expected to change to match the start of National Air Space (NAS) of 500 ft AGL and clear of groups of people such as stadium. Operation within 5 miles of an airport requires a notification of the Airport Director or Control Tower of time and location of your proposed flight.
UAS aircraft have the lowest priority in the air and must avoid all other aircraft in flight. There is a reporting requirement of any incident or accident that causes damage and offending aircraft can be reported to local police, the FAA or through one of the ways listed on the website above. Since they are registered aircraft, anyone destroying them may be in violation of the FAA regulations and subject to legal action.
We wish to thank Inspector Welsh for his informative presentation and discussion of this current topic. We'd also like to thank Lane Aviation for the use of their facility and Media room.

Next month will be the Maintenance Symposium at Columbus States downtown campus and we hope you'll visit the link below for directions and registration information.

We're also looking for judges to help with the District 7 Science Day on Saturday March 19th. Just send us an email and show up around 9:00 to select this years winners of the G.E. COPAMA Awards. No previous judging experience necessary! Hope to see you at the Symposium and the Science Day events!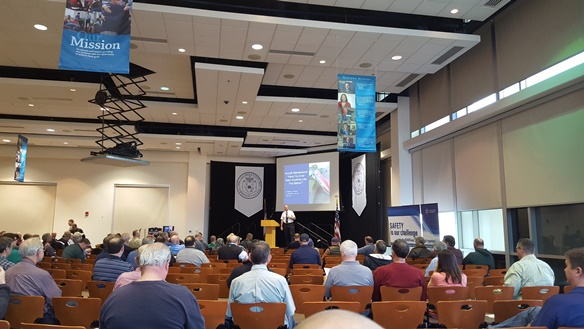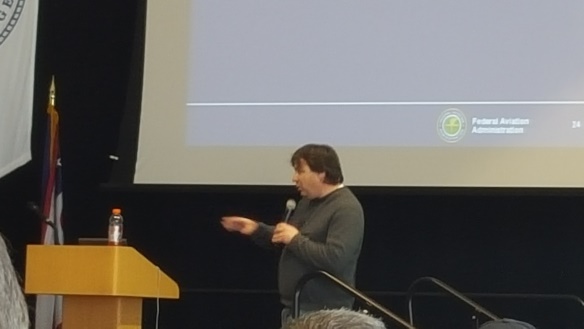 Inspector Scott Fohrman from Chicago ACO gives presentation on Field Approvals.
The FAA Columbus and Cincinnati FSDOs organized this years Ohio Aviation Maintenance Symposium and set up some notable FAASTeam presentations for training at the event. The venue was once again the Conference Center at Columbus State's downtown campus .
Twenty two Booth Vendors were onsight to provide information for the symposium attendees with over 200 technicians and visitors attending the event. The booth fees provided refreshements for the morning and afternoon breaks and many provided prizes for the COPAMA prize raffle.
The $451.00 proceeds from the raffle went to the Dennis D. Grossman Memorial Scholarship, an endowment fund at CSCC Development Foundation. Dennis performed aircraft maintenance at Marysville Airport (KMRT) and passed away unexpectedly in 2008.
You may download the list of Symposium Topics here. Thanks to all who attended and participated in the symposium and hope to see you at next year's renewal event!

On Saturday, March 19th, Joe Lippert, Jeff Gruber, Gene Sprang and Lowell Dowler of COPAMA attended and judged 4 aerospace related entries for this year's GE/COPAMA Science Day Awards. Our 2016 winners received a crystal diamond shaped award from G.E., a certificate and a monetary award from the COPAMA Scholarship Fund. Jim Kulp of General Electric was unable to attend this year's event but we wish to thank him and G.E. for their continued support of this annual event.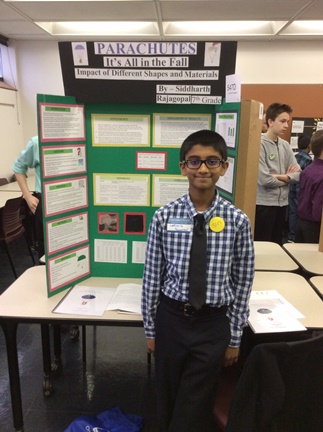 First Place: Siddharth Rajagopal, 7th Grade, Henry Karrer MS, Dublin
"Parachutes: It's all in the Fall."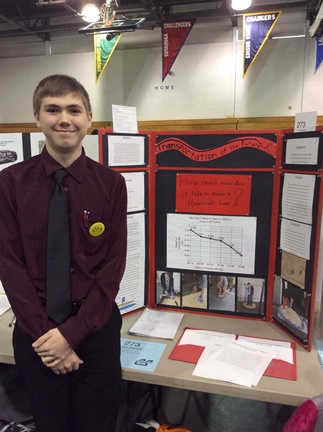 Second Place: Tyler Gambill, 9th Grade, Metro Institute of Technology
"Transportation of the Future"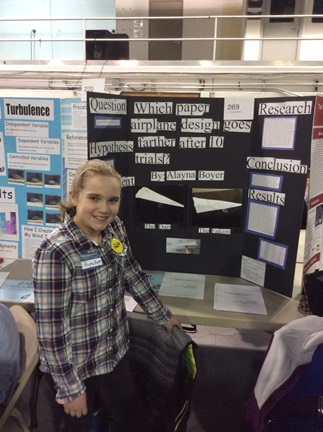 Third Place: Alayna Boyer, 5th Grade, Big Walnut Intermediate
"Which Paper Airplane Design Goes Farther After 10 Trials"
We want to thank GE Aviation, Mr. Kulp and all our judges for their participation in this years Science Day!
April 12th Meeting: "Introduction of the HF120 Engine"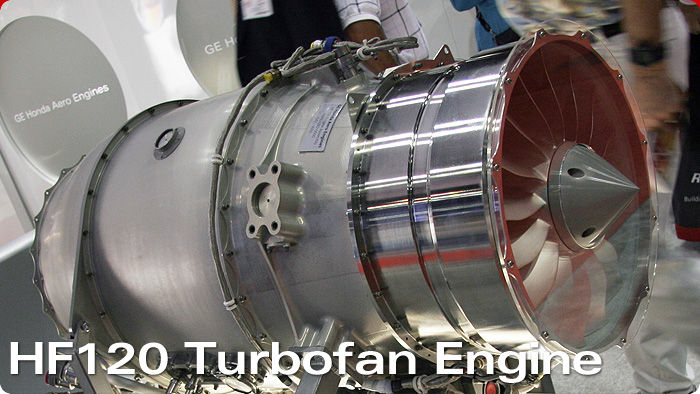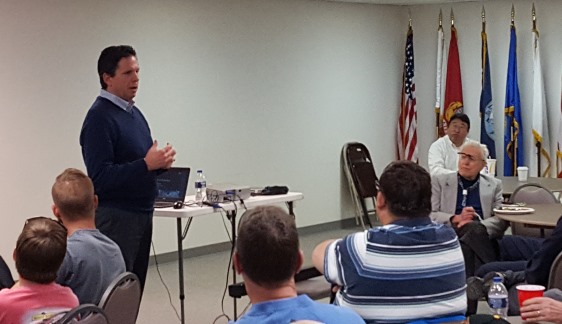 Our April meeting featured a presentation by Mr. Steve Shaknaitis, President of GE Honda Aero Engines, on their HF120 engine for the new HondaJet aircraft. Steve's presentation began with a history of General Electric and his background as an aerospace engineer in their GE90 engine development program for the Boeing 777. He also reviewed General Electrics other product lines and their Joint Venture with Honda to create GE Honda Aero Engines.
The HF120 turbofan was developed from the company's original HF118 design. The engine produces 2050 lbf of takeoff thrust and is being built in their Burlington North Carolina plant. They are looking beyond the HondaJet platform to use the it to power other light weight jets in both twin and single engine installations.
The HondaJet recently received FAA certification and now is pursuing certification for Flight Into Known Icing. The aircraft leading edges and engine inlets are heated by bleed air from the twin HF120s. The engines have achieved over 23,000 hours of ground and in-flight testing with the first four HondaJet aircraft being dedicated test beds for certification.
We want to thank Mr. Shaknaitis for the insight on their new engine, Mr. James Kulp of GE Aviation for arranging this presentation and standing in reserve to back up and Lane Aviation for use of their facility.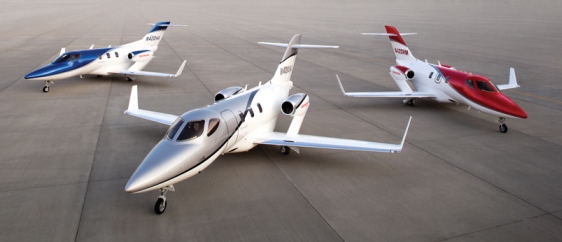 May 10th Meeting topic: FreeFlight Systems "What is ADS-B?"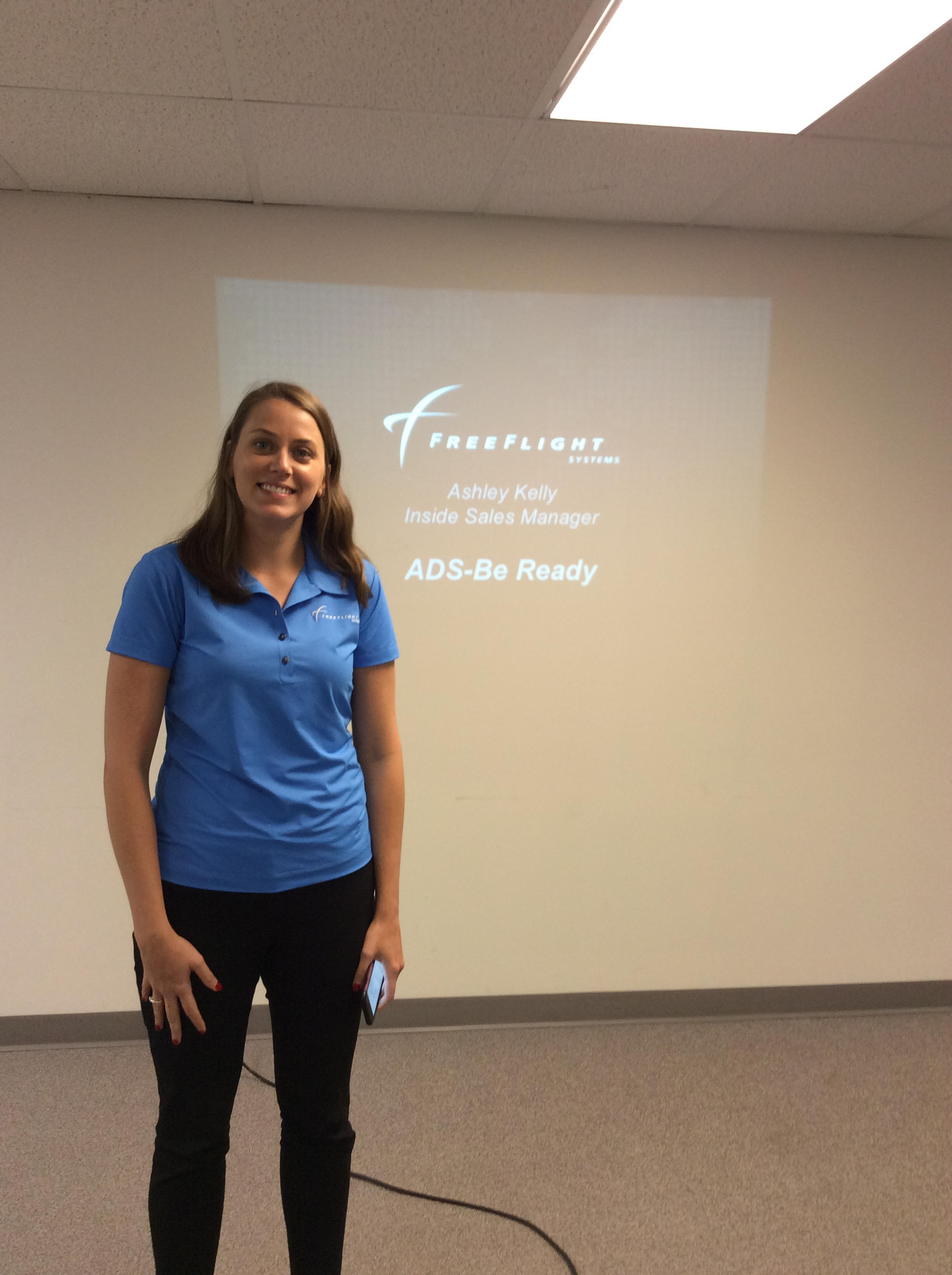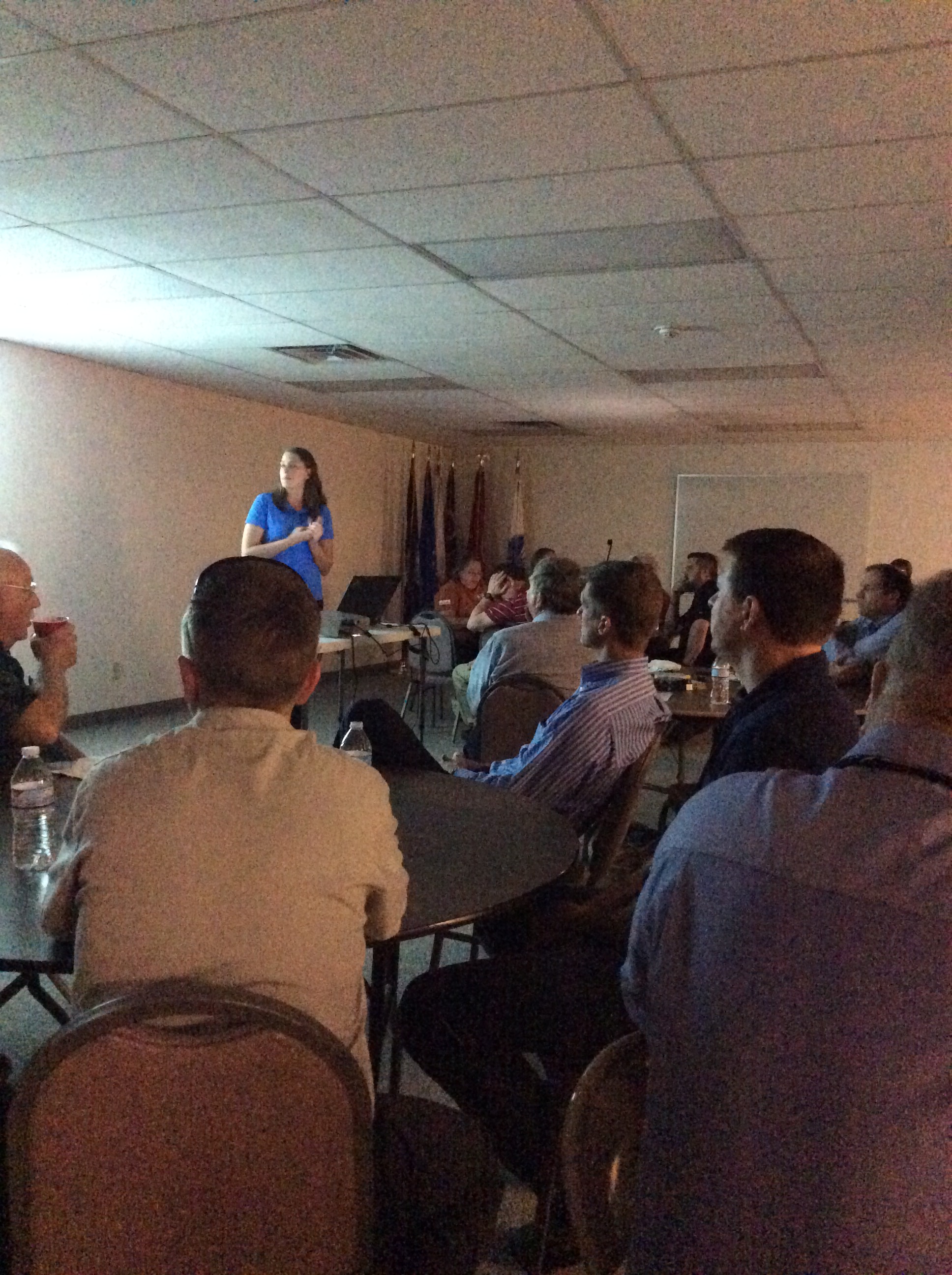 Our May 10th meeting featured a presentation by FreeFlight System's Ashley Kelley and included a review of the 2020 mandate, the equipment requried for the various types of aircraft and a showcase of FreeFlight Systems equipment offerings.
Ashley started her program with a history of their company which started as Trimble Navigation. Founded in 2001 through the acquisition of Trimble Navigation's Avionics Products Division, FreeFlight Systems is an international supplier of quality avionics at affordable prices. With a focus on safety, simplicity, and reliability, FreeFlight Systems offers a broad array of GPS navigation systems, GNSS/SBAS sensors, radar altimeters, and ADS-B components and systems worldwide.
She spoke of their equipment lines from the simplest units capable of meeting the mandate requirements to units TSO certified for up to Part 25 aircraft and Helicopters. She explained the ADS-B cell tower based ground stations and ADS-B Our and In capabilities.
Their website not only features information about their equipment and the Approved Modification Lists (AML) for STC installations but also features ADS-B University for information on the subject. Their Equipit2020 Site lists equipment and costs for the various units. A price increase is due this July so contact them for information on purchasing now or locking in a serial number for your future installation.
We wish to thank Ashley and FFS for her informative presentation. Those who registered through the FAASTeam website and will receive credit toward AMT Award and WINGS program. This was the last regular meeting before the summer break.
COAGO 2016 - Another great fundraiser!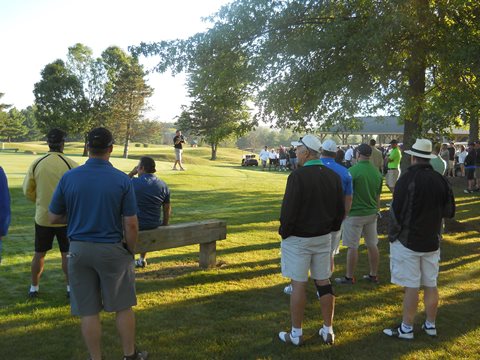 We held this fall's Central Ohio Aviation Golf Outing on Friday September 9th at Kyber Run Golf Course. It was the 14th year for the event co-hosted by COPAMA and the Professional Pilots Association (PPA) to raise funds for the COPAMA Scholarship Fund.
We've posted the COAGO 2016 Report so you can visit the link above, check out the final results and see some of the photos taken by the GE Volunteers and others at the Outing. Team photos are located on the Photo Gallery page. Thanks to all the sponsors and 135 players for their support of the AMT Students who are recipients of the fund.
October 11th Meeting - MMS Aviation - Mr. Dwight Jarboe
Our first meeting of the fall featured Mr. Dwight Jarboe of MMS Aviation presenting an update on Missionary Maintenance Services. Dwight is stepping down as the head of MMS Aviation and you may see more about that announced transition below. His wife has plans for his 2 month sabbatical he's taking, then it's back to the MMS hangar floor to help out as needed.
Dwight's update started with the history of MMS which began in 1975 on a farm near the airport they now call home. In August of 1982, MMS started building their first hangar on Richard Downing Airport (I40) in Coshocton, Ohio and Dwight joined then in 1983. The first aircraft they worked on were fabric covered but that changed when the Heliocourier aircraft came along.
160 Christian Organizations currently use aircraft to provide transportation, food and health services around the world. Their mission is to help with the local needs and in the process also minister and spread their Christian message.
He shared some facts from a book and movie titled "End of the Spear" which tells the story of 5 missionaries that were killed in 1956 and the return 50 years later of Steve Saint, son of Nate Saint who was one of those killed. Dwight also spoke of the Samaritan's Purse disaster relief organization who are one of the first responders to events like the recent hurricane in Haiti and the good work that they do.
MMS performs work on missionary aircraft, only charging for the parts used. Their staff is paid by fundraising by it's personnel and churches who support their work. They worked primarily on fixed wing aircraft until 2 years ago when the first helicopter from Mercy Air in South Africa arrived for some of their care.
The availability of avgas in third world countries has caused some groups to disassemble and moth ball their aircraft until some satisfactory reliable diesel engine is found for replacement.
MMS currently has 9 apprentices in their program with 3 that have A&P certificates and are finishing up their training next year. Dwight extended an open invitation for interested people to come and visit them and their facility. We want to thank Dwight for his presentation and wish him, his wife and the MMS group well in their mission.
At the end of the meeting we presented him with a check to support their AMT apprentices who are working toward A&P certification and service in missionary aviation. We also opened the floor for nominations for the upcoming Board of Directors election at our November meeting. Steve Brown and current Board Members Gene Sprang, Earl Redmond, Jeff Gruber and Lowell Dowler were nominated and will appear on next month's ballot.
November 1st Meeting - FAA's "Compliance Philosophy"
We moved the November meeting to the 1st to avoid conflict with the National Election. Our first winter gathering included dinner and a presentation from the Columbus FSDO Manager, Kevin Tyree and FAASTeam Program Manager, Mark Harden. The two inspectors collaborated to present attendees with the FAA's current "Compliance Philosophy" concerning how compliance can be obtained at the lowest level, while maintaining transparency of safety data.
The FAA has adopted a new strategy toward enforcement that utilizes and focuses on training and remedial training coupled with an examination of procedures. Statistics show that this approach has resulted in more favorable outcomes and the Administrator has fully adopted this approach going forward.
We wish to thank the local FAA FSDO management team for bringing this information to our group. Attendees who registered at the FAASTeam Website will receive AMT credit for viewing the presentation.
The Board Member positions for this year's election will stay the same. Earl Redmond,
Gene Sprang, Jeff Gruber and Lowell Dowler will remain on the board thru November 2018. We want to thank Steve Brown for his willingness to run and have plans to include him in some of our decision making. The new board took office on November 15th and will meet to decide next year's officers.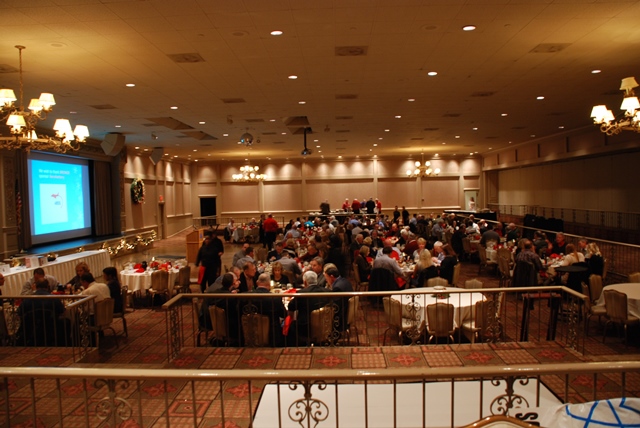 This year's Central Ohio Aviation Holiday Dinner was be held on December 13th at the Villa Milano Banquet and Conference Center on Schrock Road. We want to thank our Sponsors and Dinner Guests for their attendance.
A special Thank you to our entertainment speaker, Mr. Bill Albers from the Champaign Aviation Museum in Urbana whose topic covered the WWII history of the B-17 Flying Fortress and the efforts to restore their Champaign Lady Project.
The Ohio Regional Business Aviation Association joined the Professional Pilots Association and COPAMA to host the event. We hope all who attended enjoyed the food, fellowship and presentation at this year's festive Holiday celebration!
COPAMA Mourns the loss of past Treasurer, Donna Bricker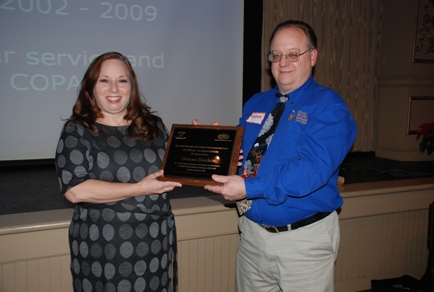 Donna receives COPAMA Award from President Gene Sprang at 2009 Holiday Dinner.
It is with much regret we need to advise you that Donna Bricker passed away. She had just went to The James hospital for dialysis on Monday when she unexpectedly suffered a stroke. Sometime over night she slipped into eternity and leaves her husband, family and friends to mourn her loss.
Donna was one of the founding officers of COPAMA and served as Treasurer for many years. Please keep her family in your thoughts and prayers as they deal with these days of sorrow.
Visitation will be held Saturday, February 6, 2016 from 1 p.m. until the time of Funeral Service at 3 p.m. at the Southwest Freewill Baptist Church, 1542 Greenleaf Rd., Columbus, - See more information at her obituary on The Columbus Dispatch.
Memorial Day Observance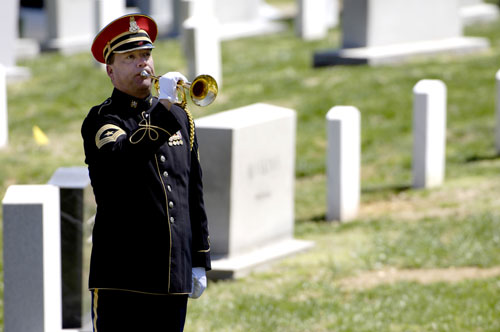 During a family gathering, a relative brought up the tradition of placing flags on the graves of the fallen by Scout Troops throughout the United States. Part of that discussion included "The Playing of Taps" and these facts of the tune we've come to know. Much thanks to Rick Compton for that casual conversation!
The Tune: 24 notes of 4 different Tones from the C major triad, the lowest repeated 9 time and the highest only once. Normally played by a bugle.
The set of original lyrics meant to accompany the music, written by Horace Lorenzo Trim:

Day is done, gone the sun
From the lakes, from the hills, from the sky
All is well, safely rest
God is nigh.
Fading light dims the sight
And a star gems the sky, gleaming bright
From afar, drawing near
Falls the night.
Thanks and praise for our days
Neath the sun, 'neath the stars', 'neath the sky'
As we go, this we know
God is nigh.
Have a safe Memorial Day from all of us at COPAMA!
Happy 4th of July!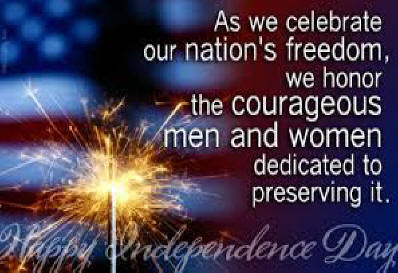 From all of us at COPAMA, wishing you and yours a Happy and Safe 4th of July Celebration!

Youth Aviation Adventures held their 8th Annual HangarFest Fundraiser on Saturday, August 27th at Hangar 8, OSU Airport. Proceeds were earmarked to fund their youth outings and out reach program to start new squadrons around the nation. Patrons received food samples from Food Trucks on hand and beverage coupons for drinks! Please visit their website for tally results and more information about YAA!
In the August 2016 edition of their "Ground Crew" newsletter, MMS Aviation charted their future course with Phil Maddux becoming their third President and CEO on October 28th. Dwight Jarboe, who currently holds those positions, will step down but remain part of the staff at Missionary Maintenance Services.
You may read about their backgrounds and plans by downloading their newsletter at the link above. We at COPAMA wish Phil and his family congratulations on this milestone in his career and Dwight a very deserved "Well Done!" on his service as MMS Aviation President and CEO.
The MMS Aviation facility in Coshocton, Ohio provides aviation maintenance repairs to missionary organizations around the world. They also provide apprenticeship programs for candidates in becoming FAA Certified Aircraft Technicians servicing missionary aircraft. They perform their work; only charging for the parts used and are supported for their labors through sponsoring churches and donations!
Happy Veteran's Day!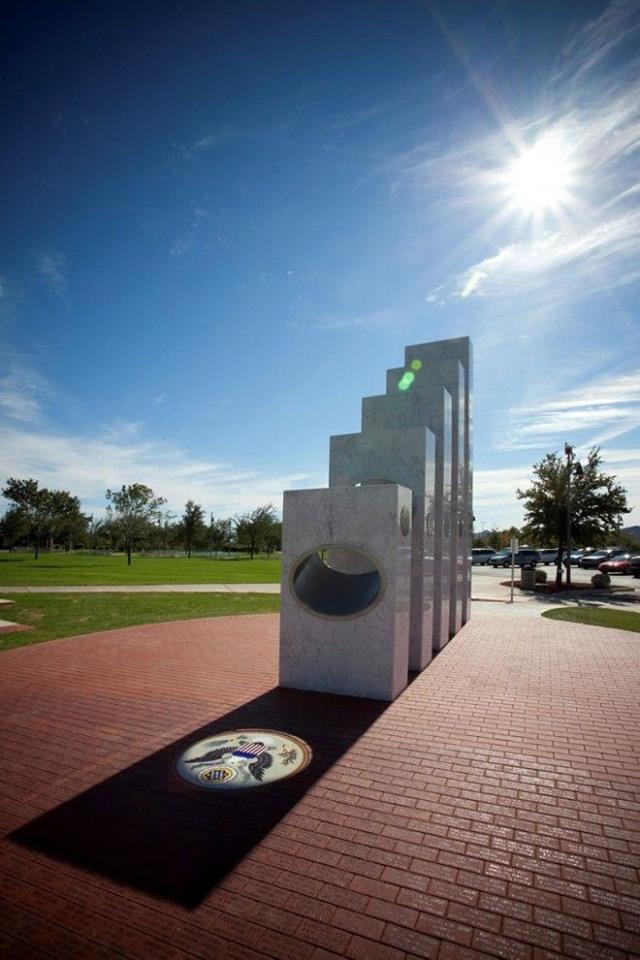 At exactly 11:11 a.m. every Veteran's Day (Nov. 11), the sun aligns perfectly with the Anthem Veteran's Memorial in Arizona to shine through the ellipses of the five marble pillars representing each branch of the Armed Forces, illuminating The Great Seal of the United States.
This page was last updated on 01/25/22.