Regulatory Issues
FAA Regualtions and other issues.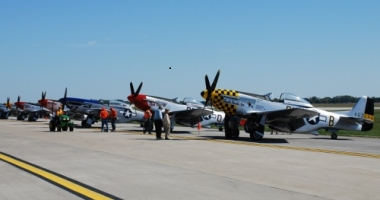 Safety through knowledge!
Regulations affecting Aviation Maintenance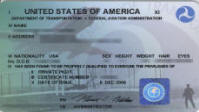 The deadline for pilots to exchange their paper to plastic airmen certificates was March 31st, 2010 and maintenance technicians exchanged theirs before March 31st, 2013. A few technicians at the 2010 Symposium were unaware of the requirement so we provided this information to all members of the aviation maintenance community. Click on the image of the new certificate to go to the FAA website for information about the replacement certificates. Click Here to view an image of the new plastic airman's certificate.
For those who already have a plastic certificate, here is an interesting fact about the images on it. Look closely at the Wright Flyer on the front and back. Notice how the leading edges and struts of the flyer are really words printed in extremely small font and are an excerpt from a speech by then FAA Administrator Marion C Blakey at the National Air and Space Museum on December 17, 2002. The occasion was the "Centennial of Flight Kick-Off Event" and you may click on the link to watch the entire speech on C-SPAN. The portion that appears on the certificate is posted below.
"Without question, flight is represented by countless heroes who have stirred greatness in others. It was a dream that had been waiting to be realized for thousands of years and chased by countless visionaries, scholars, and brave souls. But even as the mass of collected knowledge came to a crucial turning point, it was not until the ingenuity of the Wright Brothers that the puzzle was solved. Discovery requires deep interpretation of knowledge and unb…"
"It's when these qualities come together that defining moments...true achievements...occur."
The Wright Brothers are among a league of heroes that inspired the world to follow their dreams with passion, courage, and resolve. Representing those unique individuals whose achievements Orville and Wilbur Wright. Thousands of hours of research, experimentation, and trial led to the eventual success of the Wright Brothers' first flight. Like those…"
The FAA's Regulatory & Guidance Library (RGL) contains many aviation regulatory, certification and safety information documents. Here, you may subscribe to receive email delivery of Airworthiness Directives and Special Airworthiness Information Bulletins and find links to other FAA information.
Does my Aircraft require a FCC Radio Station License? Maybe!
The Telecommunications Act of 1996, which became law on February 8, 1996, brought about fundamental changes in the licensing of aircraft radio stations. Aircraft radio stations include all types of radio transmitting equipment used aboard an aircraft, e.g., two-way radiotelephones, radar, radionavigation equipment, and emergency locator transmitters (ELTs). The primary purpose of aircraft radio equipment is to ensure safety of aircraft in flight.
On October 25, 1996, the FCC released a Report and Order in WT Docket No. 96-82 eliminating the individual licensing requirement for all aircraft, including scheduled air carriers, air taxis and general aviation aircraft operating domestically. This means that you do not need a license to operate a two-way VHF radio, radar, or emergency locator transmitter (ELT) aboard aircraft operating domestically. All other aircraft radio stations must be licensed by the FCC either individually or by fleet.
Aircraft that fly international flights do require a radio station and they are due renewal every 10 years. Check the FCC websites page on aircraft radio station licenses for more information on this subject.
Notices of Proposed Rulemaking
Make sure your comments are known!
When new regulations or changes to existing ones are made, the draft is submitted as a Notice of Proposed Rulemaking. Interested parties are requested to review and make comment on the proposed regulation, how it may affect them, costs they may incur to implement and other issues to be considered before it becomes law.
We will make every effort to list those notices here and provide links to help you be aware and have input on proposals that may affect you. Please check back from time to time for updates!
This page was last updated on 12/22/21.