2008 Events
The following are the meetings and events of 2008.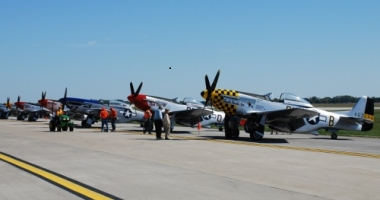 Safety through knowledge!
Our 2008 Calendar
| | |
| --- | --- |
| January 8th | CRS Jet Spares - Jack Brawley - Perkins Aircraft Window Care and Repair |
| February 12th | Midcoast Aviation - Don York - Metrology and Calibration |
| March 19th/20th | Columbus State Maintenance Symposium - Craig McBurney - Connecticut Corsair |
| March 22nd | CSCC District 7 Science Day |
| April 8th | Zip Chem Products - Samuel Pollock - Corrosion Prevention |
| May 13th | AircraftLogs.com - Doug Stewart - Electronic Record Keeping for Aircraft |
| Summer Break | June - August |
| September 9th | AeroSafe - David Hessler - "Little Errors, Big Consequences" |
| September 12th | Central Ohio Aviation Golf Outing - The Landings at Rickenbacker Golf Course |
| October 14th | Global Jet Spares - Bob Gould - "Situational Awareness" |
| November 14th | TriTex Corporation - Tom Pfaffenbach - Aircraft Interiors |
| December 9th | Holiday Dinner at Two Caterer's - Mike Millard - Behind the Scenes with the USAF Thunderbirds |
January
Sponsored by CRS Jet Spares - Presentation by Perkins Aircraft
The January meeting was held Tuesday the 8th at Lane Aviation, Port Columbus, and featured a presentation on "Aircraft Window Care and Repair" by Mr. Jack Brawley of Perkins Aircraft, "The Clear Choice in Aircraft Windows". Ron Holt gave a review of services available from CRS Jet Spares and Jack's presentation included an explanation on how aircraft windows are manufactured. Our many thanks to CRS Jet Spares for sponsoring the meeting and starting out our 2008 meeting schedule!
February
Midcoast Aviation - "Metrology and Calibration"
The February meeting was threatened by winter weather reports but they didn't dampen the expectations of the many who attended. Midcoast Aviation sponsored the meeting and Mr. Don York gave the presentation on his technical specialty "Metrology and Calibration" which was approved for IA renewal.
The social gathering and wonderful dinner were enjoyed by the group and we were happy to have Roger Olson back in attendance after a long recuperation from his broken ankle. Our many thanks to Don, Aaron Kreissler and Midcoast Aviation for sponsoring the meeting and the many vendors that provided prizes for the raffle including ASCO, Dallas Airmotive, Lane Aviation and Midcoast! See you next month on Wednesday the 19th at Bolton Field!
March
CSCC AMT Maintenance Symposium and Presentation Documents - March 19th/20th
Columbus State's website added a page on the 2008 symposium and we invite you to visit it at www.cscc.edu/AM/symposium.htm. Some technicians that attended the Maintenance Symposium asked for FAA Inspector Terry Pearsall's presentation, "Avoiding Maintenance Pitfalls". We're happy to provide that file in PDF format for download by just clicking the hyperlink
March 19th Meeting - JPs Barbeque Party House - Connecticut Corsair
Our March Meeting was delayed one week so it could be held in conjunction with the first day of the Columbus State Community College Aviation Maintenance Symposium. Although the weather was rather damp that day, around 165 people attended the special meeting held at JP's Party House at Bolton Field. Thanks to the staff at JP's and the COPAMA volunteers that worked the booth at the symposium and helped with the meeting!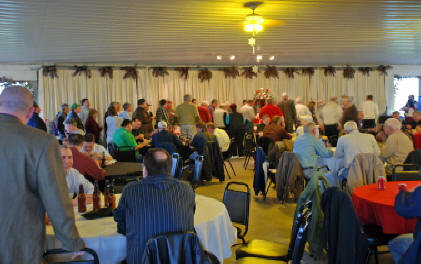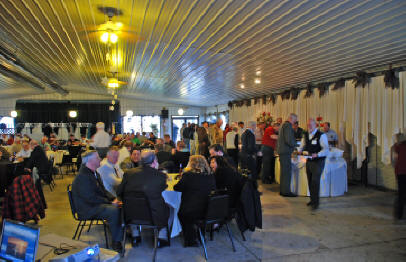 The meeting started with a welcome from Jeff Gruber, PAMA Director for the Great Lakes Region and Instructor at CSCC who MC'd the show. Next, everyone enjoyed dinner provided by the many meeting sponsors listed below.
The agenda continued with a check presentation for $1000.00 from our friends at the Professional Pilots Association (PPA) for the scholarship fund. PPA's treasurer, Anita Zweering came forward to transfer the check to Jeff who thanked them and commented on the long relationship our two organizations have had. PPA also Co-hosts the Central Ohio Aviation Golf Outing and the Holiday dinner with COPAMA and together we've helped many aviation maintenance students through the Scholarship Fund.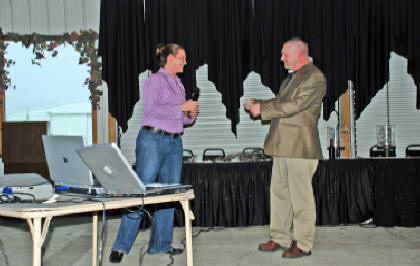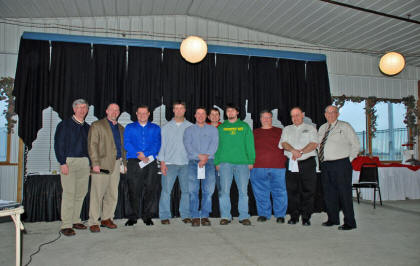 | | |
| --- | --- |
| PPA Treasurer Anita Zweering and Jeff Gruber | Scholarship Recipients and Committee Members |
The next order of business was to award both Testing and Tuition Scholarships to the applicants chosen by the Scholarship Committee members. Testing Scholarships totaling $3000.00 were awarded to Kyle Beachy, Michael Davies, Dan Gubermath, Ray Hanson and Jonathan Taggart. Tuition Scholarships totaling $4000.00 were awarded to Michael Davies, Jonah McGarvey, Ben Ndiaye, Scott Smith and Jonathan Taggart. This years awards bring the total to almost $37,000 that have been disbursed through the fund since COPAMA's establishment back in 2002. We want to thank our Scholarship Committee members for their time spent and dedication and wish all our scholarship students well in their pursuit of careers in the aviation industry.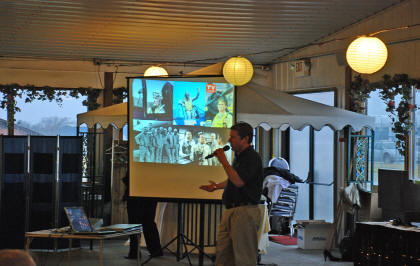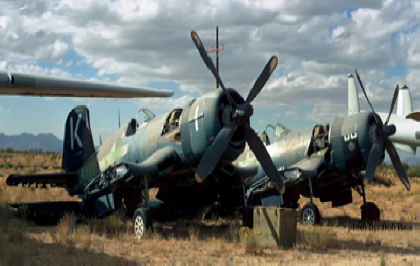 Our guest speaker for the evening was Mr. Craig McBurney of the Connecticut Corsair project. Graig told us about the aircraft's past, present and future restoration process which included the airframe, engine and propeller. The project is formed in two Phases, the first being the acquisition of the data, documentation and parts and the actual restoration of the aircraft. The second phase will be the actual operation of the aircraft once it is again flyable. The slides in his presentation included historic photos from the Chance Vought Aircraft manufacturing facility. This aircraft became the official State Aircraft by act of the Connecticut Legislature and has been supported by all facets of their citizens from aviation groups to the students in their Middle and High Schools. Please visit the projects website for a glimpse of the aircraft in photos and information on it's history. It was interesting topic for all who attend the meeting.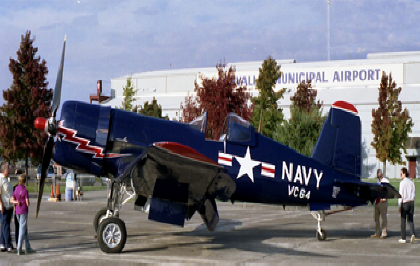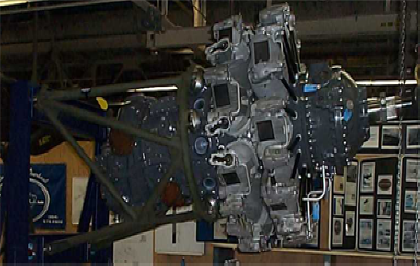 We'd like to thank the following sponsors who have graciously funded the dinner and Mr. McBurney's expenses. They are...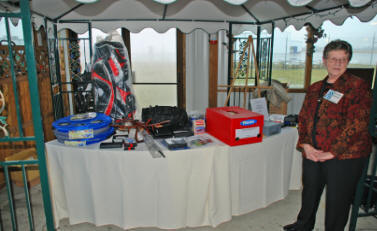 Diamond Level Sponsors
Aerodynamics Inc. (ADI), Dallas Airmotive, Dassault Aircraft Services, Gulfstream Aerospace, Landmark Aviation and NetJets.
Gold Level Sponsors
Bizjet International and Rapco, Inc.
Thank you to all those who provided prizes for 3 raffles held during the two days of the Symposium. Proceeds from the raffles help fund the COPAMA Scholarship Fund.
A group of COPAMA members gathered on Saturday, March 22nd to help judge the aviation related entries at the District Science Day competition at Columbus State Community College. This years aviation related entries were reviewed and the following were chosen to receive awards for 1st, 2nd and 3rd place. The top 3 awards included checks for $100, $75 and $50 and honorable mention certificates were given to the next two placements. We wish all the participants in the District Science Day well in their pursuit of greater knowledge and good luck to those who go on to compete at the State level.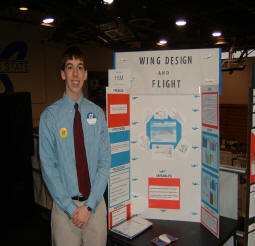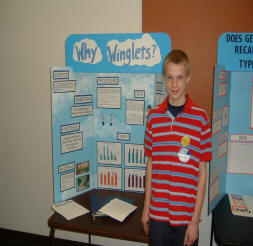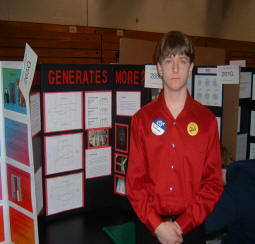 1st Place Award
Matt Dunn,
8th Grade,
St Brigid
Wing Design and Flight
2nd Place Award
Jonas Wahl,
7th Grade,
Our Lady of Perpetual Help
Do Winglets Help a Plane?
3rd Place Award
Dillon Stenger,
9th Grade,
Big Walnut
Which Generates More?
Honorable Mentions
Brian Vetter, 7th Grade, St. Andrews - "Wind Power"
Jeffrey Bell, 9th Grade, Columbus East - "Rocket Fins"
April
Zip Chem Products Sponsors April Meeting
Our COPAMA meeting on April 8th was sponsored by Zip Chem Products with Mr. Samuel Pollock giving a presentation on his companies products that are used for Corrosion Prevention and Control. Zip-Chem also makes a range of other products for cleaning, lubricating and preserving aircraft. Many of their products can be purchased in aerosol containers perfect for spot application after maintenance. We want to thank Sam and Zip Chem for their support.
Also at the meeting, Louie Fura promoted the upcoming Youth Aviation Adventures and made a request for volunteers. The event will be held April 26th at OSU Airport and also needs corporate sponsors. For more information go to: http://www.youthaviationadventure.org/
Youth Aviation Adventures Held Saturday April 26th at OSU Airport
Again in 2008, youth from all over Central Ohio met at OSU Airport to participate in the Spring Youth Aviation Adventure Event. This educational and informational gathering provided tours and exhibits for youth interested in aviation. Local Boy Scout groups also used this experience toward their Aviation Merit Badge. The local EAA Chapter 009 provided "first flights" for over 30 youth after the weather cleared.
The COPAMA Scholarship Fund awarded $1000.00 to help sponsor this event. Please visit their website for more information about this meeting.
House of Representatives Passes H-Res 444 on April 30, 2008. The Bill now proceeds to the Senate for consideration.
WASHINGTON, D.C. (Aug. 3, 2007) - A resolution to create National Aviation Maintenance Technician Day (H. Res. 444) passed the Transportation and Infrastructure Committee and will go to the House of Representatives for a vote this fall. The resolution will then be considered by the Senate before going to the President.
The resolution, which has the backing of the Professional Aviation Maintenance Association (PAMA), will create a national day to honor and recognize the achievements of the Wright brothers' first flight mechanic Charles E. Taylor, and all certificated aviation maintenance professionals.
PAMA applauds the work of Rep. Lungren (R-CA), Rep. Filner (D-CA), T&I Committee Chairman Oberstar, and all of the resolution's co-sponsors in helping to get this Resolution on the path to reality.
"Our great thanks go to the dedicated PAMA members and the many others who participated in this effort, including maintenance professionals at American Airlines, the Federal Aviation Administration, Aircraft Mechanics Fraternal Association, Aviation Maintenance Technician Association, and the AMT Society", Brian Finnegan, PAMA President, said.
PAMA solicits the aviation community's continued support for National Aviation Maintenance Technician Day and requests everyone continue contacting their representatives in Congress. "We are on the path to passing this resolution," Finnegan said. "We must not relent with our efforts until we have achieved our goal."
PAMA will continue to monitor the status of National Aviation Maintenance Technician Day and will keep its members apprised of the progress.
May
May Meeting Sponsored by AircrftLogs.com
Our last COPAMA meeting of the spring was held May 13th at Lane Aviation and sponsored by AircraftLogs.com . Those attending were presented an update by Doug Stewart on AircraftLogs.Com. He reviewed their startup in 2005 and showed the progression of their company which provides a service to preserve aircraft documents in electronic format allowing easy duplication in case the originals are destroyed. He also showed us some of the changes and additions they have planned through the coming year. We thank them for their support during this last meeting before the summer break. Visit their website above to see a complete list of the products and services they offer. See you in September!!
Sad News About Sam Dodge of Lane Aviation Parts!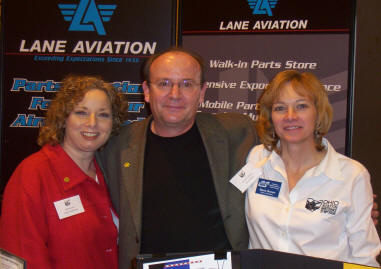 Sam Dodge of Lane Aviation and member of COPAMA passed away unexpectedly on May 22nd. Sam was a COPAMA Charter Board Member through December 2007 and was a great supporter of COPAMA and our successful COPAMA Scholarship Fund. Our thoughts and prayers go out to his family, friends and co-workers with whom we share his loss. COPAMA sent flowers to help embellish his memorial service and received a Thank You from his father which may be viewed by clicking on the link.
Samuel W. Dodge, age 53, died at his residence on May 22, 2008. He was born, raised and schooled in Graniteville, VT. Sam served 3 years in the U.S.A.F. where he was stationed in Japan. Sam worked at Lane Aviation for several years. He had considered his co-workers his extended family. Sam cared for his family, friends, and community. Preceded in death by his beloved mother Lillian Edson Dodge. Survived by father, William H. Dodge of Ninnekah, OK; daughter, Jessica (Mike) Dodge of Circleville, OH; step grand daughter, Mikala Binkley; several aunts and uncles. He will be missed by all. Friends may call 5-8 p.m. on Thursday, May 29, 2008 at SCHOEDINGER HILLTOP, 3030 W. Broad St.

Photo - Donna Bricker, Sam Dodge and Marie Slaven at CSCC Maintenance Symposium

Read about the Sam Dodge Endowment Scholarship at CSCC Development Foundation - Established May 2009.
Summer Break - June - August
September
September Kickoff Meeting Features AeroSafe
Our meeting on Tuesday September 9th included a Pig Roast with our long time friend and member Rodney Meyer presiding at the barbeque pit. Mr. David Hessler of AEROSAFE spoke about his accident investigation experiences in a presentation titled "Little Errors, Big Consequences".
We want to thank Rod for his help in preparing the pig and David for his explanation of how AEROSAFE helps research accident sequences and create background data needed for defending their clients during litigation. It was a wonderful early fall evening with lots of food for all who attended. Mark your calendar so you don't forget to attend our monthly meetings every second Tuesday (except March) till May 2009.
September 12th - 2008 Central Ohio Aviation Golf Outing
The 2008 Golf Outing started off with rain and showers but the weather couldn't dampen the spirit of those aviators that attended. We still have photos to share from the event on request. Our Sponsor support was tremendous and 123 players attended. Click on the logo below to view the report from the COAGO 2010 event.
This annual fun-filled event is co-hosted by our friends at Professional Pilots Association and proceeds go to help fund the COPAMA Scholarship Fund.

Many thanks to the 2008 COAGO Sponsors!
It wouldn't be possible without their support!
Hole and Special Event Sponsors
Raffle Sponsors
October
October Meeting featured Global Jet Services!
Our October 14th meeting was sponsored by Global Jet Services and feature a presentation by Bob Gould on Human Factors in Maintenance. Bob used previous accident details to present the FAA's "Dirty Dozen" of the factors that cause them to occur. It usually takes at least 4 but if you break the chain, the hazard can be avoided. His presentation was approved for IA renewal and included videos and graphs of data. We thank Bob and Global Jet Services for their support of this months meeting.
The meeting started with a presentation by the USAF Aircraft Maintenance Intuitive Troubleshooting Project (AMIT) on their program that won them the PAMA Award of Special Merit. Click here for more information about this project and the award.
As part of our yearly organizational process, nominations were opened for 4 Board Member positions that will be elected at our meeting in November. Current Board Members running for re-election are Gene Sprang, Irv Schumacher and Lowell Dowler. Marie Slaven has chosen not to run for re-election and we'll thank her for her service to COPAMA at the Holiday Dinner. Jeff Gruber has decided to run and we're looking for a few other candidates to complete the ballot for next months election. If you're interested in being a candidate, contact Gene Sprang at CSCC AMT (614) 287-7100 or send an email to colpama@yahoo.com by October 31st.
There also was a small scale "Chili Cook-off"; as part of the evening's dinner. Entries by Shirley Graves, Gene Sprang and Donna Bricker were consumed by attendees. No clear winner was selected but Gene reported that Donnas Chicken based chili "did get some great reviews!"
November
Tritex Corporation sponsors November Meeting.
Our November meeting was held Tuesday the 11th at our regular meeting location, Lane Aviations Media Room. Following dinner, Tom Pfaffenbach gave a presentation about the installation and certification aircraft interiors and TriTex's experience in that specialized form of aircraft maintenance. We want to thank Tom and TriTex for sponsoring our meeting and providing such an informative topic for discussion.
Our normal meeting night fell on Veterans Day and we included a time to recognize and thank our veterans in our group. We also decided to send the $153.00 from raffle proceeds to the organization Honor Flight which provides transportation to elderly Veterans to Washington D.C. to see the War Memorials in Arlington National Cemetery. Please visit their website at www.honorflight.org to find out more about this Springfield, Ohio group!
As part of our yearly organizational process, we also elected 4 Board Members to 2 year terms at the meeting. Re-elected to the board were Gene Sprang, Irv Schumacher and Lowell Dowler. Jeff Gruber was selected to fill the forth position being vacated by Marie Slaven's term ending this month. We want to thank Marie for her service as a board member and William Reinert for his willingness to run as a candidate and encourage him and others to run again at next years election. Donna Bricker, Joe Lippert and Paul Tursic will continue to serve and complete the list of board members for 2009.
Remembering our "Vets" on Veteran's Day!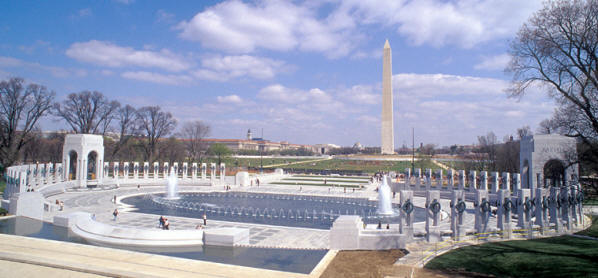 The National World War II Memorial Plaza
On Tuesday November 11th, we joined in thanking all our veterans that have served our nation. The news channels were loaded with individual stories of these men and women who gave a portion of, if not their life to maintain the freedom that we enjoy. We paused to remember them at our November meeting and invite you to join us in thanking them.
We've just become aware of a Springfield, Ohio group called "Honor Flight" who's engaged in raising money to send WWII vets to Washington D.C. to see the War Memorials. Our raffle proceeds from this meeting totaled $153.00 and will be donated to this worthy cause. We invite you to visit their website at www.honorflight.org and consider supporting their mission.
AVIATION MOURNS FOR WILLIAM F. "BILL" O'BRIEN
It is with a very heavy heart, and a sad stroke of the keys that I inform you William F. "Bill" O'Brien passed away this afternoon (Sunday November 9th, 2008) at 1745 EST. Funeral arrangements are not complete at this time, however either Ken MacTiernan or myself will forward the information to you as soon as I receive it.
Without a doubt this is a severe blow to the aviation industry, there are too many items to try and recall or highlight at this moment for all the good/great things Bill did in his lifetime for everyone in the industry. Two major items he will always be remembered for; The Charles E. Taylor Program, and the FAA AMT Awards Program.
We are very fortunate to have had the opportunity to work with him. The AMTSociety is especially fortunate to have one of our scholarships named after him.
Bill was surrounded by friends and family. Please keep the O'Brien family in your hearts and prayers through this difficult time. Bill O'Brien was one of a kind. His impact on the A&P craft and profession elevated the status of thousands of skilled men and women. Bill was a fighter and he never complained. Charles E. Taylor now has a new friend in Heaven. Ken MacTierman.
Tom Hendershot
Executive Director AMTSociety
International Headquarters
COPAMA Board Elects Officers for 2009
The COPAMA Board Members for 2009 gathered on Wednesday November 20th to elect their new officers for next year. The Board and Officers will be formally introduced at the Holiday Dinner next month. We'd like to congratulate and thank the following members for accepting their new leadership roles.
President - Gene Sprang Vice-President - Irv Schumacher Secretary - Jeff Gruber Treasurer - Lowell Dowler
December
Aviators Gather for 2008 Holiday Dinner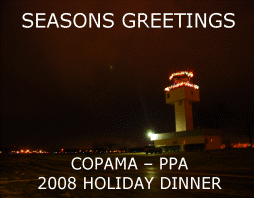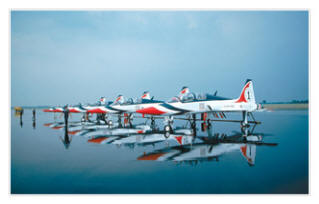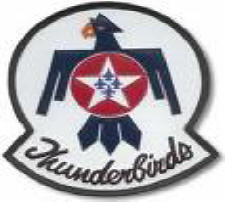 This years Holiday Dinner which was Co-Hosted by PPA and COPAMA was held Tuesday, December 9th at Two Caterers Contemporary Cuisine, 6800 Schrock Hill Court, Columbus, Ohio 43229. We wish to thank Two Caterers for their food and accommodations for our dinner at their facility.
Doors opened at 5:30 pm with Dinner at 6:15 followed by the entertainment speaker after a short presentation by COPAMA President Gene Sprang and a recognition of the PPA and COPAMA officers.
Our Entertainment Speaker for the evening was Mr. Mike Millard of the Cincinnati FSDO featuring the topic "Behind the Scenes with the USAF Thunderbirds". Mike currently acts as an FAA Aviation Safety Inspector and told us about his 21 years of service and retirement from the US Air Force where he spent three exciting years with the USAF Thunderbirds. Click here for more information about Mike and his aviation career.
He then entertained us with several video presentations about the Thunderbirds which included his USAF retirement slideshow and a comedy piece staring comedian Bill Engvall who shared his VIP ride in the back of one of the Thunderbird F-16s. Mike's "props" included a map that listed his duty stations and countries he'd visited around the world. He conveyed to us the teamwork it takes to make the Thunderbird's precision flight demonstration happen, most of which occurs long before and well after the airshow crowds come and go home.
He showed us his uniform with included his flight helmet and gloves bearing his call sign "DUCK", a play on the spelling of his last name which sounds like Mallard! Louie Fura was nominated to volunteer and help Mike display some of the features of his helmet. Mike also thanked and honored his wife Sandra and all the spouses in the audience who carry on and take care of details while their aviators are away. We want to thank Mike and Sandra for traveling to Columbus to give us a glimpse behind the scenes of the US Air Force Thunderbirds!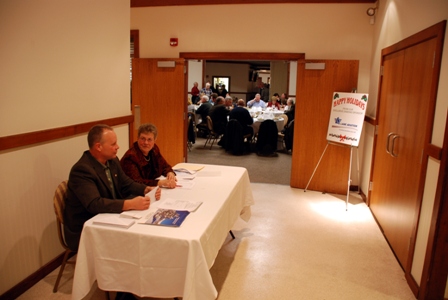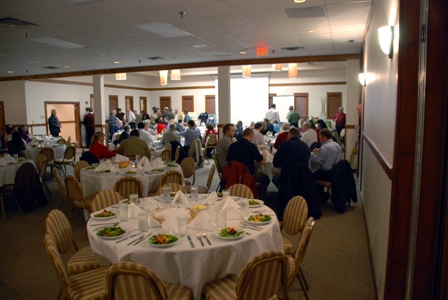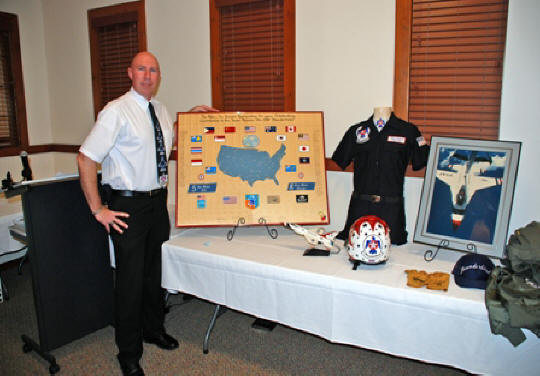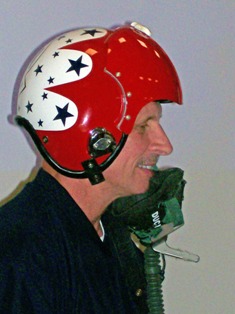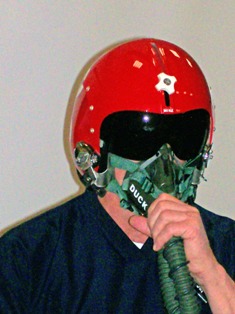 The dinner's activities included a 50/50 raffle, the proceeds of which are being forwarded to the "Lima Company Memorial Fund" whose mission is to honor the Marines of Lima Company 3rd Battalion 25th Regiment and their fallen comrades in the Iraq War. Please visit their site to learn more about this local group of Marines.
The prize raffle at the end of the dinner raised $423.00 for the COPAMA Scholarship Fund.
Many thanks to the following sponsors of prizes for the raffle.
Bombardier Aerospace, Concierge Services Unlimited, COPAMA, CRS Jet Spares, Duncan Aviation, Dallas Airmotive,
Indianapolis Jet Center, Lane Aviation, Traveling Connections Travel Agency and Tritex Corporation
Many Thanks go to our great main sponsors for this annual event. This year, they were...
Exclusive Diamond Sponsor, Lane Aviation,
Gold Sponsors, Aerodynamics Inc. (ADI) Bombardier Aerospace, Capital City Jet Center, Dallas Airmotive, Duncan Aviation, Dallas Airmotive, Elliot Aviation, Gulfstream Aerospace, Hawker Beechcraft Services, JSSI, Million Air and NetJets, Inc.
This page was last updated on 12/22/21.