2019 Events
The following are the meetings and events of 2019.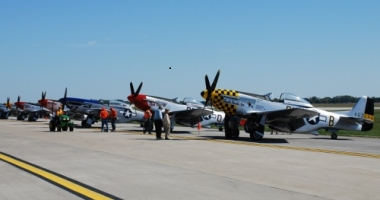 Safety through knowledge!
Our 2019 Calendar
| | |
| --- | --- |
| November 12th | COPAMA Board Meeting |
| September 22nd | Farewell to Glenn McCauley |
| September 6th | COAGO 2019 at Willow Run Golf Course |
| July 13th | CMH 90th Anniversary Celebration |
| March 14th | Maintenance Symposium at CSCC Conference Center |
| February 4th | 2019 Scholarship Award Recipients |
| January 20th | Farewell to Terry Huff |
---
COPAMA 2019 Annual Meeting was held NOV 12th
Our Non-Profit 501-C3, Charitable Organizational Status requires the oversight by our seven members of the Board of Directors. Those members serve for a two year term and are elected on an alternating basis during a meeting held each November.
This year, three members terms are ending and up for re-election. They were Joe Lippert, Charles Jenkins and Steve Brown. After receiving no nominations, they have agreed to continue on for the next two years. We want to thank them for their willingness to help steer the COPAMA group.
Time requirements are minimal with an organizational meeting in November and most decisions made through email communications. If you're interested in COPAMA, our Scholarship Fund and fund raising events, please consider becoming a board member next year to help provide guidance to this generous organization.
The annual meeting was held Tuesday November 12th at 6:30 pm, at the Columbus State AMT Facility, 5355 Alkire Road, Columbus, Ohio 43228. We want to thank those extra members who attended the meeting.
Farewell to an Aviation Hallmark - Glenn L. McCauley
A good friend and pioneer of Professional Aviation Maintenance Association (PAMA) has gone on his Flight of Glory. Glenn passed away after a medical struggle on September 22nd, leaving behind the McCauley family, friends and the staff of Aero Battery. Our hearts go out to them as we share their sorrow.
A Celebration of his Life was held Saturday October 26th at the Airmen's Club at Cincinnati Lunken Airport. The hyperlink above will take you to the obituary page where details about his life and the event may be viewed.
COAGO 2019 Was a Great Event!

This year's Central Ohio Aviation Golf Outing was held Friday September 6th at the Willow Run Golf Course. The day could not be more perfect for the Sponsors and Players who participated!
This year's event entertained 116 golfers and made just over $10K with all proceeds going to the COPAMA Scholarship Fund. It's primary goal is providing help paying for certification testing of new AMTs. Thanks you to all the Sponsors, Players and Volunteers attended and Willow Run Golf Course and their staff for providing the venue!
Please visit the COAGO 2019 Report for Sponsors, Winners and photos from the event!
GlobalJet Services holds Maximizing Dispatchablilty Event!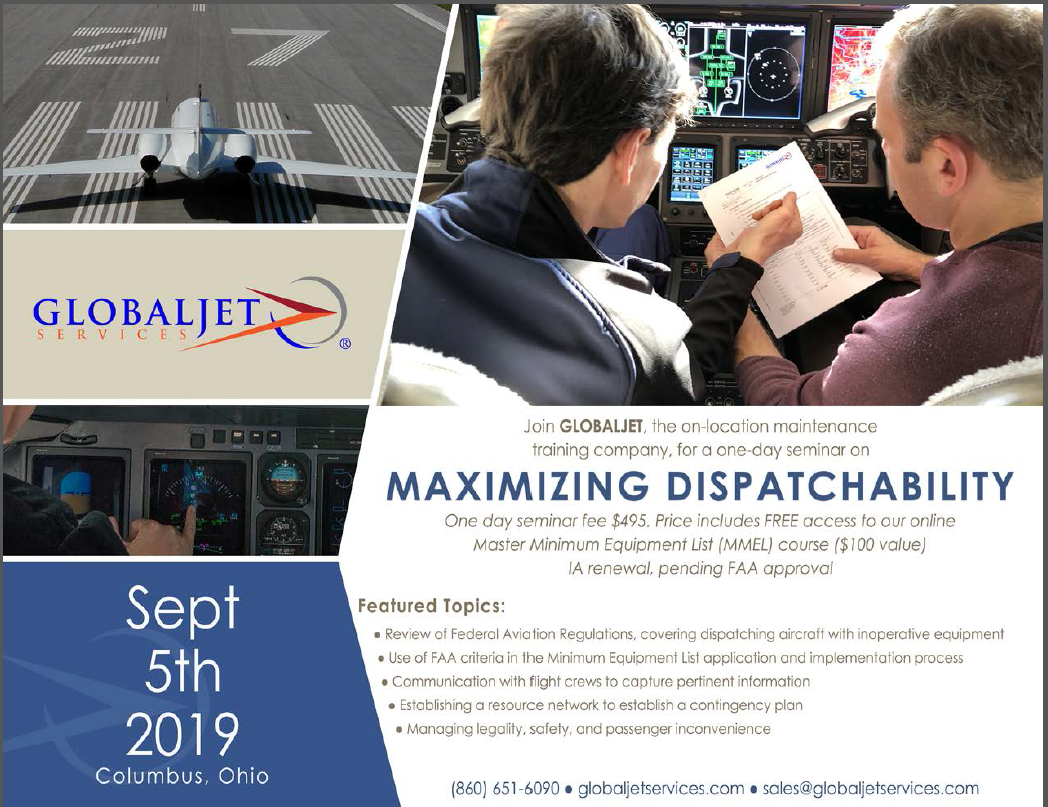 CMH 90th Anniversary Celebration - July 13th 2019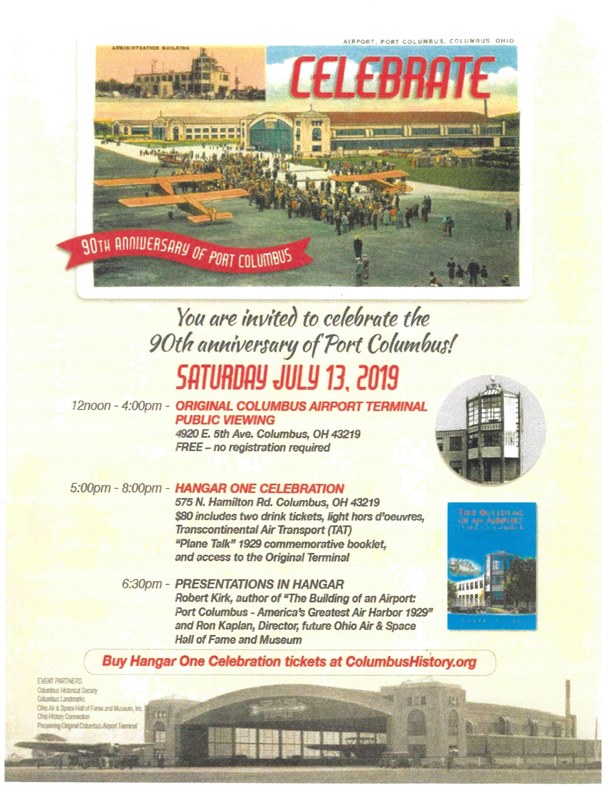 Find more information about the event at ColumbusHistory.org
This years Symposium was held at the Columbus State Conference Center on their downtown campus. Registration was thru the FAA Safety Team website and and AMT credit was made available to those in attendance.
More information is available at the Columbus State Aviation Maintenance Technology site.
22 Vendors signed up and attended, providing information about their products and services. We want to thank them for their participation and list their names below.
| | |
| --- | --- |
| Aero Battery | Haltec Corporation |
| Aero Performance | Lycoming Engines |
| Aerospace Services and Products Inc. | Pan American Tool Corp |
| Aviall | Poplar Grove Airmotive |
| Barry Controls - Hutchinson Aerospace | Stevens Aerospace and Defense |
| Champion Aerospace, Inc. | Stewart Systems |
| Cleveland Wheel and Brakes | Tdata Corporation |
| Concorde Battery Corp | Tempest |
| Dallas Airmotive | Tritex Corporation |
| e2b Calibration | UTC Aerospace Systems |
| G&N Aircraft, Inc. | Zip-Chem Products |
Earl Redmond receives the Charles Taylor Award
at OAMS 2019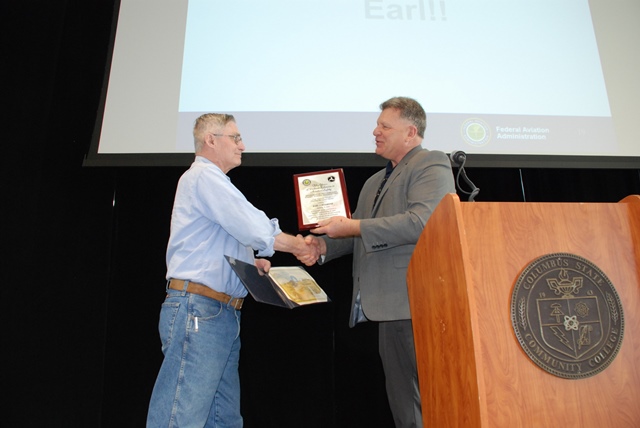 Congratulations to Earl Redmond on receiving the Charles Taylor Award at the 2019 Ohio Aviation Maintenance Symposium. FAASTeam Inspector Mark Harden presented the award at the lunch break in the main lecture hall. Earl has been a COPAMA Board member since 2010 and Treasurer for the group since 2012.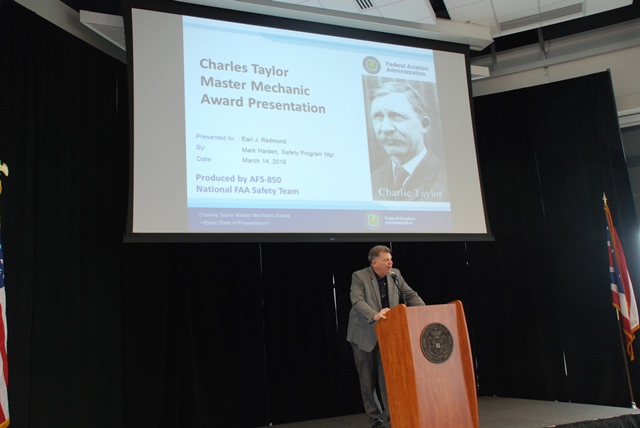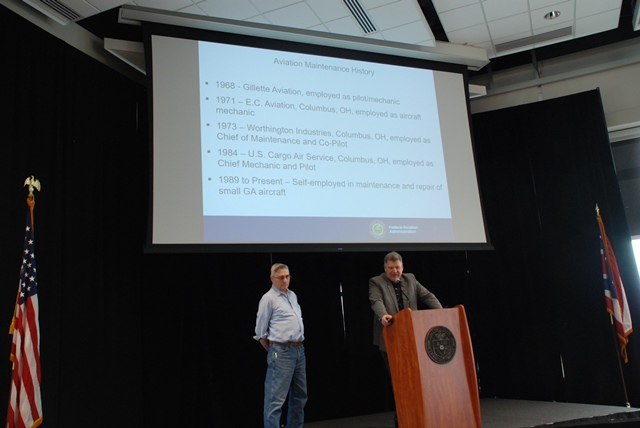 2019 COPAMA Scholarship Award Recipients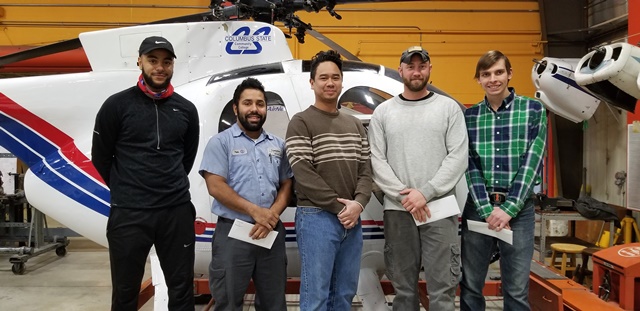 L - R Andrew Callendar, Pablo Lazu, Antony Sivixay, Justin Nelson and William Rioch
The COPAMA Scholarship Committee would like to announce this years recipients of the COPAMA Scholarship Awards. We wish them well as they complete their training and testing for their Airframe and Powerplant certificates. Good luck as you enter our aviation industry!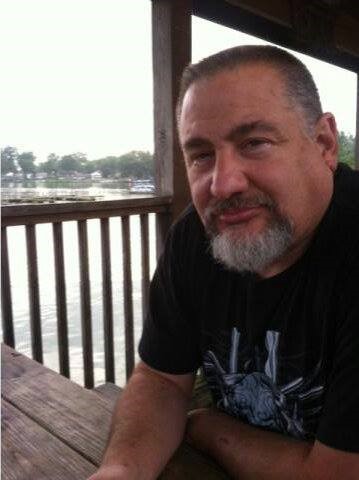 Terry J. Huff, a 1983 graduate of CSCC AMT and member of the Central Ohio Aviation Maintenance community passed away on January 20th after a long battle with cancer. Please click on the link above for more information!
This page was last updated on 01/25/22.