Safety through knowledge!
2013 Central Ohio Aviation Holiday Dinner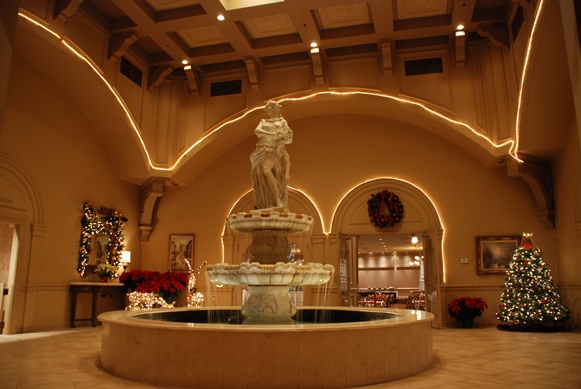 The 2013 Holiday Dinner: A night of Seasonal Cheer and Exploration!
This year's Holiday Dinner which was co-hosted with The Professional Pilots Association was held at Villa Milano Banquet and Conference Center, located at 1630 Schrock Road, Columbus, Ohio 43229 just to the east of Westerville. This marks the fifth year we've used this venue to gather and celebrate the upcoming Holidays together. The decorations that greet you at the entrance of the restaurant are sure to get you in the spirit of this marvelous time of tinsel, trees, lights and music. We want to thank Villa Milano and their staff for helping make the evening so enjoyable!
There's something about this time of year that draws people together to share in the festivities of the Holiday season. This event allows friends, spouses, girl & boy friends and families to enjoy good food, a light non-technical aviation presentation and a night of fun and prizes. Regardless of where you're from or what your beliefs, we share the bonds of peace and joy the Holidays bring.
Jeff Gruber, our 2013 Holiday Dinner Chairperson, played Master of Ceremonies and, with the help of our volunteers, provided an evening of Seasonal Cheer and entertainment for 155 guests who attended. The social gathering started at 5:30 pm with a cash bar with appetizers and dinner was served around 6:30 pm. The buffet style cuisine included salad, vegetables, potatoes, two meat entrées and Lasagna. Spumoni ice cream and coffee finished out the meal.
The Night's Activities and Entertainment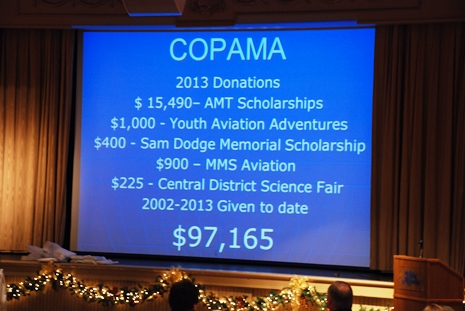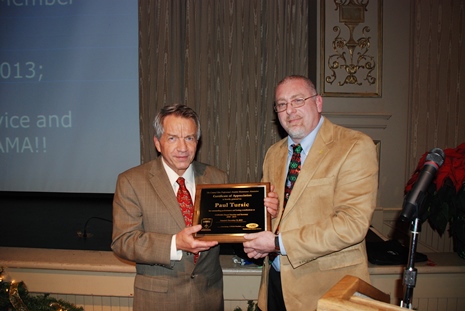 Jeff started the presentations with an overview of COPAMA's activities over the past year which included the Maintenance Symposium, Central District Science Fair and The Central Ohio Aviation Golf Outing (COAGO). He reviewed the COPAMA Scholarship Funds awarded to student AMTs from Columbus State Community College and Missionary Maintenance Services MMS and our support of local aviation related youth groups such as Youth Aviation Adventures. In the eleven years since COPAMA began, we've awarded over $97,000 with the great help of our sponsors, members and friends from PPA and the aviation community.
The results of COPAMA's November Board Member elections were announced with the slate of Officers for 2014. They are President- Joe Lippert, Vice-President- Jeff Gruber, Secretary- Lowell Dowler and Treasurer- Earl Redmond. We welcome Richard Cady as a newly elected board member and Chuck Jenkins and Gene Sprang round out the seven member. We thanked Gene Sprang for his service as President since 2010 as he steps down to board member and awarded a plaque to Paul Tursic to thank him for his service over the last 6 years as a leaving board member and Secretary. Paul had been one of the original board members, then came back in 2008, the start of this present board term.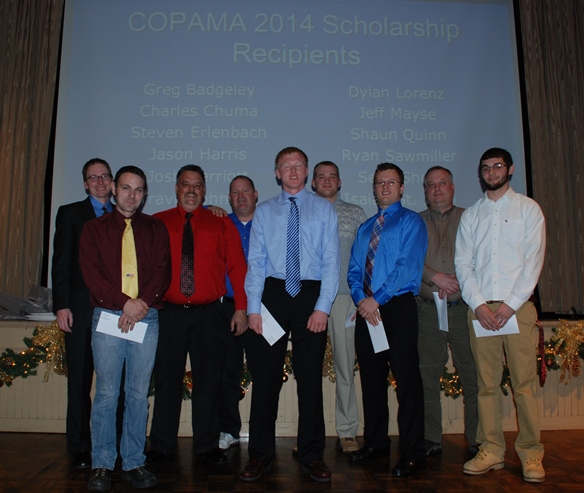 The scholarship awardees for 2014 who were in attendance were brought forward to receive their scholarship awards and posed for a group photograph. They are L - R, Sean Shorr, Jeff Mayse, Greg Badgley, Jason Harris, Stev Erlenbach, Travis Johnson, Isaiah St. John, John Johnson and Ryan Sawmiller. We wish them well as they finish their training and testing and enter the Aviation Industry!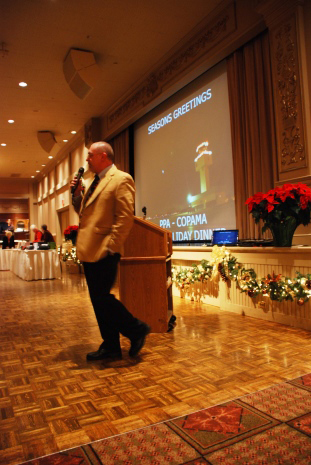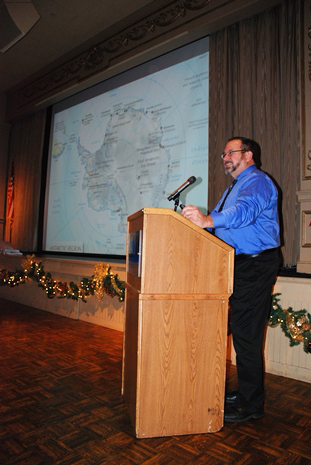 | | |
| --- | --- |
| COPAMA Vice President Jeff Gruber MCs the Holiday Dinner. | Mike Kent gives presentation on "Antarctic Air Operations" for the evenings entertainment. |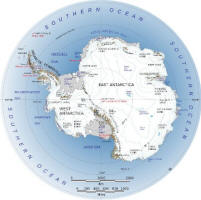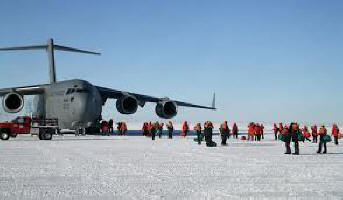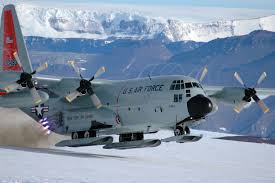 Our entertainment for the evening was a presentation by Mike Kent, Retired Master Sergeant USAF on his Experiences in Antarctic Air Operations. His PowerPoint presentation was filled with information about the continent at the bottom of our planet which included statistics, photos and his personal experience from that land that makes even the coldest winter day in Central Ohio, seem warm.
He told the group about the size of the continent which has a land mass unlike the Arctic north which is only ice. It is 1.4 times the size of the United States, has an average summer temperature of -17 F and winter temperature of -76 F. The thickest part of the ice is almost 3 miles in depth and the oceans would rise 200 to 210 feet if all the ice melted off the Antarctic continent. Other amazing facts are this continent of ice also has an active volcano and with the low moisture content of the air which produces little rainfall each year, it is technically a desert! Please click on the links below to find out Cool Facts about it and view video files on this icy desert.
Our many thanks to Mike and his wife, Jana, for attending and being such a big part of the Holiday celebration. We hope he's peaked your interest in the continent at the south pole and have included some web links below to explore on your own.
Web links about Antarctica
Cool Antarctica Facts , Discovery Channel - Frozen Planet , Antarctica in 5 Minutes , South Pole Station , Last Flight from South Pole
2013 Holiday Dinner Sponsors
Here's the list of Great Sponsors for this years Holiday Dinner.
Please thank them for their support of this event by your patronage!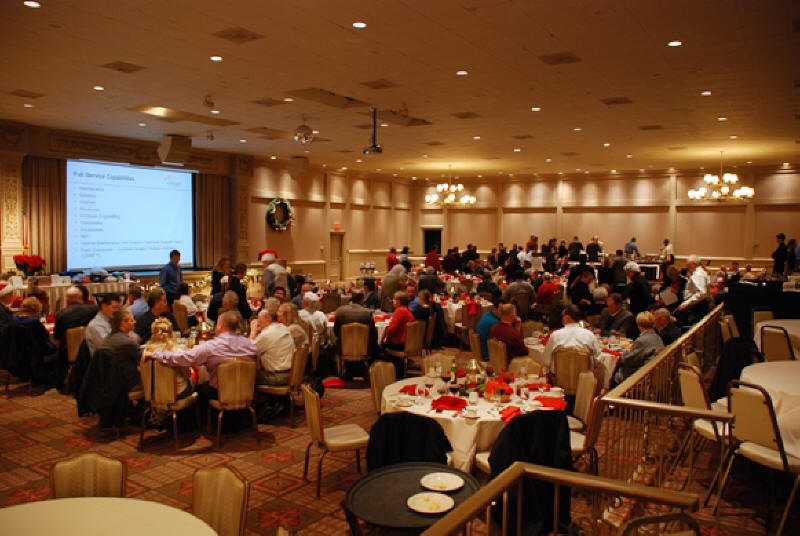 The Holiday Dinner features good food, friends, family, raffle prizes and fun in a festive setting.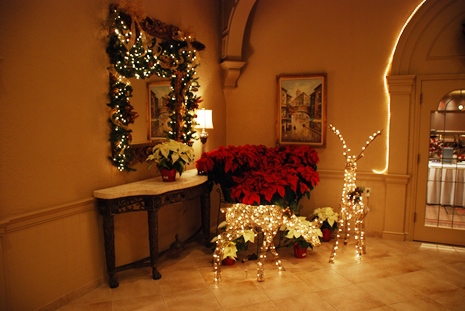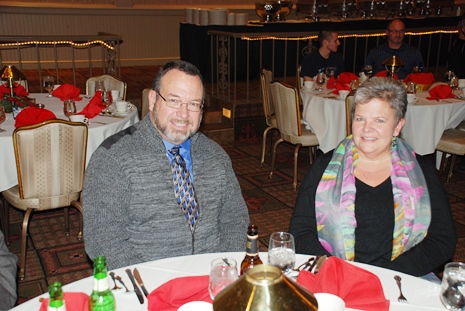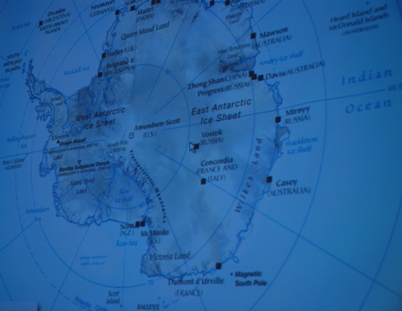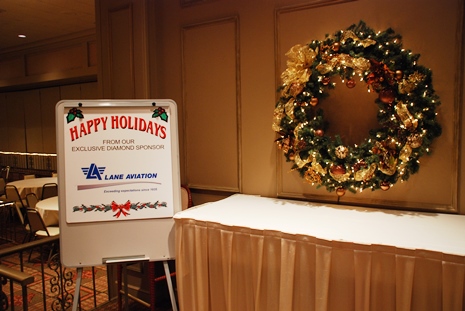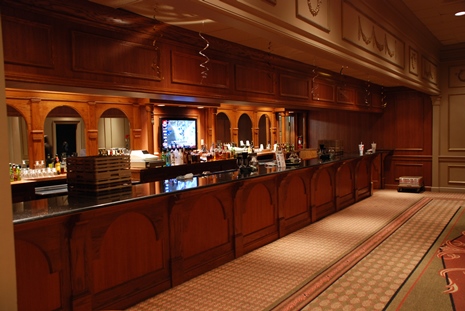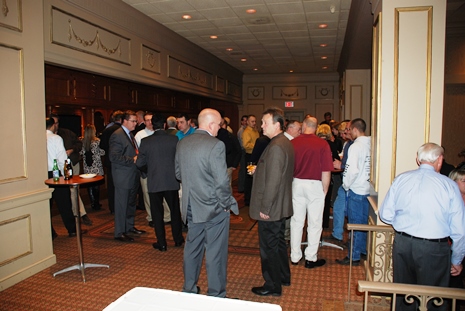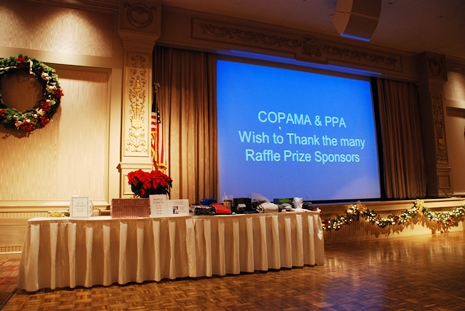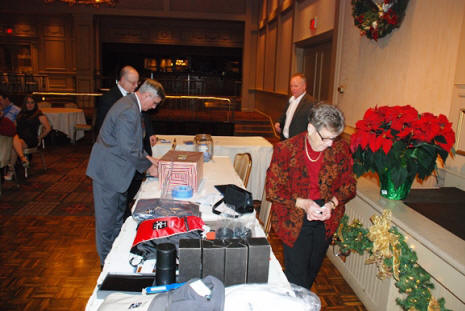 Thanks to Jeff Gruber and all the volunteers who helped make the dinner fun and enjoyable!
Jeff Gruber - 2013 Holiday Dinner Chairperson
C/O Columbus State Community College
5355 Alkire Road, Columbus, Ohio 43228
For Info call 614/327-8187 or 614/287-7105
614/287-7103 Fax
COPAMA and Professional Pilots Association are both 501(C)(3) Non-Profit Organizations